New Northwestern Directions: Pivots in International Education Amid COVID-19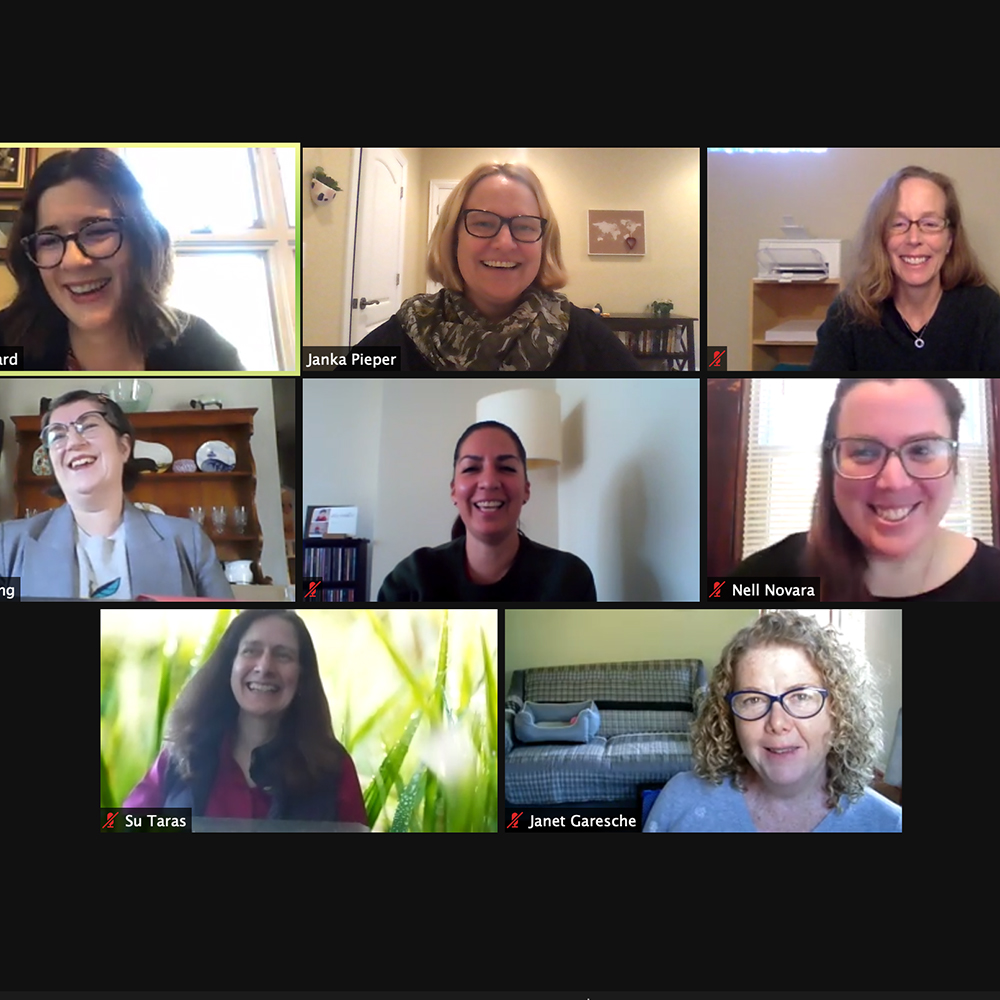 Fall 2020 Navigating Cultures in the Global Workplace Workshop Series
Launched Programs and Initiatives to Continue Post-Pandemic 
As 2020 halted international education and exchange in the traditional sense, it also propelled Northwestern faculty, staff and students to create and participate in innovative and reimagined global engagement activities.
Through many demonstrations of resiliency, faculty, staff, and students found ways to adjust to the new reality and create innovative global connections. Here are a few examples.
Virtual Global Development in Action
In 2020, amid the coronavirus pandemic, the Northwestern Roberta Buffett Institute for Global Affairs'
Global Learning Office (GLO)
developed novel approaches to facilitating international exchange and global learning, including the launch of the first virtual Global Engagement Studies Institute (GESI) program, "
Virtual Global Development in Action
." In the fall, the virtual program provided over 60 undergraduate students from seven Northwestern schools and 34 areas of academic study the opportunity to put international development theory into practice.
Participating students explored critical questions related to the history, operation and structure of community development work, and interned remotely with community-based organizations in Argentina, Bolivia, Costa Rica, Ghana, Guatemala, Uganda and Vietnam.
"Giving students the opportunity to work with community-based organizations in developing countries through this two-credit online internship course has been a silver lining for us," Sara Tully, director of the Global Learning Office, explained. "While we are saddened that COVID-19 prevented us from being able to support study abroad, it has been a reminder that an international education is possible no matter your location – on campus, at home or online."
GLO will offer the virtual GESI program again in Spring 2021 and plans to continue offering virtual Global Engagement Studies Institute (GESI) programming even after students are able to resume travel. The hope is that this type of virtual programming will provide more students with access to meaningful global learning opportunities.
Classroom Partnering Grants
Faculty found new ways to build, continue and enhance collaborations with their peers at Northwestern's partner institutions abroad through the International Classroom Partnering Grant. A joint effort of the Office of the Vice President for International Relations and Northwestern Buffett, the grant program supports Northwestern faculty who develop virtual classroom collaborations that provide students with global, cross-cultural learning and engagement opportunities.
While the focus and subject of each partnership varies, all of the projects internationalize a Northwestern course by linking students to peers at partner institutions and offering a platform for mutual learning. Last fall alone, 10 projects were awarded to faculty throughout Northwestern—including the Bienen School of Music; Medill School of Journalism, Integrated Marketing Communications; Northwestern Pritzker School of Law; School of Communication; School of Social Policy and Education; and Weinberg College of Arts and Sciences— to connect with classrooms in Argentina, China, Ethiopia, France, Mexico, Singapore, Switzerland, Israel, and Taiwan. 
International Classroom Partnering Grant funds are still available, and applications are accepted on a rolling basis. 
Addressing the Unique Needs and Challenges of International Students
The Office of International Student and Scholar Services (OISS) had to confront unique challenges facing international students as Northwestern transitioned to remote learning in early Spring. In collaboration with the Provost Office's International Undergraduates Working Group, OISS sent a survey to all enrolled international students to inquire about their experiences and needs during the pandemic. 
Upon learning about the academic challenges international students were encountering—such as time zone conflicts and reliable internet access—OISS contacted academic departments, advisors, and instructors, and made recommendations for adjustments. OISS also found that the pandemic had an immense emotional and social toll on those international students who were unable to return to their home countries to be with family. Students who were able to return to their home countries indicated challenges connecting with their social networks at Northwestern.
"Learning of and understanding our international students' specific needs allowed us to pivot and modify our advising processes, create unique programming, and consult and connect with units across campus more closely than we usually do, particularly the Division of Student Affairs," said Taya Carothers, Assistant Director of Advising Services at OISS. "We hope that these changes will have lasting positive impacts on our international community." 
Global Research Opportunities for Faculty
In 2020, amid pandemic related travel restrictions, Northwestern Buffett began offering new funding opportunities in the form of Virtual Research Initiatives to support faculty in initiating or expanding research collaborations with peers at international partner universities.
Through "Virtual Idea Dialogues," scholars across geographies come together to discuss global problems that require interdisciplinary research, while Northwestern Buffett's "Global Connection Seed Grants" support Northwestern faculty in initiating or advancing projects and programs rooted in research tied to learning, service or international development. "At a time when travel is restricted and physical boundaries are more evident than ever, opportunities to engage across difference are perhaps more crucial now than ever before," Northwestern Buffett Executive Director Annelise Riles said.
 A number of grants have already been awarded, and applications are accepted on a rolling basis.
Cultural Workshop Series for Northwestern Staff
In Fall 2020, the Office of the Vice President for International Relations expanded its professional development workshop on intercultural competency and moved it online. Navigating Cultures in the Global Workplace is now a 5-week virtual workshop series for Northwestern staff members that provides tools for greater self-awareness and practical knowledge to increase intercultural sensitivity and effective communication in the workplace.
"Northwestern has a network of international partnerships around the globe, a sizable international student population, and great cultural diversity even within the U.S. context," said Dévora Grynspan, Vice President for International Relations. "By providing staff with intercultural training, we help them better understand how different concepts of cultures, customs and values affect the global and local workplace."
Certified coaches Jennifer Gerrard, Director of International Agreements and Visitors, and Janka Pieper, Director of Communications, co- facilitate this workshop and use presentations, discussions and interactive activities designed to enhance their effectiveness in intercultural situations. The Winter workshop series launched the first week of January and Spring workshop applications will open later in February. 
Moving forward: Merging traditional and novel approaches to global education and partnerships
As the pandemic continues to have a mostly negative impact on international education —after all, in-person, immersive cultural and educational experiences can never be fully replaced by virtual ones—it has helped generate creative methods and platforms for learning and engagement that many international educators agree will remain a valuable part of future endeavors, particularly as they seek ways to decrease their carbon footprints.
Through collective efforts, the Northwestern community remains globally engaged and committed to providing international and intercultural experiences for students, staff, and faculty during these uncertain times.