Northwestern Schapiro Award Recipients
Northwestern Schapiro Award Recipients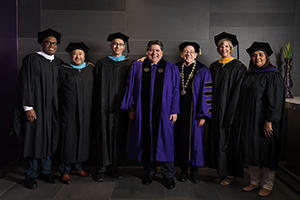 Above: Winners of the 2023 Morton Schapiro Distinguished Secondary School Teacher Award with President Schill, and Commencement Speaker Governor J.B. Pritzker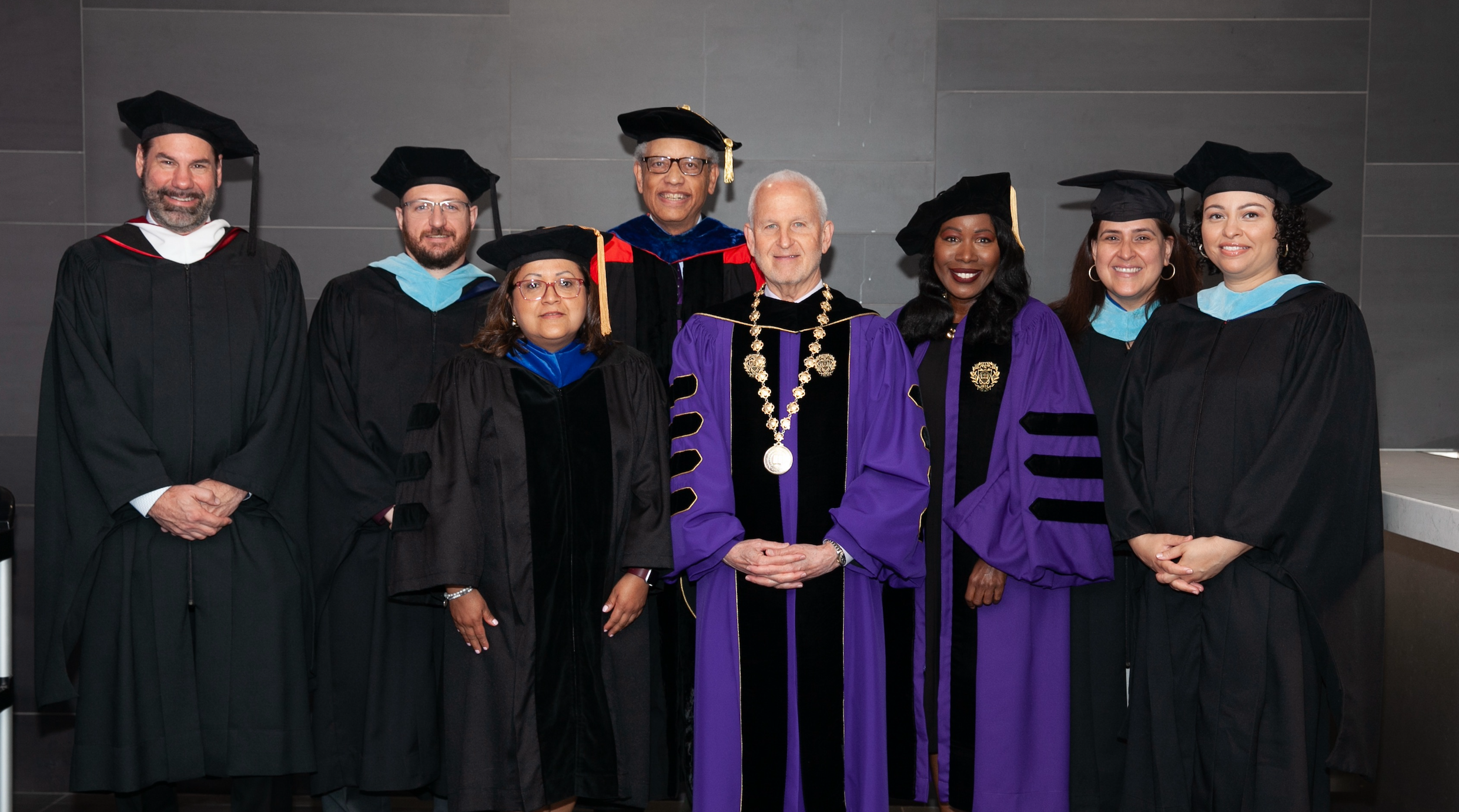 Above: Winners of the 2022 Morton Schapiro Distinguished Secondary School Teacher Award with President Schapiro and Special Assistant to the President Eugene Lowe.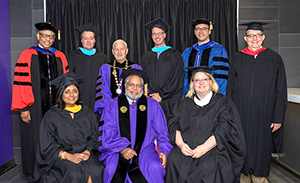 Above: Winners of the 2019 Morton Schapiro Distinguished Secondary School Teacher Award with President Schapiro, Provost Jonathan Holloway, and Special Assistant to the President Eugene Lowe.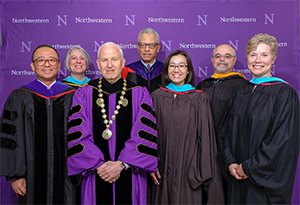 Above: Winners of the 2018 Morton Schapiro Distinguished Secondary School Teacher Award with President Schapiro and Special Assistant to the President Eugene Lowe.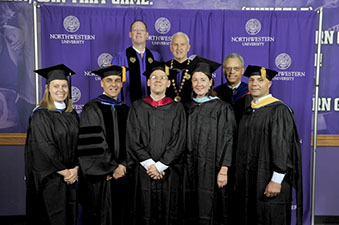 Above:  Winners of the 2012 Morton Schapiro Distinguished Secondary School Teacher Award with President Schapiro, Special Assistant to the President Eugene Lowe, and Commencement Speaker Paul Farmer.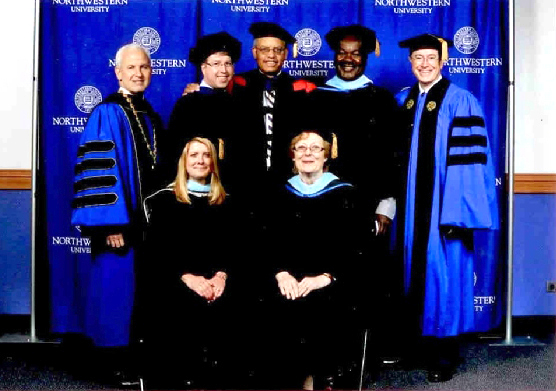 Above: Winners of the 2011 Morton Schapiro Distinguished Secondary School Teacher Award with President Schapiro, Special Assistant to the President Eugene Lowe, and Commencement Speaker Stephen Colbert.
2022
Chris Buckner
Oley Valley High School, Oley, Pennsylvania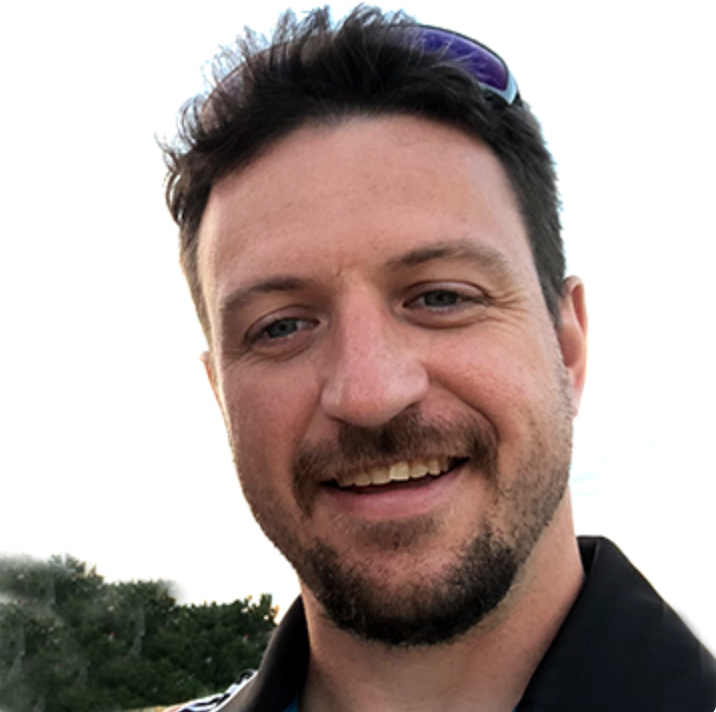 Chris Buckner has taught at Oley Valley High School in Oley, Pennsylvania, since 2005. Creator of the school's STEM engineering program and the program's community-based advisory panel, he teaches courses in engineering, computer science, architecture, and design.
Buckner introduced computer numerical control programming into the school's manufacturing curriculum and secured grants for integrating 3-D printers into area K-12 classrooms. He also founded Oley Valley High School's Technology Students Association chapter, which has produced multiple statewide winners and sent three students to the TSA national competition. Through his efforts, the school's engineering program is now a state-approved career technology education program. Student nominator Shannon Lackey of the McCormick School of Engineering and Applied Science is the first student from her high school to attend Northwestern, and she attributes this directly to Buckner, saying that he is "singlehandedly the reason I am the engineer I am today."
Lidia Ortiz
Northside College Preparatory High School

, Chicago, Illinois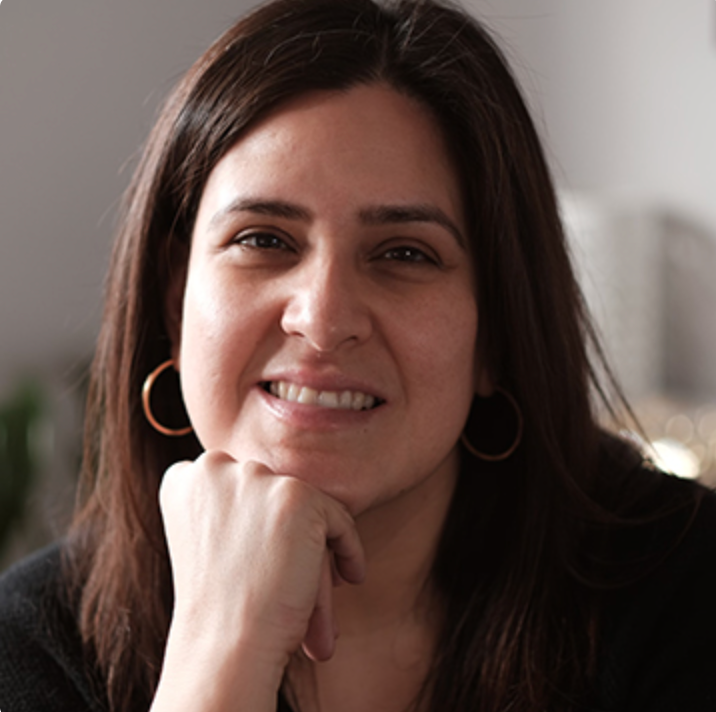 Lidia Ortiz has taught science since 2001 at Chicago's Northside College Preparatory High School, where she has chaired the science department since 2009. She teaches advanced courses in biology and chemistry, including interdisciplinary experiential-learning courses that she has created and implemented. A 2018-20 teacher fellow in the University of Chicago's EYES on Cancer Research Fellowship Program, Ortiz has given presentations for University of Chicago Medicine's Summer Cancer Research Symposiums. She has also held sustainability and teaching fellowships in Michigan State University's Wipro STEM and Leadership Fellowship Program. A contributor to two books on STEM education and a five-time Golden Apple Award nominee, Ortiz has received two prior student-nominated Outstanding Teacher Awards from the University of Chicago.
She achieved National Board Certification in 2007 and was recertified in 2016. Student nominator Xanh Quang of the Weinberg College of Arts and Sciences says that none of his subsequent teachers "has quite reached the pure expertise and perfect balance of Lidia Ortiz," adding that Northside College Prep "is very lucky to have her."Ortiz received a BS in biology from the University of Illinois at Urbana-Champaign and an MEd in secondary science from DePaul University.
Shanté Reed
DeLaSalle High School, Minneapolis, Minnesota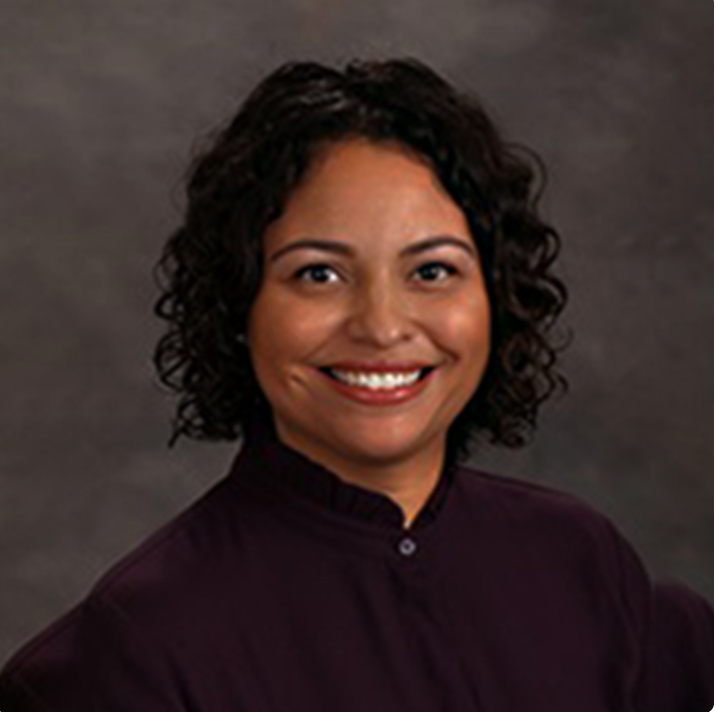 Shanté Reed has taught since 2010 on the faculty of DeLaSalle High School in Minneapolis, where she teaches courses in English and creative writing. She has also served as one of the school's racial equity facilitators and as supervising teacher for teacher candidates. In 2015 Reed was the first to teach an introductory African American Studies course as a teaching specialist in the University of Minnesota's College in the Schools program, for which she helped develop and lead that year's summer study abroad program in Brazil. She has furthered her professional development through workshops with the University of Minnesota's African American and African Studies department and College Board workshops on Advanced Placement Language and Composition, a course she taught at DeLaSalle for five years.
Reed won her school's 2011 LaSallian Educator of the Year Award and its 2019 Liemandt Excellence in Teaching Award. Student nominator Karina Karbo-Wright of the Weinberg College of Arts and Sciences says that at DeLaSalle, Reed was "the teacher everyone wanted because she was super cool and really smart,"adding that "her impact is still with me today."Reed earned a BA in African American Studies and English at the University of Minnesota and an MA in teaching at the University of St. Thomas.
David Ross
Madison West High School, Madison, Wisconsin
David Ross has served since 1993 on the social studies faculty at Madison West High School in Madison, Wisconsin, where he has taught and created curriculums for courses in history, philosophy, psychology, and social issues as well as an after-school elective on multicultural society. He has accepted student requests to serve as adviser to eight school clubs, including the Debate Club, the Philosophy Club, and Amnesty International. Previously he taught for four years in Madison West's night-school diploma completion program, and for three summers he taught credit-recovery programs at Madison East High School. From 1999 to 2013 he also served as coordinator for the Social Studies Teacher Education Program in the University of Wisconsin-Madison's curriculum and instruction department.
Ross received the 1991 Second Congressional District Outstanding Teacher Award and has won prior student-nominated Outstanding Teacher Awards from Lawrence University and twice from the University of Chicago. Student nominator Aurora Greane of the McCormick School of Engineering and Applied Science praises Ross as "a dedicated educator even outside the classroom"who vividly demonstrates "the value of excellent pedagogical techniques."Ross earned a BA in history and a Teacher Education Program certificate at UW-Madison.
Nilda Villalta del Valle
National Cathedral School, Washington D.C., Maryland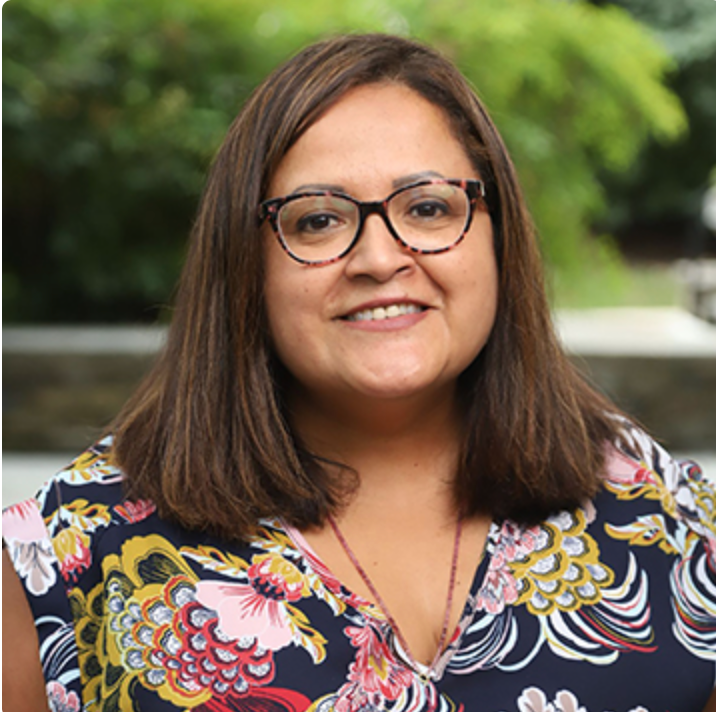 Nilda Villalta del Valle has taught Spanish courses since 2004 at National Cathedral School in Washington, DC, where she has also chaired the world languages department since 2012.
A 2001 Humanities Rockefeller Fellow at the Smithsonian Institution's Center for Folklife and Cultural Heritage, she subsequently served as project coordinator for its Folklife Festival's Latino music program. Villalta has participated in numerous professional development workshops and has presented papers at national and international conferences. She was the 2013 winner of National Cathedral School's Class of 2004 Teaching Award. Student nominator Emmeline Leggett of the Weinberg College of Arts and Sciences calls her "one of the most genuine, thoughtful, and strong people I have ever encountered,"a teacher who "made her students feel valued, giving special attention to those she noticed needed it the most."
Villalta received a licenciatura in Spanish language and literature and a teaching degree in Spanish literature and grammar from El Salvador's Jesuit Universidad Centroamericana José Simeón Cañas, a BA in speech communication and Spanish and an MA in Spanish language and literature from Louisiana State University, and a PhD in contemporary Latino and Latin American literature and culture from the University of Maryland.
2021
Seth Brady
Naperville Central High School, Naperville, Illinois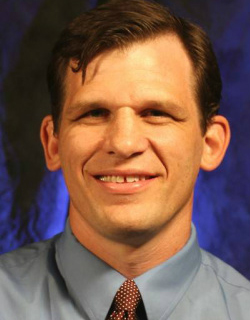 Mahie Gopalka continues to be in touch with Seth Brady as a source of "constant support," long after leaving Naperville Central. Gopalka, now a senior in the Weinberg College of Arts and Sciences who is preparing for a gap year and ultimately medical school, credits Brady with unlocking her passion for global health.

"Mr. Brady has touched the lives of so many students — even outside Naperville — through his countless hours developing the Illinois Global Scholar (IGS) program," Gopalka said. "His passion for global education shaped the way I now understand my own purpose in life."

The IGS program, signed into Illinois legislation in 2017, allows school districts across the state to offer merit to students who demonstrate global competence through coursework, service learning, global collaboration and a summative capstone project — and the idea for the certificate came from Brady's classroom.

"Somewhere around 2013, I had a series of epiphanies that stripped the ego out of my teaching, and revealed, to my surprise, the deep and inexhaustible joy found in setting students free," Brady said. "When students are given the freedom to develop actionable questions, the expected output changes from one of knowledge to one of action. This action orientation in turn drives research that is routed to the student's own interests. Moreover, the focus on action results in infinitely variable artifacts that are research-driven, creative and authentic."
Carrie Marcantonio
Winnetonka High School, Kansas City, Missouri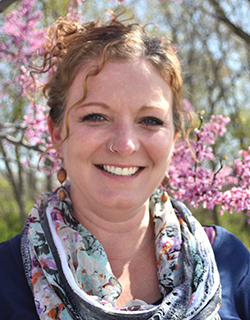 Emanuella Evans remembers spending every lunch period of her freshman year in the classroom of Carrie Marcantonio, where she stored her Nutella and a loaf a bread. The two would eat lunch together. Later, when Evans first joined Winnetonka High School's Key Club and then took Marcantonio's research course, she said she felt empowered and learned to value mutual aid, service learning and community care.
Evans reflects on the care, empathy and support Marcantonio was able to give to each of her students.
"The crazy thing about explaining how much of an impact Carrie has had on my life is that it's hard to believe that she had time to do this for any other students, but that's the reality," said Evans, a senior in the Medill School of Journalism, Media, Integrated Marketing Communications. "Her qualities touch every student she has in class, in club and even the students that just step into her office for a snack — another reason she's exceptional! She meets people where they're at, even if that place is just hungry. I left high school not only prepared for college, but also motivated and excited to change the world — and that's thanks to Carrie Marcantonio."
Evans remembers after the 2016 election, Marcantonio's office was packed with students who knew her space was always open, and she took time to listen to and validate every emotion. As the coordinator of Winnetonka's two-year capstone program, Marcantonio hears often hears juniors say that "people like me aren't college material." As such, she sees her responsibility as one not just of contradicting these beliefs, but of helping students see themselves fulfilling their dreams "in the great wide world."
"Many of my students see their life experiences as obstacles to academic success, honors classes, college admission and the fulfillment of their aspirations," Marcantonio said. "My goal is to help them see these things as assets, erasing the narrative that tells them that their English is broken or their writing non-standard, and for them to recognize that their ability to write in Somali, read in Arabic and nail the essay in my upper-level English class is to be commended and celebrated. To that end, the biggest thing that I have learned in my 20+ years as an educator, is that my job is to empower, encourage and then get out of the darn way!"
Monica Rowley
Brooklyn Technical High School, New York City, New York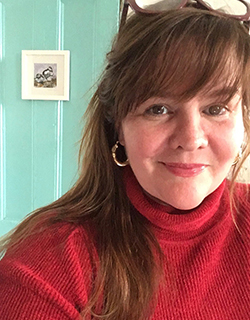 Chloe Wong does not mince words when she refers to Monica Rowley as "the most phenomenal teacher" she has ever met. From freshman-year English and world literature courses to AP Capstone Research that just 13 seniors opted into, Rowley was a major part of Wong's high school experience.
"Not only did she continuously convey critical feedback to her students, she also provided educational catalysts that enabled all of her students to exceed their own expectations and succeed in her courses," said Wong, a senior in Weinberg. "Ms. Rowley created a sense of community in the classroom, a camaraderie that students should inspire each other's intellectual curiosity by asking questions and diving deeper at every turn. We were held to a high standard in our academic assignments and expected to push the rigor of our arguments because she knew that we were capable of more than we thought. At times, she left us to figure things out on our own and to take ownership over our research processes, yet she was always willing to lend an ear."
Outside of secondary teaching, Rowley is an accomplished poet. She has received several accolades for her work including a National Endowment for the Humanities Grant, a Library of Congress Grant, and the Roxane McCormick Leighton Foundation Fellowship for study at Bread Loaf. She was also a consultant for the College Board, improving the AP Capstone Research curriculum for students across the country.
"I believe teaching is a political act of the self and for others, and I know education is essential to a functioning democracy," Rowley reflected. "These statements position me to be in a state of liminality: a place where I am between worlds and must be open to the unexpected (being flexible is the mark of a good teacher), and I must be open to being imperfect. It is in this imperfection that I take on the role of a teacher-learner and researcher. We need troublemakers after all, and I teach — to a large extent — to start, as the late great John Lewis says, 'good trouble' and disrupt the power narrative."
Jeff Solin
Lane Tech College Prep, Chicago, Illinois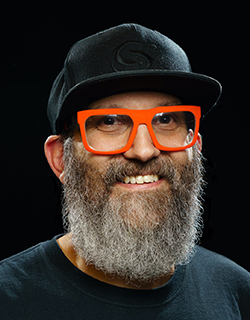 Lazar Gueorguiev first heard about Jeff Solin during his junior year at Lane Tech when older friends taking Solin's "Innovation Creation Lab" course described the computer science teacher as a "hella chill" guy who played music during class, rode a mini board through the hallways, had smart lights installed throughout the classroom and had a student-painted mural that spanned the walls. When he inevitably took the class himself, it started with designing and printing his own laptop sticker — and ended with the class's Chicago flag mosaic displayed at Navy Pier.
"Mr. Solin was acting as a facilitator, giving us the tools, knowledge and guidance we would need to complete the project and leaving everything else to the students," said Gueorguiev, a senior in the McCormick School of Engineering and Applied Sciences. "This freedom is something I'd never experienced before in a classroom setting, and it had an incredible effect on the students. Some of my friends, who didn't historically have the greatest work ethic, were deeply invested in their projects and had great pride in their work because they created it."
Solin incorporates the community into his classroom through partnerships with organizations including Argonne National Labs, SAIC, Northwestern, the Chicago Cubs, the Museum of Science and Industry and the National Science Foundation.
"My job as an educator is to help students experience, understand, use, build and change technology so that they can solve the problems they care the most about, and eventually solve problems that don't even exist yet," Solin said. "At Lane Tech, most of our students are disadvantaged and underrepresented, sometimes by their gender, sometimes by the color of their skin, sometimes by their family's resources, sometimes by their documentation status — and usually by a combination of those reasons.
"This is the case for most of the students across the district. The challenges to overcome are not insignificant, but my colleagues and I are committed to continue to advocate, support, learn from, and find CS education resources and opportunities to equitably serve ALL students of the Chicago Public Schools."
Mark Vondracek
Evanston Township High School, Evanston, Illinois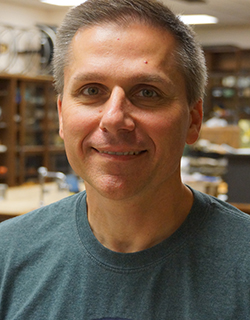 Noah DeMar credits his decision to study mechanical engineering at Northwestern "in no small part" to his AP physics teacher, Mark Vondracek. DeMar said it was widely known that the teacher slept only a few hours a night — instead preparing lessons that went "far beyond the required curriculum."
"Dr. Vondracek, or 'Doc V' as we called him, taught me much more than AP physics; he gave his students the foundation to succeed anywhere they went after graduation," said DeMar, a McCormick senior. "In many ways, Doc V's AP physics classroom felt like a Northwestern classroom transported to the third floor of my high school. More than just an academic, Doc V truly cared about the success of his students. His classroom was smattered with paraphernalia from various universities. Often Doc V would provide guidance where the school guidance counselors fell short."
Though Vondracek has received dozens of local, state, national and global awards for his teaching, he said his most treasured accomplishment as a teacher is that in 26 years as an educator, he's never written a detention or had to send a student to the dean's office — even when he's worked with gang-affiliated students or individuals with criminal backgrounds.
"Students know they will walk into my room (or now, into the virtual Zoom classroom) and be respected and loved by the teacher," Vondracek said. "They know they're expected to follow the only rule I've ever had, the Golden Rule, with every one of their peers in class. We all agree to create a safe and trusting home away from home where they can forget about the real and often serious problems outside our space and in their daily lives. A classroom being a temporary safe haven is a breath of fresh air for many students, and they can drop the need to be someone who they're not and instead have fun learning and growing — and learning physics of all things, that stereotypical 'impossible' subject they've been told is only for the 'smart' kids.
"What a great job we teachers have!" Vondracek added.
2020
Joseph Brysiewicz
Highland Park High School, Highland Park, Illinois
School of Education and Social Policy senior Jack Benjamin calls his high school teacher Joseph Brysiewicz a "personal hero." Drawn to his lively and fast-paced European history lectures, Benjamin said "Bryz," as he's affectionately called by students, "has an encyclopedic knowledge of world history and current events alike." 
"He always had an answer for every question," Benjamin said, "and his passion for history, art and culture was contagious." 
Brysiewicz says developing students' gifts and nurturing their passion for learning require a teacher to move beyond favorite theories and instructional strategies. 

"I still believe that making mistakes and taking risks are the hallmark of a joyful classroom and lay the foundation of culturally responsive instruction," he said. 
For Benjamin, Brysiewicz left him academically curious along with some parting words he'd never forget. 
"On the final day of my senior year, he imparted his sagest wisdom," Benjamin recalled. 

"'Your life doesn't begin after high school, or after college, or after you get a job. It began as soon as you were born, and every day counts, so make the most of it.'" 
John DeRose
Whitefish Bay High School, Whitefish Bay, Wisconsin
Weinberg College of Arts and Sciences senior Carter Rothman credits his high school AP history teacher for teaching him the critical thinking skills he'd need to succeed at Northwestern.
"As a political science major, developing theses, defending them and making connections across sources of information and time periods are skills that I use every time I take a midterm or final," Rothman said. "Whenever I complete one, I think of Dr. DeRose and the experience that I gained from being in his classroom." 
DeRose realizes that while few of his students may go on to major in history, he understands how critical it is to train students to think like historians. 
"Having students who have had a wide range of interests in studying history when they first entered my classroom tell me how much their time spent with me improved their critical thinking, writing and decision-making skills, particularly at the university level, has been gratifying," DeRose said.
For Rothman, DeRose's personal and professional excellence both stand out. 
"While I am always appreciative of excellent educators, Dr. DeRose is truly distinguishable because of the compassion and friendliness that he conveys to his students," Rothman said. 
Maria Hiaasen
Dulaney High School, Timonium, Maryland
Sumin Woo described herself as a quiet 15-year-old who loved writing but didn't know what to do with that interest — until she had Maria Hiaasen as a high school English teacher and student newspaper advisor. 
"Mrs. Hiaasen cultivated my love of the English language both as an art and a medium to share news," said Woo, a senior at the Medill School of Journalism, Media, Integrated Marketing Communications. "She pushed us as writers, but also as human beings, because she knew we could work harder, write better and create something we could truly be proud of."
Hiaasen acknowledges her AP English course workload is rigorous and strives to be aware of the stressors students face today.
"I do believe that responding with empathy to students is fundamental to teaching — especially in this age when teenagers report higher levels of anxiety than ever," Hiaasen said.  

Looking back, Woo appreciates that Hiaasen stood up for her reporters when administrators complained about stories students were writing or questions they were asking.
"She was the one who taught us how to dig," Woo said. "To me, Mrs. Hiaasen exemplifies persistence and the value of developing a strong work ethic."
Kristen Kirschner
Episcopal School of Baton Rouge, Baton Rouge, Louisiana
Medill senior Gabrielle Bienasz remembers English teacher Kristen Kirschner as an incredible teacher and mentor who inspired a lifelong love for American literature. When they weren't discussing "The Great Gatsby" or "Raisin in the Sun," Bienasz and her friends often still gathered in Kirschner's classroom for extracurricular activities. 
Kirschner's classroom has become known as a "safe space" for students to gather during their free periods. She says her classroom is a space where everyone belongs.
"Each year, I am amazed by the great fortune I have of only knowing about 20 percent of what my job will be," Kirschner said. "In my 12 years as a secondary educator, my students have led me to coach debate, host poetry slams, sponsor improv comedy shows and more. The only certainty is that the unknown variables will be more thrilling than I could ever plan for."
Bienasz said Kirschner helped shape her as a writer.
"I asked Mrs. Kirschner to look over one of my pieces," Bienasz recalled. "She handed back this page full of red ink, and after taking her suggestions, I thought, 'Wait, there's a real poem in there.' Subsequently, I found there was a poet in me, too."  
Diana Niemann
South Mecklenburg High School, Charlotte, North Carolina
As a high school junior interested in STEM, Kristen Barnes learned the value of a mentor. As a racial and gender minority, Barnes said having a mentor — and someone she could relate to — was a defining factor in her decision to pursue engineering. 
For the McCormick School of Engineering senior, AP science teacher Diana Niemann was that person.  
"Mrs. Niemann recognized the potential in my quiet and shy junior-year personality," Barnes said. "She saw my interest in STEM and introduced me to relevant classes, science and math summer programs, and engineering scholarships."
Even today Barnes finds comfort in Niemann's words and past lessons to get her through challenging times.
Niemann can relate. Growing up, she herself was one of those students labeled "at risk," but a teacher saw her academic potential.
"I believe we are all born with a talent, but we aren't all presented with opportunities to help us reach our potential," Niemann said. "The No. 1 factor that drives my teaching is ensuring my students have every opportunity to be successful, no matter what they determine 'success' to be."  
2019
Jeff Berger-White
Deerfield High School, Deerfield, Illinois
Emma Meyerhoff engaged in conversations about inequality for the first time in her high school English class and credits her teacher for bringing discussions of race and identity into her life.
"My high school was extremely homogenous, and I had very little interaction with people of color in my town," said Meyerhoff, a senior in Northwestern's School of Education and Social Policy. "Mr. Berger-White introduced poems and novels into our curriculum so that we could read works by authors of color. He did not shy away from the hard conversations but showed me that it is okay to lean into my discomfort and have conversations that challenge me."
English teacher Jeff Berger-White said that teaching writers like James Baldwin, Danez Smith, Eula Biss and Claudia Rankine has been essential in opening up these conversations. He believes that learning is often a messy, complicated human process that depends on a lot more than metrics.
"The long-lasting impacts of a course matter as much as anything, and is something that cannot be easily measured," he said. "I want my students' minds to be alive with the language of literature and ideas. They must see themselves as engines that power the classroom."
Every day he reads a poem to all his classes, not for analysis, but for enjoyment and consideration. 
"His poem choices helped guide me through our course and many of them stuck with me beyond high school," Meyerhoff said. "I will forever be grateful for his dedication to helping shape the minds of young adults." 
Sherry Brooks
Central Academy, Des Moines, Iowa
Ariana Moore recalls being very shy growing up and being terrified to share her observations and analyses in school -- until she entered Sherry Brooks' high school English class.
"She forced people to collaborate and interact with the text," said Moore, a senior in Northwestern's Weinberg College of Arts and Sciences. "She fostered a great love of literature even in the student who much preferred to be in chem lab."
Moore said Brooks pushed students to their intellectual limits.
"I had just started to break out of my shell. I was raising my hand in class to share critical analysis, even if I hadn't rehearsed the exact words I was going to say 10 times over in my head," she said.
Brooks often wondered whether she was going about teaching the right way and acknowledges that her teaching approach over the years has evolved because of her own life experiences. She said she now feels the need to be very open with her students.
"Once they see me as a person who struggles and questions and doesn't know everything, they are willing to work with me to find their own answers and learn it is okay to struggle and question and not know everything," Brooks said. "I think the best way to be a good teacher is to struggle along with your students, whether with the curriculum or with yourself." 
Sherry Brooks
Central Academy, Des Moines, Iowa
Ariana Moore recalls being very shy growing up and being terrified to share her observations and analyses in school -- until she entered Sherry Brooks' high school English class.
"She forced people to collaborate and interact with the text," said Moore, a senior in Northwestern's Weinberg College of Arts and Sciences. "She fostered a great love of literature even in the student who much preferred to be in chem lab."
Moore said Brooks pushed students to their intellectual limits.
"I had just started to break out of my shell. I was raising my hand in class to share critical analysis, even if I hadn't rehearsed the exact words I was going to say 10 times over in my head," she said.
Brooks often wondered whether she was going about teaching the right way and acknowledges that her teaching approach over the years has evolved because of her own life experiences. She said she now feels the need to be very open with her students.
"Once they see me as a person who struggles and questions and doesn't know everything, they are willing to work with me to find their own answers and learn it is okay to struggle and question and not know everything," Brooks said. "I think the best way to be a good teacher is to struggle along with your students, whether with the curriculum or with yourself." 
Ruth Moonesinghe
South Pasadena High School, South Pasadena, California
Ruth Moonesinghe's teaching record: More than 95 percent of her students get a 5 on the AP Calculus AB and BC exams. 
"She is constantly challenging her students to excel," said Joanna Wan, a Weinberg senior. "Her teaching record exemplifies her effort."
"Mathematics is only a vehicle that mirrors the challenges of life," Moonesinghe said. "By beginning with a set of constraints, one must use the principles that are proven to be true, to make something make sense to find an answer. We go to class every day, the kids and I, and we work on solving problems. Metaphorically, this is what makes the numbers come to life." 
Moonesinghe's students have nicknames for her — "Ruthless" for her high expectations and "Mamasinghe" for her caring devotion. 
In addition to being an excellent educator, Wan said Moonesinghe engages in charity efforts and is devoted to alumni engagement — organizing an event that provides an opportunity for recent alumni and high school graduates to meet current high school students. 
Moonesinghe's goal is to have her students develop a mindset that will push them every day — especially after they leave her class. 
"I think of my students as young workers, five years down the road, working on a project at their workplace," she said. "When they are given certain constraints, they must analyze the situation, use all the resources that are available to them, work with their team, and then use their knowledge to complete the project in the most efficient way. This is who they will become." 
Robert Shurtz
Hawken School, Gates Mills, Ohio
For Robert Gray, the Science, Technology, Engineering, Mathematics and Medicine (STEMM) program at his high school prompted his interest in electrical engineering — a path he's now pursuing at Northwestern's McCormick School of Engineering. The teacher who led that program — and taught him in math and physics — Robert Shurtz, influenced him greatly. 
"He has a clear mastery of the material he teaches, which allows him to give students an intuitive understanding of the problems they are solving," Gray said. "Beyond that, he has many great quirky sayings and lab demonstrations, which he utilizes to make learning the fundamentals much easier. This gave me a strong baseline understanding of physics and math, which I have built upon in college."
Shurtz, who also has been coaching the debate team at Hawken for 34 years, said one of the most important things his students have taught him is that they love being challenged.
"My demanding style is accompanied by a high level of support," Shurtz said. "Students can reach me with questions via phone, text or email virtually any time any day. I encourage students when they are struggling a bit, and I cajole them when they are slacking."
Gray said Shurtz's support extended outside the classroom as well, attending many students' extracurricular events to cheer them on. 
"Mr. Shurtz helped to expose me to the world of research and real-world problem solving for the first time," Gray said. "I can say with certainty that I would not be the student or person that I am today without the influence of Mr. Shurtz." 
Matthew Whipple '88
Glenbrook South High School, Glenview, Illinois
Weinberg senior Avi Dravid recognizes his social studies teacher Matthew Whipple for pushing him and his fellow classmates to think outside their "parochial worldviews and adopt a more global perspective."
"Mr. Whipple encouraged students to learn all they could about the world and become educated global citizens with a strong sense of empathy and keen analytical skills," Dravid said. 
Dravid describes a class assignment in which students were assigned a country and tasked with writing related weekly reports.
"This gave me a much greater awareness of what was happening in the world and the role the United States plays in shaping world events," he said. 
Whipple said he approaches education with two goals in mind — helping students self-actualize and globalize.
"My purpose in the classroom is to syncretize these two goals and find ways to share the power of this thinking with all students," he said. "It is my responsibility to prepare students to enter the world with the tools they need to find their own success."
Dravid said Whipple, also a Northwestern alumnus, has continued to be a valuable mentor to him, putting him in touch with Northwestern professors who shared his same academic interests.
As for Whipple, he said it's been his great fortune to be a teacher.
"While much has changed in my field, at the core remain the relationships I have established and the goals I have shared with students."
2018
Katherine Konyar
Wheeling High School, Wheeling, Illinois
For Taran Lichtenberger, high school honors biology was the first class where she began to understand science as a field of research and investigation. The curiosity the class sparked for her was in large part due to her teacher Katherine Konyar.
"Mrs. Konyar found a way to integrate a real-world research experience into the classroom," said Lichtenberger, a senior in Northwestern's Weinberg College of Arts and Sciences.
She recalls her class conducting a research project on the value of biomarkers and later presenting to other schools and representatives at Abbott Laboratories.
"This was my first exposure to scientific research, and I am pursuing a career in research because of that experience," Lichtenberger said.
A teacher for more than 30 years, Konyar said her biology class is a conduit for helping students grow.
"My job is to help students to discover who they are and not who I or their parents want them to be," Konyar said. "I am there to cheer students on, to pick them up when they fall and to encourage them to try again without giving up."
In addition to teaching every day, Konyar works with the iBIO Institute EDUCATE Center's Stellar Girls program, exposing girls in her community to science at an early age.
"Mrs. Konyar's work inside and outside the classroom demonstrates not only her excellent teaching ability, but her desire to encourage learning," Lichtenberger said. "Her efforts make her sincerely deserving of Northwestern's Distinguished Secondary Teaching Award."
John Kretsos
Niles North High School, Skokie, Illinois 
Emily Moy has fond memories of her honors chemistry teacher dancing around the class as students sang the song he made up to help them learn about the ionic charges on the periodic table. Sometimes the song still gets stuck in her head. She still applies the basics taught by her teacher John Kretsos to the STEM courses she takes today.
Kretsos coached Moy's Science Olympiad team and helped her build a skill set beyond chemistry, giving her a strong foundation for her current engineering studies. He was always supportive and caring.
"He was always more than happy to stay after Science Olympiad practice to discuss everything from life beyond high school to his rock band to talking me out of getting a bad tattoo," said Moy, a senior at Northwestern's McCormick School of Engineering. "Even as I faced adversity in college, he was there for me."
Kretsos said teaching has been an ideal combination of his love for science and human interaction.
"I have always seen the personal relationships between my students and me as the most important factor in maximizing their learning academically and their growth as young people struggling to find their voice and their place in the world," Kretsos said. "I am deeply humbled to be considered for this recognition — more for the profession than for myself and most because it comes from students with whom I have been so fortunate to work."
Mark Liu
Metea Valley High School, Aurora, Illinois 
It's been a few years since Drew Bronson's high school orchestra days, but he still plays his violin regularly. Once a self-proclaimed "hater of orchestral music," Bronson said the influence of his teacher Mark Liu encouraged him to keep music a part of his life forever.
In fact, Bronson, a senior at Northwestern's McCormick School, said music makes him a more creative engineer.
"Throughout my time at Northwestern, music has been my solace, my companion and my joy," Bronson said. "Mr. Liu is responsible for almost all of it."
Liu, who received his master's degree in music from Northwestern's Bienen School of Music in 2006, said teachers must not only believe strongly in what they teach, but even more strongly in the people they teach.
"Each student comes to our charge with his or her own story and unimaginable potential," Liu said. "With patience, passion and persistence, we can help them blossom and unleash that potential."
As a ringer for the Trans-Siberian Orchestra and armed with a Ph.D. in music education, Liu could teach at the college level or pursue a full-time career in music performance, Bronson said.
Liu said his students often ask him why he enjoys teaching so much.
"My answer to them is always, 'How cool is it that I get to work with future educators, doctors, engineers, scientists, CEO, artists and Nobel Prize winners.'"
As educators, Liu added, "We are in the business of possibility."
Natalie Sekicky
Shaker Heights High School, Shaker Heights, Ohio 
Shane McKeon, a senior at Northwestern's Medill School of Journalism, recalls his high school journalism instructor telling his class on the first day of "Journalism 101" to "Grab a pencil and some paper. Go out into the halls, and don't come back until you've found five stories."
"That's basically what I do now," McKeon said. "It's what I want to do for the rest of my days."
McKeon appreciates Natalie Sekicky's dedication to teaching and remembers how she, along with the principal's help, would scrape money together to send the "Shakerite" high school newspaper staff to journalism conventions where, over the years, they came back with many awards.
It's important for Sekicky to instill in her journalism students that they must use their great powers for good. One has already gone on to win two Pulitzer Prizes for reporting.
"They must be challenged to take strong stances when others would prefer they stop paying attention," Sekicky said. "And they must trust that their teacher will stand up for them when they do so."
McKeon, who calls Sekicky the "finest high school journalism teacher in the country," said she taught him to not only write clearly, but to think clearly.
"She was the rare adult in my life who never bought the fiction that righteous anger is a sign of immaturity," McKeon said. "Natalie Sekicky never asked for thanks or recognition, but now, I'm going to insist upon it."
Esther Wu
Mountain View High School, Mountain View, California 
Whether reading Shakespeare's "King Lear" or Toni Morrison's "Song of Solomon," Allison Mark said her AP literature teacher pushed her to think deeper, teaching her skills to engage with and analyze literature.
Mark, a senior in Northwestern's McCormick School of Engineering, said her teacher Esther Wu possessed "a boundless reserve of energy and passion that instilled as much dread and anxiety as it did admiration and inspiration."
"Papers were handed back just days later, inked over with insights and constructive criticism, and college application essay readings outside of class were scheduled every week in the fall semester," Mark said. Furthermore, she remembers Wu returning soon after the birth of her second child for some last-minute AP exam coaching and preparation.
Wu said it's her job to create the conditions necessary for all students to learn to the best of their ability every day.
"Whenever I find myself buried beneath piles of papers to grade or stuck on how to improve a lesson, I stop and remember my students," Wu said. "They inspire me to continually refine curriculum, instruction and assessments. They remind me that teaching is a craft rooted in relationships, which brings great joy."
Wu's high standards and unshakeable faith in her students taught them to only expect the best in themselves, Mark said.
"Ms. Wu, the superwoman that she is, truly cared for us and found time to knit us closer together as a class," Mark said.
2017
Dana DesJardins
Niles West High School, Skokie, Illinois
Weinberg College of Arts and Sciences senior Barbara Gawin said English teacher Dana DesJardins goes above and beyond in her role as an educator. 
"Throughout the year, she frequently met with all her students to check in with them," Gawin said. "On the last day of class, she handed out poems that she had found and specifically chosen for each of us. Mine was so beautiful and such an accurate description of me that I almost cried."
DesJardins has been a public school teacher for 26 years. She said even after interacting with thousands of students over the years, they still surprise her.
"They still remind me it is imperative to be open and flexible, to read the emotional weather in the room and adapt accordingly," she said.
DesJardins said an effective teacher "has a deep knowledge of the subject area, an abiding optimism and immense patience."
Sanlida Cheng, director of humanities at Niles West, would also add thoughtful and considerate to that list of qualities — particularly as it pertains to DesJardins.
Cheng said DesJardins recently offered to teach a section of junior English as a favor to a colleague.
"Going into her final year before retirement, Dana could have asked to teach whatever she wanted, but she decided to help her colleague instead," Cheng said. "Dana now teaches this course, differentiating the curriculum to meet the needs of very needy students and making systemic recommendations. I would give anything for a department full of Dana DesJardins, but I know there is only one." 
Andrea Geyling-Moore
Milton Academy, Milton, Massachusetts
Arielle Ticho said history teacher Andrea Geyling-Moore taught her to look at the world through a critical social justice-oriented lens, inspiring the School of Education and Social Policy senior to commit to a career in urban teaching.
[She] "made sure to make the topics we read about and discussed in class come alive through inviting speakers to class and having us interact with the world beyond the classroom walls," Ticho said.
When Geyling-Moore first started teaching, she began with an international focus. However, she said teaching and living have taught her the importance of also focusing locally.
"Indeed, investing oneself locally can have significant connections with national and global issues, as I try to help my students realize, and as my students' own stories often exemplify," Geyling-Moore said.
Geyling-Moore, who has taught at Milton Academy since 1992, has developed a social justice course in which students explore issues of human rights, living wage, environmental justice, food insecurity and more. She requires students to make a weekly commitment to a service site off campus.
"I remain steadfast in my professional goal and personal hope: to prepare my students to be engaged in a world — locally and globally — that needs, more than ever, caring, motivated, skilled, knowledgeable citizens."
Vivian Wu Wong, chair of the history and social sciences department at Milton Academy, said Geyling-Moore's class indeed has had an impact on her former students.
"As we continue to hear from our alumni, these experiences were incredibly meaningful and continue to shape their outlook on the world today," Wong said.
David Masunaga '79
'Iolani School, Honolulu, Hawaii
Weinberg College of Arts and Sciences senior Nicholas Yim was inspired by his high school math teacher to apply to Northwestern — a somewhat difficult decision, particularly when moving, as Yim described, from "a place full of gleaming white sand and turquoise waters."
But Yim's math teacher David Masunaga, a 1979 graduate of Northwestern, inspired Yim and his two brothers, now also Northwestern graduates, to pursue diverse educational learning experiences far from Hawaii.
"Mr. Masunaga cared more about his students' learning than about their grades," Yim said. "His classes allowed students to visualize different mathematical concepts with demonstrations and to directly experiment with mathematical theories."
Furthermore, Yim said Masunaga believed students should show concern and do for others. Paying it forward, Yim has tutored students in several science courses at Northwestern and has served as a basketball coach for fourth-graders at an Evanston community center.
Masunaga said he has a "dogged and undying belief in the potential of young people."
"Some subjects are inherently challenging, and no gimmicks can make them easy," Masunaga said. "However, anything is possible when deeply committed teachers believe in their students and help them engage with the material."
Aster Chin, the upper school dean at 'Iolani School, said Masunaga is one of the most revered members of their faculty.
"At every alumni event, I always hear stories of how much they learned from 'Mr. Mas' and when asked which teacher has impacted them most, the answer is most often a resounding 'Mr. Mas.'"
Patrick Pearson
Oak Park and River Forest High School, Oak Park, Illinois
Ben Weiss, a senior at the School of Education and Social Policy, said he likely would have quit high school orchestra after his freshman year if it hadn't been for his music teacher, Patrick Pearson.
"With Mr. Pearson at the helm of my high school orchestra class, I came ready and excited to practice and play every day," Weiss said. "You worked hard in class because you truly didn't want to disappoint him or let him down. He always carried a huge smile on his face, regardless of circumstance."
Pearson, who has been teaching for more than 25 years, said teaching is part of his fiber. As a result, he said, "I rarely have to psych myself up for teaching or become nervous for teaching."
One piece of advice Pearson offers to other teachers is, "Be yourself."
"I think this trait is what sets me apart from many of my colleagues," he said. "Because I am a music ensemble teacher/conductor/director, I have the unique luxury of having my students for four years. During those four years, I have the opportunity to really get to know the students, and they really get to know me."
Allan Dennis, founder and president of the Midwest Young Artists Conservatory, said it's hard to think of anyone more deserving than Pearson for this honor.
"His commitment to his students, as a role model and because of his commitment to youth, especially to providing opportunities for youth who might not have the support system that other students might, make him a most logical choice for this wonderful award," he said.
Raymond Salazar
John Hancock College Prep High School, Chicago
To Osbeyda Navarrete there is one high school teacher in particular who stands out and remains a constant source of support and motivation.
English teacher Raymond Salazar challenged and pushed his students to continue to do their best, Navarrete said.
"One of the things that I really appreciated about him was that he didn't accept our excuses when trying to turn in late or incomplete assignments," said Navarrete, a senior in the School of Education and Social Policy. "This really helped me be prepared for college and work hard on every single assignment."
Since graduating from high school, Navarette has from time to time consulted with his former mentor to discuss matters such as career options.
"Mr. Salazar is the type of teacher that doesn't forget about students once they are no longer in his class…he is the type of teacher that becomes a mentor afterwards."
Salazar said so much of his work is helping students realize the strength they already possess, but he also recognizes they are not invincible.
"The election results make us see a new vicious reality that many of students will have to confront," Salazar said. "This is why part of my work — besides teaching writing — also has to include helping students prepare to confront — but not tolerate — the ugly realities of trying to lead a better life." 
Karen Boran, principal of John Hancock College Prep High School, said all of Salazar's achievements in the classroom still do not cover his impact.
"He pushes kids to think deeper, to work harder and to become their best possible selves," she said.
2016
Daniel Conti
Weinberg College of Arts and Sciences senior Ryan Kenney said English teacher Daniel Conti tirelessly guides and supports his students until they have the confidence and capability to meet his expectations.
"By prioritizing learning over achievement and by imparting his passion for learning and teaching at every opportunity, Mr. Conti demonstrates his exceptional ability to foster a love of learning among all of his students," Kenney said.
Conti, who has taught English at Lincoln-Sudbury Regional High School in Sudbury, Massachusetts, since 1994, said early on in his teaching career he learned that teaching wasn't about him, it was about the students -- after which he said many more lessons have followed.
"First: teaching is an act of faith," Conti said. "We spend an incalculable amount of time and energy on our students, and, yet, we may never see the fruits of our labors. We trust that our students will be better students, better citizens, better people for having been in our classrooms."
Conti is "a true servant leader to his students," Kenney said.
"I had many friends in Mr. Conti's classes who weren't exceptionally drawn to English as a subject, but who nonetheless matured as students and gained remarkable confidence in themselves and their abilities by simply being a student in Mr. Conti's class," he said.
Eleanor Burke, housemaster at Lincoln-Sudbury Regional High School, has supervised Conti's teaching for seven years and said he is a teacher who literally opens students' worldview.
"Every time I watch Dan's class, I see small miracles," Burke said. "We all leave the room feeling something is right with the world."
Linda Ford
Chemistry teacher Linda Ford said the greatest compliment to her teaching is the overheard remark as the bell rings, "What? Class is over already!"
"It tells me that I have orchestrated a communal learning experience that caused time to fly by," said Ford who teaches chemistry and AP chemistry, as well as an elective environmental science class for juniors and seniors, at The Seven Hills School in Cincinnati.
Ford's passion for teaching and joy for learning is contagious and evident to her students, said McCormick School of Engineering and Applied Science senior Katherine Cirulli, citing how Ford has transformed the way she thinks about and solves problems, both inside and outside of the classroom.
"Her curriculum and teaching style well prepared me for the exams and problem sets I have completed throughout my time at Northwestern," Cirulli said. "These critical thinking skills have been the backbone of the way I learn and study at Northwestern."
Ford would demonstrate a new chemistry experiment using music and costumes to enhance teaching about chemical concepts they were learning in class, which was especially helpful to Cirulli, who calls herself a "visual learner."
Ford said that's by design.
"I use music, special lighting, costumes, props and poetry to connect all of their senses to chemistry," she said.
But props aside, her courses are known to be so challenging that students adjust their course loads around them, said Susan S. Marrs, assistant head of school at Seven Hills.
"Linda gives only her best every single day, and that's what she expects -- and gets -- from her students as well," Marrs said. "Linda is a teacher kids remember and appreciate all their lives."
Ben Hartnell
Weinberg senior Emma Feder fondly recalls Ben Hartnell, her history teacher at Westerville North High School running through the hallway screaming, "Freedom!" at the top of his lungs while wielding a fake sword and dressed in William Wallace attire a la "Braveheart."
"Dr. Hartnell's uniforms are a staple of his classroom experience," Feder said. "He frequently teaches in full costume to help bring history to life for his students."
Hartnell, who has been teaching for 15 years, said students need to "buy in" to what you're essentially "selling" them.
"Everything I do, create and wear, I do for my students in my never-ending pursuit of making history feel real," he said. "I literally try to bring history to life on a daily basis!"
Hartnell also is known for his blue book exams.
"Although daunting at first, Dr. Hartnell's blue book whipped my writing and study skills into shape at a time in my life when I was determining what type of student I wished to become," Feder said.
"His course shaped me not only as a student but also as a person, and I do not believe that I would have developed the same skills and self-motivation had I not spent that time in his classroom," she said.
Students should always be the focus of teaching, Hartnell stressed. His hands-on approach to teaching -- using costumes, reenactments or protests -- benefits all types of students regardless of their unique abilities, he said. 
"This produces students that are excited about education and creates a wonderful atmosphere not only in Room #135, but around the high school and community," Hartnell said.
Barbara Kane
McCormick senior Rene Romo said his high school calculus teacher Barbara Kane managed to get an entire class excited about a subject and to strive for the same goal.
Kane's ability to motivate her students led to a high of more than 75 percent of AP Calculus students at Morton East High School in Cicero, Illinois, passing the AP exam in 2013, which is 15 percent higher than the national average. That is especially noteworthy considering the school regularly falls below state standards in math.
Romo said what differentiates Kane from other teachers is the amount of work she's willing to put in to ensure her students have all the resources they need. She provides tutoring and homework help every day before and after school and even comes in on Saturday in order to have students complete AP practice exams.
"Many students come into the classroom disinterested or thinking they have no chance of passing the exam, and before long they are doing everything they can to pass it," Romo said. "And they enjoy doing it."
A math teacher at Morton East since 1998, Kane said along the way she has developed techniques to demonstrate multiple ways to solve a problem and to identify the better or easier approaches. She's also come to realize that the goal of teaching is not entirely about math.
"It's truly about empowering the person," Kane said. "Teaching is about getting each individual student to develop their own goals in the classroom that translate into goals in life, while getting the entire class to work together as a unit to achieve them."
Jose Romo
For most of her life, Weinberg senior Thelma Godslaw grew up within a three-block radius of Lawndale, Hawthorne and Inglewood, California. She was content with the parameters of her immediate neighborhood -- that is until she set foot in Jose Romo's Spanish class.
"I had never seen the beach, until I ran there with my two feet on our training routes," recalls Godslaw, referring to her experience with "Students Run L.A.," an organization that gives at-risk students the opportunity to prepare for running a marathon, which was coached by Romo.
Romo, who teaches Spanish and AP Spanish literature at Leuzinger High School in Lawndale, went above and beyond to expose his students to the Latin culture through books, dance, music, art, plays and much more.
In addition to coaching "Students Run L.A., he organized the annual Cinco de Mayo celebration and advised the Movimiento Estudiantil Chicana/o de Aztlan chapter at Leuzinger, showing Godslaw and other students how to stand up to injustice.
Inside Romo's classroom, Godslaw not only learned to speak, read and write Spanish, she also fell in love with the culture of her Latina and Latino peers.
"This was no small feat," Godslaw said. "My high school was not well funded, so the measures he took to expose us were personally funded, and his hours extended well into the weekend and weekday nights."
Romo strongly believes the true test of his teaching is not when students do well on an assessment, but when they go out into the real world and put into practice what is most appropriate.
"Students sharing their life experiences, showing compassion for others, standing up for what they believe, these are the joys of teaching," Romo said. "An invitation from a former student who is graduating from a university, even if it's on the East Coast, brings me more joy than all my students passing a state mandated exam."
2015
Elizabeth Bennett
At Illinois' Buffalo Grove High School, orchestra teacher Elizabeth Bennett has earned the nickname "Mom" as a term of endearment. Weinberg College of Arts and Sciences nominator Samantha Bulmash, who nominated Bennett for the award, said, "She has become 'Mom' to hundreds of students. It takes an exceptional type of person to earn such an affectionate nickname from 'angsty' teenagers, and she earned it without even realizing it." A teacher at Buffalo Grove for nearly seven years, Bennett was the recipient of the 2008 Illinois Emerging Teacher Leader Award and the 2014 recipient of the University of Chicago's Educator of the Year Award. Bulmash said Bennett manages to achieve that perfect balance between education and pleasure, strictness and friendliness, precision and creativity. "Everything about Mrs. Bennett demonstrates her love for music: her speech, her stories, her behavior, even her clothing -- she is extremely proud of her 'Bach socks,'" Bulmash said. "She implemented an orchestra service hour requirement so that we can give back to our community and bring the joy of music to younger students or other community members." Bennett embraces the "Mom" nickname -- especially now. "After becoming a 'real' mom, I've learned that this craft of teaching is very special and a gift not to be taken for granted," Bennett said. "Each day there are parents who entrust their children to me, to mold their young minds and help them discover the world around them and how to not only survive in it, but thrive." Bennett earned her bachelor's degree from Northwestern and her master's degree from Concordia University in Wisconsin.
Donald Bott
Getting through school always came easily to Medill School of Journalism senior Lissette Rodriguez until she encountered high school journalism teacher Donald Bott, who never failed to challenge her. "Mr. Bott saw greater potential in this first-generation, low-income, Mexican-American girl," Rodriguez said. "And I'm not the only one he saw potential in. He has seen and continues to see promise in every single one of his students over his nearly 30 years of teaching." Bott made certain Rodriguez knew the ins and outs of applying to college and called her parents to go over the application process. As a teacher at Amos Alonzo Stagg High School in Stockton, California, where four out of five students qualify for the federal free lunch program, Bott crafts lessons that show compassion for students while continuing to push them to be great. Over the course of his teaching career, he has discovered the reciprocal nature of teaching. "Yes, I, the credentialed teacher, have a great deal to offer, but students also bring a rich treasure to the classroom," Bott said. "This principle has helped me develop my craft as an educator." Bott has been recognized with several awards over the years, including the San Joaquin County Teacher of the Year and most recently with the Diversity Award from the Journalism Education Association. He earned his bachelor's degree from the University of California, Santa Cruz, and his master's degree from Sacramento State University.
Wesley Kirpach
In Wesley Kirpach's classroom, curiosity is sparked before the high school teacher even sets foot in the room, says Weinberg College of Arts and Sciences senior Laura Stoughton, who nominated the Plano West Senior High School biology teacher. Stoughton describes skulls and skeletons that sit atop wooden cabinets in the class and award-winning wildlife photographs, taken by Kirpach, taped to the doors. Stoughton says Kirpach's undeniable passion for biology infects even the most reluctant student, creating an environment in which his students not only learn about science, but also participate in it. "He has the ability to make complex, abstract processes comprehensible and concrete," Stoughton said. "Any student of Mr. Kirpach's knows that his favorite props -- a set of squishy Lego blocks and bendable foam tubes -- could morph into proteins, glucose molecules or DNA, as that day's lesson required." Kirpach said his greatest influence was his own high school biology teacher, who instilled in him a love of biology, science and learning. "I take every opportunity possible to put the science into the hands of the students and let them experience biology first hand," Kirpach said. "Discovery is fundamental. It is the most exciting and engaging aspect of science." His goal is to "instill a curiosity in his students, so that they are prepared to be competent navigators in their own adventure." Kirpach earned a bachelor's degree from Texas A&M University and has received numerous honors, including Excellence in Teaching, Teacher of the Year Award Plano and Plano West Teacher of the Year awards.
Valerie Schrag
School of Communication senior Brittany Ray does not believe she would even be graduating from Northwestern in June if not for her high school history teacher Valerie Schrag. More than a "great teacher," Schrag, who teaches African-American history as well as AP U.S. history and modern world history at Lawrence High School in Lawrence, Kansas, mentored Ray through the college application process and encouraged her to apply to Northwestern. "My freshman year at Northwestern was marred by extreme homesickness, and as I'd always done, I turned to Ms. Schrag for advice and guidance," Ray said. "I felt out of my element and unsure if I had made the right decision. However, she continued to encourage me and reassure me that it would get better -- once again, she was right." Schrag said as a high school teacher, she helps students navigate not only their academic progress but also their journeys toward fulfilling adult lives, adding that she's come to understand that all victories are worthy of acknowledgement, not just those that are widely recognized by others. "It is important to congratulate the student who earned a '5' on the national AP U.S. history exam, but it is equally as important to celebrate with the student who faced his fears and simply sat for the exam or enrolled in the course in the first place," Schrag said. "She epitomizes what the secondary school teacher award represents, and I have waited four years to nominate her," Ray said. Schrag earned a bachelor's degree from Bethel College in Newton, Kansas, and a master's degree from the University of Kansas.
Sameer Shah
School of Education and Social Policy senior Samantha Paige Yi begged her high school counselor to allow her to take an extra English class her senior year. However, she needed four years of math to apply for early decision at Northwestern. Yi said she can still remember the first day she walked into her calculus class at Packer Collegiate Institute in Brooklyn, New York, and was greeted by the most enthusiastic teacher she had ever encountered -- Sameer Shah. "What really got me was when he talked about how beautiful calculus could be," Yi said. "Mr. Shah never hesitated to point out the overlap between subjects -- math and music, science and English." Shah said that friends and colleagues say he's "unnaturally obsessed with teaching." "For me, it's a badge of honor," Shah said, adding that at the heart of it all, he holds his students to a high standard. "I always meet them where they're at -- altering my curricula based on the understandings I see -- but I make sure they lead me to deep mathematical understandings, rather than the other way around," he said. Bruce Dennis, head of school at Packer, says the depth of Shah's intellect led the school to take a chance on the then first-year teacher -- something they rarely do. "As a reward for our risk-taking, Sam has affirmed the wisdom of our decision to hire him each and every day over the past eight years," Dennis said. Shah earned his bachelor's degree from the Massachusetts Institute of Technology and his master's degree from University of California, Los Angeles.
2014
Howard Hill
At Illinois' Highland Park High School, Howard Hill is sometimes called a "salesman of science." Weinberg 
College 
of Arts 
and 
Sciences graduate Kathryn Halpern, who nominated her former environmental science teacher for the award, says that Hill not only has ignited an interest in environmental science in hundreds of high school students but also equipped them to live more ecologically friendly and sustainable lives. A teacher at Highland Park for 14 years, Hill won a 2012 Presidential Award for Innovation in Environmental Innovation from the U.S. Environmental Protection Agency and The White House Council for Environmental Quality. From the very first day of class, his students find themselves doing field research out-of-doors in their efforts to conduct real-world environmental research. To explore the ways in which their school can reduce its carbon footprint, Hill's students designed and built a biodiesel laboratory that converts used vegetable oil from the school's cafeteria into biodiesel fuel that powers a generator. In turn, the generator powers the school's athletic concession stands. While teaching his students about alternative energy, Hill encouraged them to explore the feasibility of a wind turbine at the school. Today a wind turbine provides additional green power. Hill earned his bachelor's of science degree from the University of Guelph and a master's from Northeastern Illinois University. His goal is to make his students realize that they can make positive and innovative contributions to issues of sustainability and environmental quality. According to his former student, he is successfully doing just that.
Catherine Irving
As a senior at Chicago's Northside College Prepatory High School, Bridget Illing -- a graduate of the School of Communication -- took an elective with world studies and European history teacher Catherine Irving. To better understand the nation's increasing rates of obesity and decreasing health levels, Irving took Illing and nine other students to her hometown of Huntington, West Virginia, which an annual Gallup index of well-being ranks as the nation's "fattest city." Meeting with people from different disciplines, they learned how economic forces influence local culture. To study the history of Haiti, her students read "Breath, Eyes, Memory, " a 1994 novel about a young girl who moves from an impoverished village in Haiti to New York. They later Skyped with the book's author, Edwidge Danticat, and talked about the ways that history influences current events: "Ms. Irving has a teaching style that is so enthusiastic and creative, there is no way to find anything about history uninteresting," says Illing. "Each new lesson is like learning a great piece of gossip about who did what to whom." Irving, who earned a bachelor's degree in history at Miami University of Ohio and a master's degree in teaching arts from Marshall University in West Virginia, says her goal is to engage all students. "As social science teachers, we are able to use content to encourage future decision-making. I take this privilege very seriously," says the 18-year veteran of teaching.
David Knight
David Knight's philosophy of teaching has evolved over the course of 24 years at University High School in Irvine, California. According to Weinberg College of Arts and Science nominator Jane Wang, her biology teacher's strong points include the ability to "bring back the childlike wonder and fascination" of learning. In his application, Knight describes the degree to which he connects with his students as they experience not only joy and success and undergo tragedy and difficult circumstances. "Through my students' eyes, I have seen the grief of divorce, the joy of being accepted to college" and just about everything in between. He says he not only has the "responsibility of teaching science to his students, but the obligation to model integrity and fairness, responsibility and absolutes." Knight is most gratified when former students tell him that his were the hardest but also most rewarding high school classes they took. "For good or bad, I can influence these minds with both my words and my actions," he wrote in his award application. "Not only am I teacher of science, I (also) am a molder of character." Knight earned his bachelor's degree in science education from Oregon State University and his master's degree in environmental studies from California State University-Fullerton. A teacher at University High School since 1990, he has taken many interested students on field trips to Central and South America to study tropical ecosystems. Northwestern's Wang was among them.
Mattie Olsen
Weinberg graduate Samuel Tvrdik says that there were numerous outstanding teachers at Creighton Preparatory School In Omaha, Nebraska. But none did as much to restore his self-confidence at a difficult time in his life as his theology teacher Mattie Olsen, did, he says. "Olsen's intellectual curiosity and enthusiasm were palpable in every class," Tvrdik says. "Her world religions class broke free from the rhetoric that I was used to, allowing me to glimpse the world from the varying perspectives of persons of other faiths." He warmly recalls classes spent cooking meals associated with different religious holidays, writing reports on Al Jazeera articles and a video project on the various interpretations of God. As the recipient of a Fulbright-Hays Seminars Abroad award from the U.S. Department of Education, Olsen went to Egypt for five weeks to develop a curriculum related to the study of Islam. What set her apart from Tvrdik's other teachers was her attention to his emotional well-being. "She recognized that I was having difficulty and actually worked to improve my life," Tvrdik says. He indicates that his own Northwestern success is in part the result of his caring teacher. "I am grateful for being able to compassionately walk beside students who embrace their faith as well as those who struggle with belief," says Olsen, who earned a bachelor's degree in government from Harvard University before earning master's degrees in Christian spirituality and in secondary education from Creighton University. "Mattie is an educator who embodies the ideas of Jesuit education," says Sean Joyce Whipp, theology department chair at Creighton Prep. "She demonstrates deliberate care for each of her students by the particular way that she teaches and interacts with them."
2013
Phillip Baker
Phillip Baker is a 20-year veteran of business and engineering management turned National Board-certified science teacher. Baker currently is a chemistry and physics teacher at Huntsville High School in Huntsville, Ark. He was nominated for the Distinguished Secondary Teacher Award by McCormick School of Engineering and Applied Science senior Tristan Sokol. Sokol writes that "Mr. Baker taught us not only about chemical potential but about the great potential each and every student had. His impact on my life is the direct cause for me and my classmates going to top-tier universities across the country, from a town that had only seen a handful of students ever travel outside the state." Baker has been integral in developing and implementing rigorous curricula into the Huntsville High School science department to increase the likelihood of student success. He received his B.S. in chemical engineering from the University of Arkansas, completed the executive program at the University of Michigan Business School and achieved National Board Certification in 2010.  
Christopher Esposito
Christopher Esposito, a social studies teacher from South High School in Downers Grove, Ill., graduated from the University of Illinois at Urbana-Champaign in 2001. He began his career as a social studies teacher believing that "all students can learn, and it is the role of the teacher to make sure all are engaged in the process." In the 12 years since, Esposito has earned a master's degree in educational administration from Northern Illinois University and a Ph.D. in curriculum studies from the University of Illinois at Chicago, and, in 2011, he became the social studies department chair at South High School in Downers Grove. He still follows the same basic principle that guided the operation of his classroom when he started his career, saying "my students now have a teacher who not only sees the importance of educating every individual as an individual but also as an important, functioning member of the society. They have a teacher who understands educating as a joint and collective process, where power is shared, and the goal is the creation of a better society." Confirming his mission, nominator Laura Ledvora, a Weinberg College of Arts and Sciences senior, said "from the class environment, class discussions and the assigned readings, I learned to question myself, to question the world and to determine what I truly believe. This history class provided the environment, the encouragement, the knowledge and the reasoning skills necessary to turn me into a thinking human being. I would not be the same person I am today had I not been enrolled in this class." 
Kelly O'Keefe-Boettcher
Kelly O'Keefe-Boettcher is an American Authors and International Baccalaureate English teacher from Rufus King High School in Milwaukee, Wis., who can make a teenager feel like her classroom is the best place to be every day for 52 minutes, according to nominator Jessica Holden. Graduating from the School of Education and Social Policy in June, Holden nominated  O'Keefe-Boettcher because "there will always be a young, confused, unloved, ignored, hidden beauty and talent of a student that Ms. O'Keefe has the power to make whole again." She challenges her students to read and write critically while showing her caring and respectful attitude towards everyone she is in contact with throughout her day.  O'Keefe-Boettcher received her B.A. and M.A degrees from the University of Wisconsin-Milwaukee in 1987 and 2002, respectively, and her teaching license from Alverno College in 1998.
David Quinn
David Quinn is a teacher of English and the theory of knowledge at Edmonds-Woodway High School in Edmonds, Wash. He was nominated for the award by McCormick engineering senior Taiyo Sogawa who credits Quinn with teaching him to think critically, a skill which he is able to apply to his work in computer engineering. Quinn, who takes a student-centered approach to teaching, also served as a mentor for Sogawa in and out of the classroom. He rarely stands at the front of the classroom, reflecting a style that allows students to guide the learning. Quinn asks, "Why are my questions about a text more important than my students' questions?" Sogawa indicates "Mr. Quinn did not simply tell me to follow my dreams; he was and is a living example of someone who has found his passion and refused to let the normal expectations of who teaches high school stand in his way." Before becoming a teacher, Quinn was an actor, whose credits include hosting the Primetime Emmy-nominated science series "3-2-1 Contact" and winning a Peabody Award as the host of "I Have AIDS, A Teenager's Story" (a chronicle of Ryan White). He has made regular appearances in national commercials and was a child actor on "Sesame Street." While teaching, Quinn co-founded Allrecipes.com, now the No. 1 food website in the world, and served as its chairman until 2006. Since joining Edmonds-Woodway High School, Quinn has become the coordinator of the International Baccalaureate (IB) program and increased full-IB diploma registration by 100 percent since 2011.
Julianne Schrick
Julianne Schrick is a nationally board-certified high school mathematics teacher with more than 25 years of experience. She has been teaching at Redwood High School in Larkspur, Calif., since 1995. Her teaching philosophy is based on instilling in students, regardless of their backgrounds or aptitudes, a belief that they can take on hard challenges and succeed. This belief is exemplified by the four students who collaborated on her nomination: Danielle Littman and Rachel Abrahams, both in the School of Communications, and Jonathan Kaplan and Daniel Kaplan, both in the Weinberg College of Arts and Sciences. They wrote that Schrick would "believe in us until we believed in each other and until we believed in ourselves." Over the last six years, more than 80 percent off her AP Calculus BC students have received a score of 5. Schrick received her B.A. in mathematics and M.S. in education from Dominican College of San Rafael. 
2012
Greg Devine
Greg Devine is an Advanced Placement (AP) physics teacher at Delbarton School in Morristown, N.J., who also serves as an advisor to the Engineering and Design Club and director of the school's wind and brass ensembles. He was nominated by McCormick School of Engineering and Applied Science senior Luke Francis Hemenetz. "Greg Devine sparks a passion for learning in his students and his students respond in kind," says Delbarton School Headmaster Brother Paul Diveny of the physics teacher. "With a true passion for teaching and self-renewal, Greg is a life-long learner himself, and this is what he models to his students."
Rafael Arechabaleta
Rafeal Arechabelata an honors and AP physics teacher at University School of Nova Southeastern University in Ft. Lauderdale, Fla., was nominated by five Weinberg College of Arts and Sciences seniors. Michael Dornbusch, Jonathan Schwartz, Matthew Adam Bartnovsky, Mitchell Drew and Kelly Flowers each expressed admiration for their Cuba-born teacher who received his undergraduate degree in the former Soviet Union. Of his own teaching philosophy, Arechabaleta says: "Education provides students the latitude to form their own opinions and to challenge themselves and society around them. Having been educated in Communist Cuba where free thought was discouraged and educational resources were limited, I truly appreciate educational freedom and strive to provide my students the opportunity to design their own curriculum." He is the second teacher from University School of Nova Southeastern University to be awarded the Distinguished Secondary Teaching Award.
John F. Belcaster
John Belcaster is a Northwestern University alumnus who, prior to teaching, worked alongside now President Barack Obama at the Chicago law firm of Miner, Barnhill & Galland and teaches honors American and world history at Walter Payton College Preparatory High School in Chicago. He previously taught AP economics and history at Chicago's Northside College Preparatory High School, where he taught Weinberg senior Patricia Radkowski, who nominated him for the award.  She describes Belcaster as "passionate about his position and his students and incredibly educated." Tim Devine, principal of Walter Payton College Prep, praises him as "unparalleled at creating a student-centered environment."
Amanda Bright
Amanda Bright teaches journalism and composition at Mattoon High School in Mattoon, Ill., where she developed the journalism curriculum. She is student advisor to the high school's award-winning newspaper. Medill senior Sarah Eberspacher credits her former teacher with inspiring her to pursue journalism in college. In describing her teaching method, Bright notes: "The moment I become static and unresponsive to the changes in my students and our culture, I will lose all effectiveness." Eberspacher says her former teacher has no cause to worry: "When I left Mattoon High School, the notion of studying journalism in college was relatively nonexistent. Just four years later, there are three or four students heading off each year with plans to become the next Al Neuharth, Bob Costas or Anna Quindlen. The woman behind that is Mrs. Bright."
Christine Jawork
Christine Jawork teaches African and Asian studies at Harriton Senior High School in Rosemont, Pa., where she also directs the Students Building Community Team and coaches the Mock Trial Team and World Affairs Club. Lauren Marcuson, her school prinicipal, describes Jawork as "an advocate for her students." Jawork says her primary goal as an educator "is to help students re-discover their own passion for knowledge, which, by high school, has often long been in latency." Weinberg senior Benjamin Goldberg nominated his former teacher and says that she "forced her students to confront unchallenged assumption and to think critically about history and the study of culture. She taught with an incredible energy and charisma, bringing her whole self into the classroom and inspiring us to learn. I looked forward to her class every day."
2011
Theresa Fischer
Theresa Fischer teaches AP Economics and American Government and Politics at Ridgefield High School in Ridgefield, Conn., and is the advisor for Model UN. "During my time at Northwestern as an economics major, I have found that Ms. Fischer's AP Economics class prepared me very well for collegiate academics," said Nicole Marie Ablondi, a senior in the Weinberg College of Arts and Sciences. "AP economics and Model UN were without doubt some of the most challenging and most rewarding of all my high school experiences," she said. "At the end of my high school career, I learned more than how to find the deadweight loss on a graph or research a topic for a debate -- I learned how to believe in myself and what I could accomplish. Fischer is widely acclaimed for loving what she does and truly caring about her students," Ablondi said. 
John Holloran
John Holloran began his tenure at Oregon Episcopal School (OES) by introducing himself and his partner with a skit, in which they pretended to be on cell phones, bantering, for example, about their transition from schools in New York. Then Holloran, who teaches history, hesitantly asked, 'Do you think they know we're gay?' said Monica Josselyn Scheer, a senior in the Weinberg College of Arts and Sciences. An eruption of laughter followed. "I can remember so many meaningful moments with John," she said, stressing the importance he placed on listening. At the start of each class he would ask what the students wanted to learn that day. "He often would reference something that had happened in chapel or a conversation he had with a colleague to make his lessons relevant to our interests," she said. "He taught me the most important lesson I've ever learned -- that listening is the most important thing you can do for someone."
Edwardo Johnson
Johnson previously taught high school in Jamaica, where he is originally from, in the Bahamas before joining the faculty of  University School of Nova Southeastern University (Upper School)  in Davie, Florida , where he serves as Curriculum Coordinator for World Languages.  One of his nominators, Alex Leibowich, who will graduate from the School of Communication, was a student in his Spanish class. "I learned more about myself, about the people around me and about the human experience as a whole, than any language could have ever taught me," he said. What Johnson taught, "could not be translated into Spanish or any language for that matter; it's something you had to experience." Beyond that, Leibowich said, "He taught us how to be proud of life – to appreciate it for everything that it is and everything that it will be, no matter what obstacles we face." (Johnson also was nominated by Carl Michael Blumenfeld, Weinberg College of Arts and Sciences.)
Georgia Stohr
Stohr heads up the freshman honors program in the English department and is an adviser for the yearbook at LaSalle-Peru Township High School in LaSalle, Ill. "Ms. Stohr teaches her students much more than Greek mythology or Adobe InDesign,"said Samantha Rose Reed, a senior in the School of Education and Social Policy. "With honesty and respect, she coaches them through some of the most difficult and formative years of their lives." The countless hours Stohr worked before and after class, particularly in her advocacy for the yearbook, also was noted by Reed. Each year she takes the yearbook staff to camp in the summer, prepares them for journalism competitions and submits their work for scholastic recognition. "I still have coffee with Georgia Stohr or visit her classroom whenever I go home for a few days….she has become as much my friend as my teacher," Reed said.