Graduation 2020
2021 In-Person Graduation Celebration for Class of 2020
2020 Virtual Commencement
2020 Commencement Program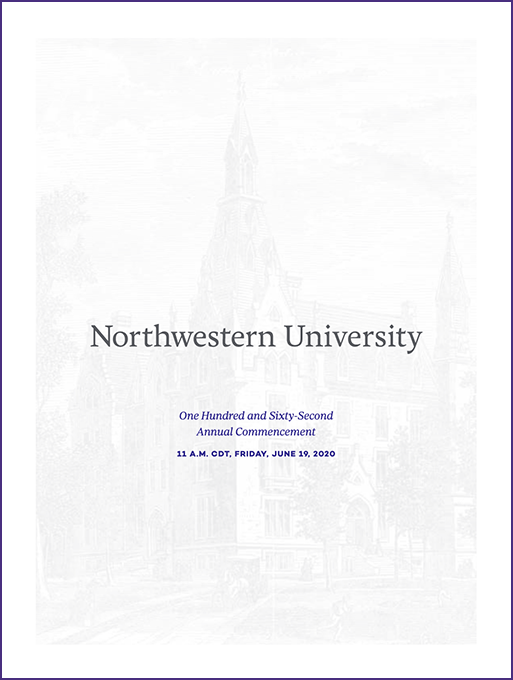 View or Download the 2020 Commencement Program (PDF)
2020 Honorary Degree Recipients
Each year, Northwestern awards Honorary Degrees to a select group of individuals of exceptional accomplishment. Past recipients include exemplary scholars, artists, actors, writers, musicians, politicians, and social leaders. Learn more about the selection process and how to submit a nomination.
Joanne Stubbe Presented by Amy Rosenzweig
Norman Lear Presented by Thomas Bradshaw
George Whitesides Presented by Teri Odom
Chicago Mayor Lori Lightfoot Presented by Nichole Pinkard
Distinguished Secondary School Teacher Award Recipients
In the fall, President Morton Schapiro asks the graduating seniors to nominate teachers who have had a transforming impact on students. A selection committee chaired by Eugene Lowe, Assistant to the President and Senior Lecturer in Religious Studies, with support from the Associated Student Government, reviews the nominations and requests teaching portfolios from nominated teachers for finalist consideration.

A small group of finalists are interviewed and the committee recommends five outstanding teachers to President Schapiro for this recognition.
Click here for more information about the Distinguished Secondary School Teacher Award.
Dr. John DeRose Nominated by Student Carter Rothman
Kristen Kirschner Nominated by Student Gabrielle Bienasz
Maria Hiassen Nominated by Student Sumin Woo
Joseph Brysiewicz Nominated by Student Jack Benjamin
Diana Niemann Nominated by Student Kristen Barnes