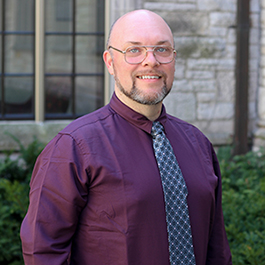 Assistant Dean of Students - Student Assistance & Support Services
In his 20 plus years of experience in higher education, Bradley has worked and taught at seven different colleges and universities prior to Northwestern.  Bradley has an undergraduate degree in Chemistry from Western Kentucky University and graduate degrees in education, public health, and business from the University of Louisville and Benedictine University.  Bradley's background in Student Affairs includes residence life, conduct, emergency response, and student support services.
Originally from Kentucky, Bradley and his husband moved to the Chicagoland area from central Illinois with their three fur babies (two Schnoodles and a Cocker Spaniel).  In his spare time, Bradley enjoys exploring the city, going to the beach, trying new restaurants, going camping, reading, movies and music, and trying to take naps in the recliner with his three fur babies piled on top of him.