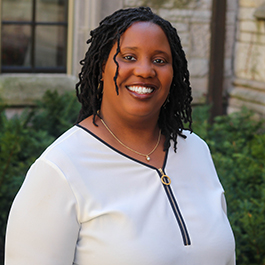 Assistant Dean
Before joining Northwestern University, Akilah was the Director of Student Conduct at Loyola University New Orleans. During her time at Loyola University New Orleans, Akilah helped to rebuild the student conduct office after COVID and a shift in the office when the decision was made to separate the Title IX and Student Conduct positions into two separate roles.
Akilah brings over 15 years of knowledge and experience in Residence Life, Student Conduct and Crisis/Case management from her roles at Illinois State University (Senior Specialist (Associate Director) in Student Conduct and Community Responsibilities), University of Michigan (Assistant Director/Program Manager) and George Mason University (Resident Director). Her outgoing personality and ability to connect with students, faculty and staff will assist her in transitioning into this role.
Akilah graduated from Eastern Michigan University (EMU) with her BS in Health Administration in 2003 and received her Master's degree in Higher Education Administration from Texas A&M University in 2005.
Akilah is an active member of the Association for Student Conduct Administration where she has served as Secretary on the Board of Directors (2017-2019), the Illinois State Coordinator (2012-2013), and is a founding member of the Women of Color Summit for the Association. Akilah loves shopping, cooking/baking, dining out, and watching sports (football, basketball, and track & field) and is an active member of Zeta Phi Beta Sorority, Inc.