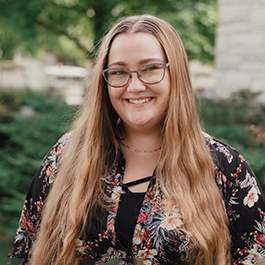 Program Assistant
Kylie joined the Dean of Students team in June of 2022. She currently fills the role of Program Assistant, in which she supports the offices of Student Assistance and Support Services (SASS), Off Campus Life, and the Dean of Students Front Desk operations.  

Kylie is responsible for connecting students with resources on campus, providing information to students and their families, and triaging information coming through the front desk.  

Prior to her role at Northwestern, Kylie earned both a bachelor's degree of Science in Education and a master's degree of Education from Bowling Green State University in Bowling Green, Ohio. As an Ohio native, Kylie interned at several schools in Northwest Ohio while pursuing her degrees and worked part time as a Starbucks Barista.  

Kylie enjoys being able to support Northwestern's student body through her work in the Dean of Students office. She loves having the opportunity to interact with students and helping them navigate the various avenues of support the Dean of Students Office has to offer.  

In her free time, Kylie loves walking by Lake Michigan, watching documentaries with her Cat Juniper, and spending time with her partner.