Northwestern and National Taiwan University host virtual research poster fair
Northwestern and National Taiwan University host virtual research poster fair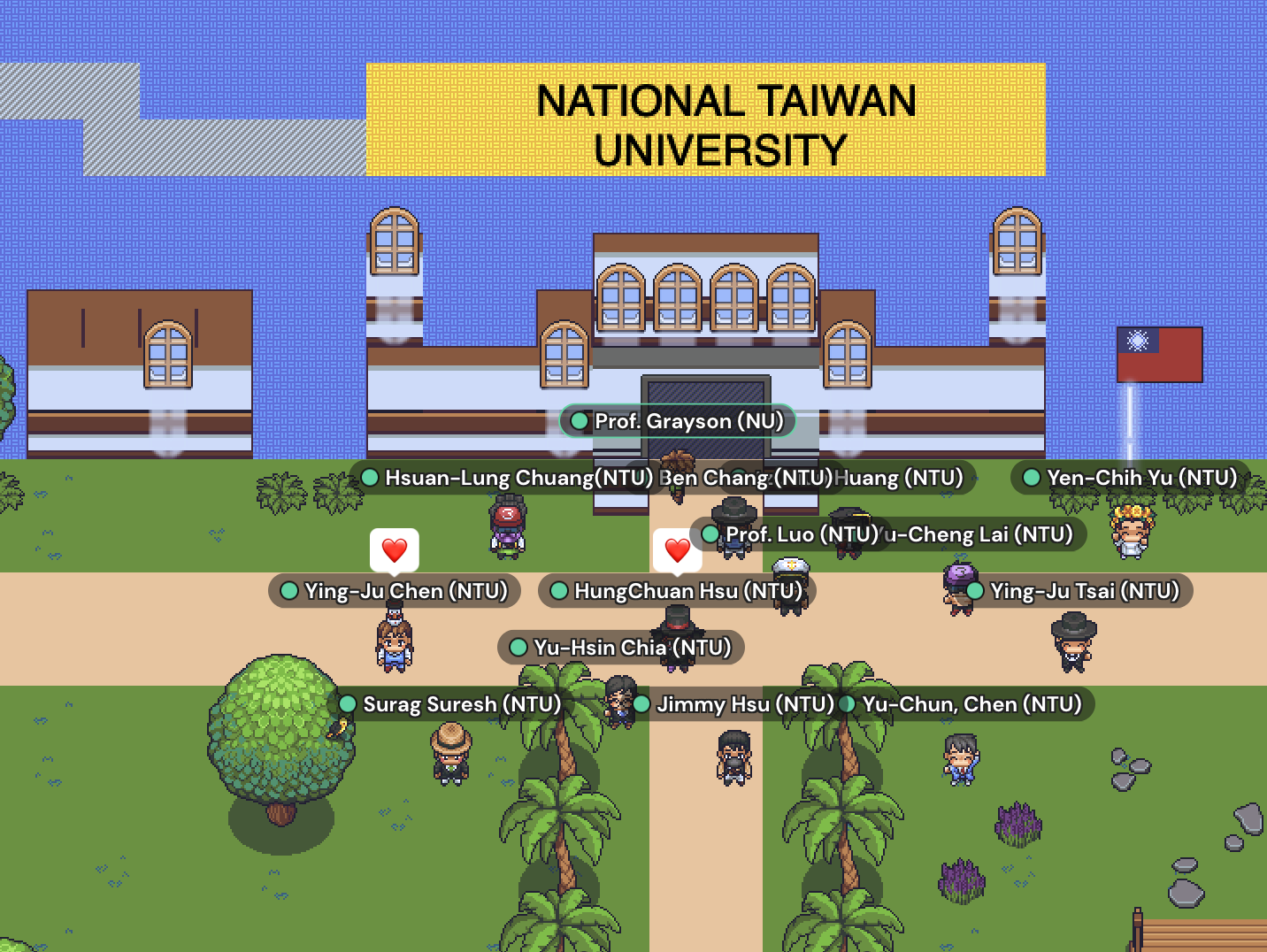 Near the end of the biomedical engineering poster session on day two, a group of presenters and attendees lined up on the virtual NTU campus for a group photo, gather.town-style.
Last week, Northwestern and National Taiwan University (NTU) held a series of virtual engineering research poster fairs.  Students from both institutions presented research on three distinct topics – Energy & Sustainability, Biomedical Engineering and Electronic Devices & Systems.  The events were organized by the Office of International Relations and McCormick Global Initiatives as a part of Northwestern's academic partnership with NTU, following an agreement between the two universities that was signed last May. The event, hosted on Gather Town (an online meeting application where dozens of users can publicly or privately interact in a shared space), is the follow-up to a similar virtual engineering faculty meeting held in the fall. 

Three two-hour long discussions were held from March 1st to March 3rd, and included introductions from professors at the two universities, poster presentations from the students and networking sessions.

Matthew Grayson, Professor of Electrical and Computer Engineering and Director of Global Initiatives in the McCormick School of Engineering, began each session with an overview of the night's schedule, and an introduction of the student presenters.
"Events like these are important because, pre-pandemic, there were not as many virtual platforms that everybody knew," Grayson said. "We now have a new method for global interactions that had previously not been possible."

After each evening's introductions, students separated into virtual booths hosted by the designated NTU presenters, switching after a half hour to hear from the Northwestern student presenters. Every presentation was highly specialized in a particular field and stemmed from each student's research interests. Topics ranged from the design and development of microscopes to post chemo-therapy cancer research.
"I really enjoyed participating in the conference," said Carrie Schoeneberger, a Northwestern student who served as an assistant chair for the event. "Several members from NTU attended my brief poster talk and asked insightful questions. Although my research is focused on low-carbon technologies for U.S. manufacturing, we talked about its implications for manufacturing in Taiwan, so connecting with others across the globe in a logistically easy way was great."

"Any collaboration, domestic or international, is important because students actually have their hands on the machines," said Professor Li-Chyong Chen, Distinguished Research Fellow at the Center for Condensed Matter Sciences and chair for NTU of the energy and sustainability session of the poster fair series.

All in all, over 150 people from both universities attended the events. At the end of one session, Grayson together with students and faculty from NTU lined up to take a fun, virtual "photo" capping off another successful collaboration between Northwestern and NTU.