Northwestern Students Set Sail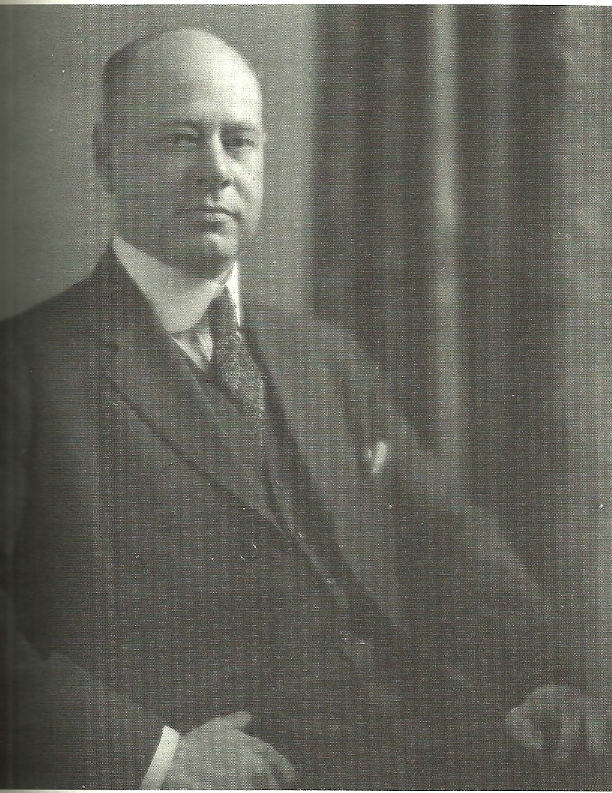 100 years ago, Harry Harrington became the director of the Medill School of Journalism when it was established in 1921. He is credited for laying the foundation for Medill's experiential learning programs by taking students on a feature writing tour to Europe in 1927.
---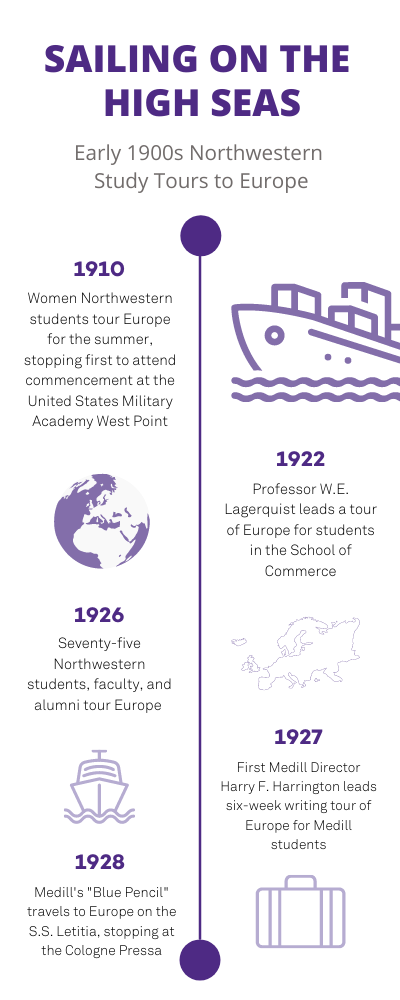 In the early 1900's, sailing across the world on so-called "study tours" was a favorite pastime of Northwestern students.
At the beginning of the 20th century, global travel was becoming more common as massive ocean liners began crossing the seas with frequency. Not to be left out, Northwestern students began sailing around the world, mostly to Europe, on what were called "study tours." These tours were often several months long, and hundreds of students participated.
Northwestern professors and alumni would regularly accompany students on these tours, and the groups would travel to different countries, studying art and literature, meeting dignitaries, attending state dinners and much more. Some trips were reserved for certain students, such as one in 1910 that was reserved for women students and another in 1922 for students in the School of Commerce. Other tours were open to anyone, including one tour in 1926, where 75 Northwestern community members boarded the ocean liner Leviathan and set sail for Europe from New York City.
Sailing on the Leviathan
The Leviathan group met royalty and heads of state from Denmark, Sweden, Norway and Turkey; members of the Northwestern Glee Club gave concerts abroad. They also met international alumni, many of whom helped the students secure dormitory housing abroad, lowering the cost of the trip. International alumni also helped arrange the state dinners for the group. A May 26, 1926 article in the Daily Northwestern states, "The wholehearted cooperation of Northwestern alumni throughout Europe will afford the party probably the most unusual entertainment ever offered an American inter-collegiate touring group."
The travelers visited Oxford and Cambridge universities in England and the Sorbonne in Paris, and Northwestern swimmers competed in river swims at the Seine, Danube and Moidu rivers. Interestingly, Richard Howell, a Northwestern Olympic swimmer, was supposed to attempt to swim across the English Channel during the trip, but Howell was expelled a few months prior for marrying his wife, Betty, without receiving permission from the University. (Fortunately, they were both allowed readmission at the end of the semester.)
Leland Case, an assistant professor in the Medill School of Journalism and assistant editor for the Northwestern Alumni News, managed the ship log for the trip, and even created a daily newspaper and distributed it to ship passengers. Some travelers returned back home after 48 days, while the remaining group toured Europe for another 30 days, briefly stopping in the Middle East.
Rollin Pease, a faculty member in the School of Music and Director of the Northwestern Glee Club at the time, said in the September 25, 1926 Daily Northwestern after the trip that there were so many highlights of the tour that it would be almost necessary "to take a day off to relate them."
Medill students learn from international journalists
A year later, in 1927, the Medill School organized a six-week summer feature writing tour to Europe that offered two course credits. Led by Harry F. Harrington who was Director of the Medill School at the time, the group of future journalists visited media outlets in Edinburgh, Manchester, London and Paris.
In 1928, the Medill School organized another study tour of Europe. The "Blue Pencil" club left on the steamboat Letitia, departing from Montreal and beginning in Glasgow, Scotland. The group of future journalists visited media outlets in Edinburgh, London, Cologne, Geneva, and Paris. Students learned about foreign reporting and feature writing and presented an exhibit on industries associated with journalism at the Cologne Pressa, an international press exhibition that ran from May-October of 1928, where they were also feted. Leland Case directed the tour, along with Lawrence Martin, a professor of Contemporary Thought in the English department.
Medill was founded just six years before its first Europe study tour, which is considered to be foundational to the School's experiential learning programs. Today, both undergraduate and graduate students in Medill can participate in international programs on five continents (though these days, planes are the travel method of choice).
Earlier travels abroad
While these organized tours were central in setting the stage for what is today known as study abroad, they were not the first international trips undertaken by Northwestern students.
According to Kevin Leonard of the University Archives, early Northwestern community members—including alumnae of the Evanston College for Ladies and the Northwestern Female College— would travel abroad as religious missionaries. Those who could afford it would embark on the "Grand Tour" of Europe, a trek around Europe that doubled as a form of finishing school. Frances Willard, President of the Women's Christian Temperance Union and first Dean for Women at Northwestern, even spent two years touring Europe, from 1868-1870.
Unfortunately, due to the Great Depression, these study tours were halted. But while they were happening, the trips introduced students and Northwestern community members to cultures outside of the United States. At a time when international travel was largely reserved for missionaries, these trips helped broaden students' education and worldview.
Want to learn more about these tours and other milestones in Northwestern's international history? Check out NU Global Journey, a collection of milestones and memorable moments of Northwestern's global history.
---
1926: Praise For Northwestern Travelers