Ambassador of Argentina to the United States commits to expanding collaborations between Northwestern and Argentine Universities
Focusing on climate change a priority for bilateral work, says Ambassador Jorge Argüello
During a visit to Northwestern on Friday, September 10th, the Argentine Ambassador to the United States Jorge Argüello pledged to expand academic ties between Argentina and Northwestern.
In meetings with Northwestern President Morton Schapiro and Vice President for International Relations Dévora Grynspan, Buffett Institute for Global Affairs Executive Director Annelise Riles, and Northwestern faculty members, Ambassador Argüello learned about existing academic relationships and possibilities for expansion with Argentina.
"Northwestern is already working with several world-class universities in Argentina," said President Schapiro. "But we are always looking to strengthen these ties and expand academic collaborations in areas of mutual interest."
Northwestern's current activities in Argentina include:
Universidad Torcuato Di Tella: law and business exchanges; international classroom partnering grant for Spanish language instruction
Universidad de San Andrés: joint research collaborations with the Center for Studies on Media and Society (MESO); business exchanges
Universidad Tres de Febrero: collaborations with the Program in Critical Theory
General: undergraduate Journalism residency in Argentina, undergraduate Global Engagement Studies Institute (GESI) program in Argentina
Tackling Climate Change
As the secretariat for the U7+ Alliance of World Universities, Northwestern is already working closely with alliance member Universidad de Buenos Aires and other universities worldwide to bolster efforts to identify solutions to some of our greatest global challenges.
As part of the alliance, Universidad de Buenos Aires signed on to a faculty working group focused on developing coursework on climate and sustainability for students of all disciplines.
Argentina's commitment to climate change and sustainability is further underscored by the country's hosting of the "High-Level Dialogue on Climate Action in the Americas" on September 9th, said Argüello. The summit, held in Buenos Aires, brought together presidents from 12 Latin American countries, and was chaired by Argentinian President Alberto Fernández, UN Secretary-General Antonio Guterres, and US Special Envoy John Kerry.
We're absolutely committed to these climate change issues, said Argüello, who was accompanied by Consul General of Argentina in Chicago Beatriz Vivas and Deputy Consul General Pablo Hartstein.
"In addition to climate change, we discussed several other areas for partnership building and expansion," said Dévora Grynspan. "We have faculty in many disciplines, from the humanities to engineering, business to communication studies, who are eager to intensify their existing ties in Argentina. And so are we, the university as a whole."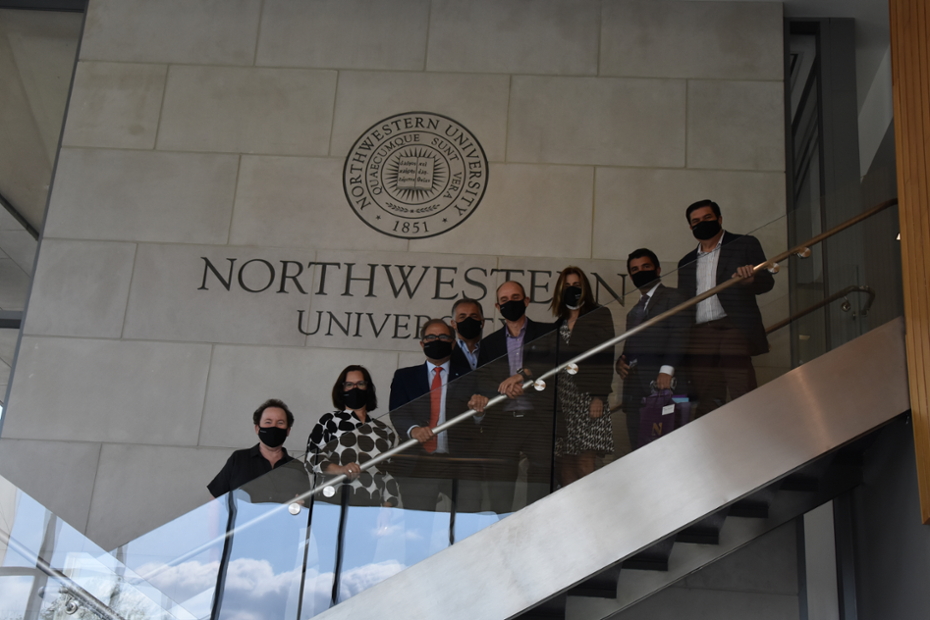 Ambassador of Argentina to the Unites States Jorge Argüello meeting with Northwestern faculty members.
From left to right:
Dévora Grynspan, Vice President for International Relations
Alejandra Uslenghi, Associate Professor ofSpanish & Portuguese and Comparative Literary Studies
Jorge Argüello, Ambassador of Argentina to the United States
Fabián Bustamante, Professor of Computer Science
Pablo Boczkowski, Professor of Communication Studies
Beatriz Vivas, Consul General of the Republic of Argentina in Chicago
Pablo Hartstein, Deputy Consul General of the Republic of Argentina in Chicago
Horacio D. Espinosa, Professor of Mechanical Engineering
(not pictured: Mei-Ling Hopgood, Professor of Journalism)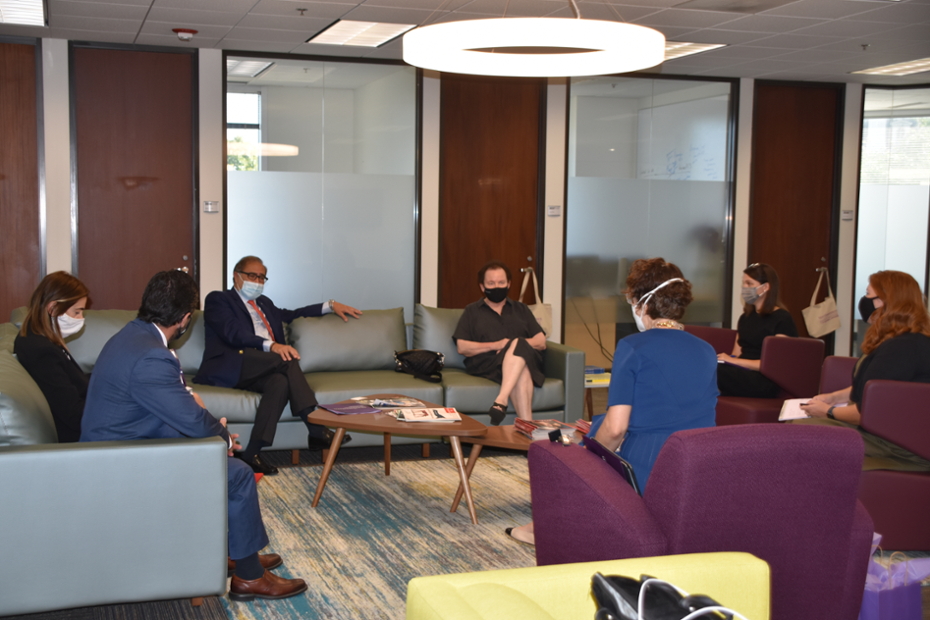 Ambassador of Argentina to the Unites States Jorge Argüello meeting with Buffett Institute staff members.
 From left to right:
Pablo Hartstein, Deputy Consul General of the Republic of Argentina in Chicago
Beatriz Vivas, Consul General of the Republic of Argentina in Chicago
Jorge Argüello, Ambassador of Argentina to the United States
Dévora Grynspan, Vice President for International Relations
Dayna Dion, Interim Chief of Staff and Director of Global Communications, Engagement, and Outreach at Northwestern Buffett
Meghan Ozaroski, Director, Global Collaboration at Northwestern Buffett
Annelise Riles, Executive Director of Northwestern Buffett