Biomedical Sciences a focus of Northwestern and Tel Aviv University Collaborations
Biomedical Sciences a focus of Northwestern and Tel Aviv University Collaborations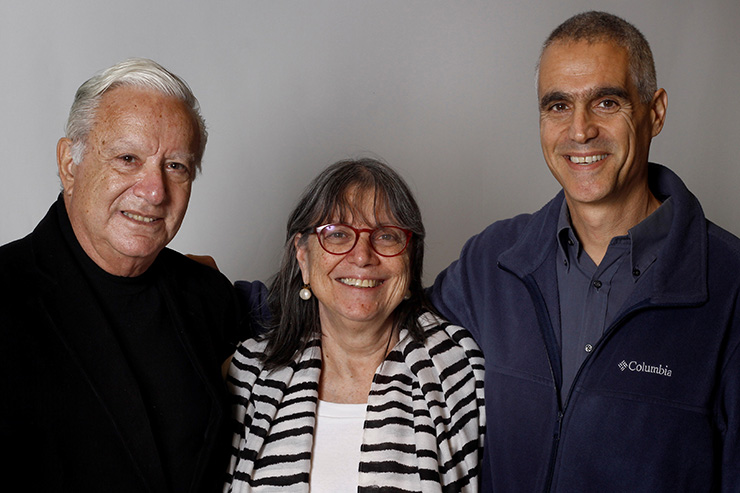 Elie Rekhess (Associate Director of the Crown Family Center for Jewish and Israel Studies) with Northwestern colleague Fruma Yehiely (Associate Vice President for Research) and TAU colleague Uri Ashery (Director of the Sagol School of Neuroscience at TAU)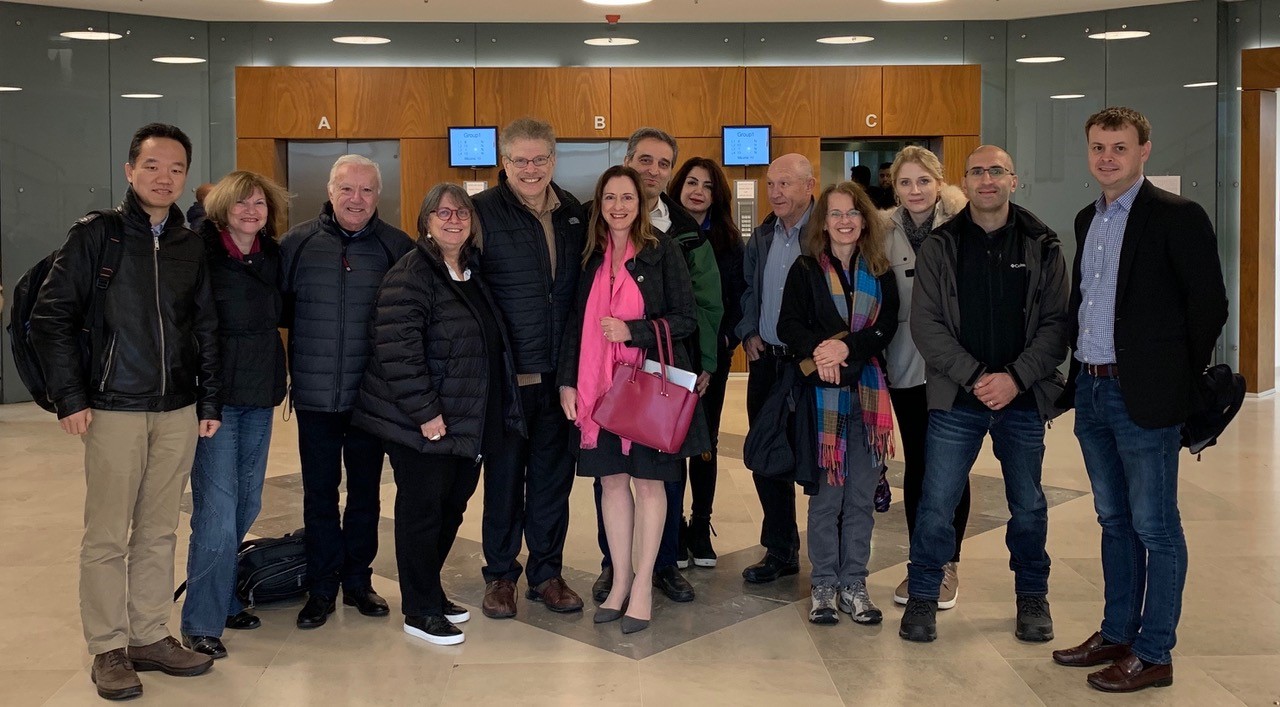 "In this global world of ours, scientists can't work on their own. The more they interact, the more they share resources, the more each lab brings its strengths, allows the exchange of students or postdocs, the science is so much stronger." Karen Avraham (center above), Vice Dean at the Faculty of Medicine at Tel Aviv University.
Symposium brings together scientists from partner institutions to expand academic scope
One of Northwestern's most comprehensive and multidisciplinary international partnerships just expanded an already impressive list of collaborations.
On January 19th and 20th, for the first time, Tel Aviv University (TAU) and Northwestern jointly held "The Promise of Biomed: Symposium on Joint Biomed Projects," at TAU in Israel.
"The symposium aimed to bring together scholars and scientists from each institution who are already engaged in joint, multidisciplinary, and collaborative research," said Elie Rekhess, Associate Director for Israel Studies at the Crown Family Center for Jewish and Israel Studies at Northwestern, who co-organized the conference with Karen Avraham, Vice Dean at the Faculty of Medicine at Tel Aviv University.
While many workshops of this kind tend to focus on connecting scientists with no prior connections, Rekhess and Avraham chose a different approach.
"We wanted to provide a platform for TAU and Northwestern faculty partners to interact and further explore ways to facilitate joint research grants, and perhaps even means to commercialization," said Rekhess.
Using Computational Modeling to Improve Patient Health Outcomes
One such pair of scholars are Uri Wilensky, Lorraine H. Morton Professor of Learning Sciences, Computer Science and Complex Systems at Northwestern, and Ilana Dubovi from the Department of Nursing in the School of Health Professions at the Faculty of Medicine at TAU.
The two researchers have been collaborating on a study in which type 1 diabetes patients interact with computational models and simulations of the biochemical processes governing diabetes.
"What we have seen is a significant improvement of outcomes for diabetes patients," said Wilensky. "Patients show both a greater understanding of their disease and better glycemic control."
"By following and experimenting with the process of the disease in the simulation, patients better understand the mechanism of the disease, such as why blood sugar levels rise after eating certain foods, which in turn gives them more control over what and when to eat."
Having seen such striking results, the two researchers are now focusing their efforts on modeling processes for cancer patients — another step towards growing the collaboration.
Expanding the partnership on various levels
Besides furthering joint research collaborations, faculty at the conference also explored the possibility of fostering the exchange of graduate students and postdoctoral fellows and jointly applying for competitive research funding.
To help Wilensky, Dubovi, and the other researchers — among them five scholars from Northwestern representing a wide range of fields including medicine, business, and communication sciences — identify such resources and opportunities, Northwestern's Associate Vice President for Research Fruma Yehiely outlined a 'Roadmap to Collaborative Funding Opportunities.'
"Fruma gave an excellent talk about how to leverage your results for more funding on an international scale, on a local scale, for philanthropy and competitive funding," said Avraham.
Exploring funding opportunities and expanding collaborations were the main goals of the symposium, both of which have been accomplished on various levels.
For Wilensky, participation in the symposium also brought new connections. Since being introduced to the head of the School of Health Professions at TAU, Liat Kishon-Rabin, the two, along with Feinberg School of Medicine Professor Donna Woods, have been exploring the possibility of a joint project on patient safety. "While still in the early stages," Wilensky said, "I believe this is a really promising development. There's a lot of terrific work going on at Northwestern and Tel Aviv University, and it's excellent to have this partnership."
Northwestern and Tel Aviv University: a quarter-century of joint programming
Northwestern has had a longstanding relationship with Tel Aviv University. One of its flagship programs, the Kellogg-Recanati Executive MBA program, with TAU's Coller School of Management, has been in existence for 24 years. Other connections run the gamut, from law, medicine, engineering, the humanities, to undergraduate study abroad:
Global Learning Office: Fall, winter-spring, or full year undergraduate exchange
Feinberg School of Medicine – Faculty of Medicine: Clinical rotations for medical students
Kellogg School of Management – Coller School of Management: MBA exchange, faculty exchange, joint executive MBA
McCormick School of Engineering: Research agreement in materials science and nanoscience
Northwestern Pritzker School of Law – The Buchmann Faculty of Law: Executive LLM, dual degree (Master of Law in Public Law and International Law), student exchange
Crown Family Center for Jewish and Israel Studies: Postdoctoral fellowship in Israel Studies
To expand on this very successful partnership, Karen Avraham and Elie Rekhess took the lead on organizing last month's symposium.
Born and raised in Israel, Elie Rekhess received his Ph.D. from TAU and served as a senior research fellow in the Moshe Dayan Center for Middle Eastern and African Studies at TAU until 2011. He is one of Israel's leading experts on the Arab minority in Israel, Jewish-Arab relations, Palestinian politics, and the Islamic resurgence in Israel, the West Bank, and Gaza.
Since 2013, Rekhess has been heading Israel Studies at Northwestern's Crown Family Center for Jewish and Israel Studies and has an impressive track record of successfully expanding the University's initiatives in Israel. As head of a brand-new program, the Israel Innovation Project, Rekhess aspires to develop partnerships with the country in all STEM fields, one of which he can already check off – the biomedical sciences.
Karen Avraham has been a long-time collaborator with Northwestern. A medical scientist with a focus on the genomics of deafness, she was also heavily involved in the planning and execution of the joint TAU-Northwestern Symposium on "Medicine in the 21st Century," which took place in 2014. The 2020 symposium was organized under the umbrella of the Biomed@TAU Research Hubs.
"It was a remarkable two days," said Avraham about the recent workshop. "Even though I was the scientific organizer this time and I did not present my own work, I am a scientist, and I was very impressed by the quality of the research. It was inspiring to see the interactive and synergistic collaborations."
More information on Northwestern activities in and with Israel and Tel Aviv University can be found here.
Current collaborators in the Biomed initiative include:
Northwestern:
Bruce Bochner, Division of Allergy & Immunology, Feinberg School of Medicine, Northwestern (unable to attend the symposium)
Peng Ji, Department of Pathology, Feinberg School of Medicine
Blake McShane, Marketing, Kellogg School of Management
Robert Vassar, Behavioral Neurology, Department of Neurology, Feinberg School of Medicine (unable to attend the symposium)
Uri Wilensky, Learning Sciences, Computer Science and Complex Systems, McCormick School of Engineering and School of Education and Social Policy
Beverly A. Wright, Communication Sciences and Disorders, Northwestern Institute for Neuroscience
Tel Aviv University:
Uri Ashery, School of Neurobiology, Biochemistry & Biophysics, Faculty of Life Sciences, Sagol School of Neuroscience
Nitzan Censor, School of Psychological Sciences, Sagol School of Neuroscience
Ilana Dubovi, Department of Nursing, School of Health Professions, Faculty of Medicine
Ronit Sagi-Eisenberg, Department of Cell & Developmental Biology, Faculty of Medicine
Israel Halperin, School of Public Health, Faculty of Medicine
Liat Kishon-Rabin, Department of Communication Disorders, School of Health Professions, Faculty of Medicine
Jonathan Leor, Neufeld Cardiovascular Research Institute, Faculty of Medicine, TAU & Heart Center, Sheba Medical Center
Ariel Munitz, Department of Clinical Microbiology & Immunology, School of Medicine