In the News: Chinese Students Studying Abroad Combat Coronavirus with Confidence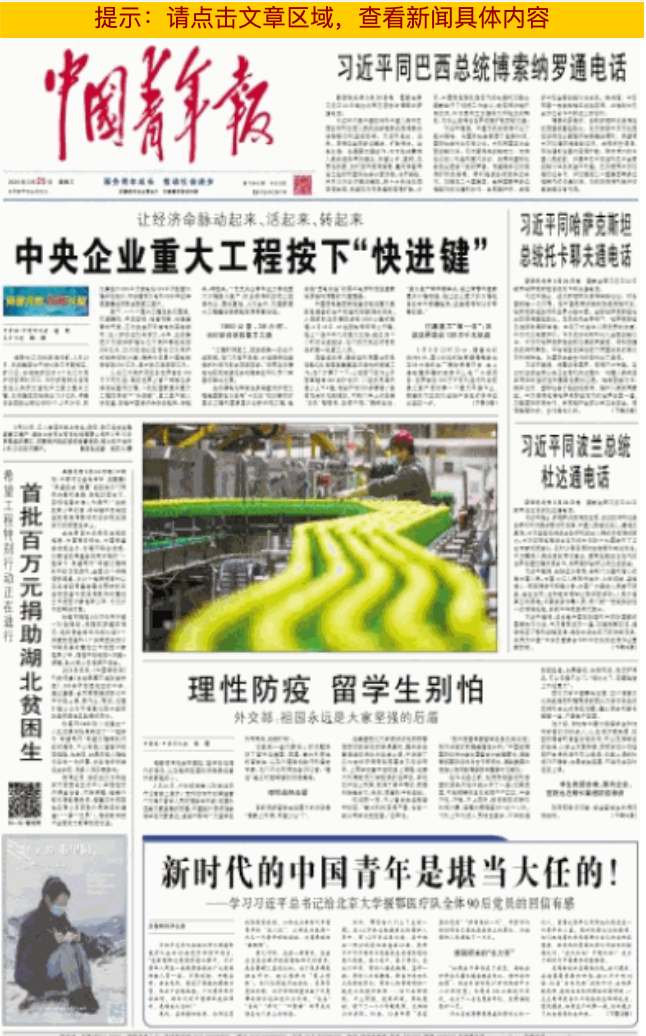 Frontpage of China Youth Daily on March 25, 2020
This week, Licheng Gu, a professor of instruction in the Department of Asian Languages and Cultures and the official China Liaison for Northwestern, and Muzhen Zhang, a graduate student in the Higher Education Administration and Policy Program, were interviewed by China Youth Daily, a popular Chinese newspaper.
In the article Chinese Students Studying Abroad Combat Coronavirus with Confidence, published on March 25, 2020, and written by Xi Zhang, the two Chinese natives commented on Chinese students' current situation in the U.S. amidst the COVID-19 outbreak.
In the interview, Muzhen Zhang explained why she decided not to return to China. Being 40 hours in transit through several countries —due to direct flight cancellations— while potentially exposing herself to other passengers who may have unknowingly contracted the virus, was not an option for her. The experience of her Chinese friends studying in different parts of the U.S. also helped guide her decision:
"[...] a university in New York City, which one of Zhang's friends attends, ordered all undergraduate students to move out of its residence halls due to COVID-19. Both university residence halls and dining halls were closed. If her friend had not chosen to return to China, they would have had to find a temporary apartment on their own, and purchase furniture and household supplies, which is extremely difficult given the high cost of living and limited housing options in the city."*
"After a thorough analysis of the risks associated with returning home, Zhang eventually chose to stay in her apartment in Evanston, where she has access to food and other living supplies."*
Professor Licheng Gu described measures Northwestern put into place to support its international students during this difficult time.
"As per Professor Gu, Northwestern University is home to approximately 2,500 international students and scholars from mainland China. Residence and dining halls at Northwestern University remain open to ensure that student needs are met. The latest announcement from the Office of the President stated that after an extended spring break, the first three weeks will be conducted remotely. Whether the university will continue in-person instruction depends on the developments of the pandemic. Chinese students who have gone back home may face difficulties trying to return to the U.S. when in-person education resumes. Earlier in February, the U.S. issued a policy that prevents foreign nationals who have visited China in the past 14 days from entering the U.S."*
Zhang and Gu were two of several interviewees for the article which, in addition to the information above, shared an array of Chinese government safety recommendations and highlighted current initiatives by Chinese corporations and student organizations to help Chinese citizens an students living abroad.
----
* Sections from the original article were translated from Mandarin into English by Muzhen Zhang and Licheng Gu.