Northwestern University and Universität Hamburg focus on climate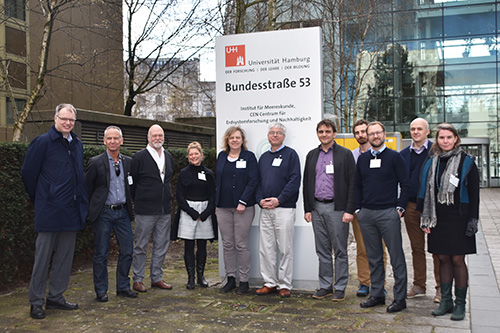 An interdisciplinary delegation of Northwestern researchers and administrators visited Universität Hamburg to discuss joint initiatives related to climate change.
Article published in collaboration with the Institute for Sustainability and Energy at Northwestern (ISEN)
Germany, the fourth largest economy in the world, has been widely recognized for its bold leadership in environmental protection, climate change mitigation, and sustainable development, both nationally and internationally. Now, as part of its ongoing commitment to help build a more sustainable world, Northwestern University is joining forces with some of Germany's most prominent research institutions in an ambitious new partnership. 
At the center of this collaborative effort is Universität Hamburg, one of Germany's largest universities that's home to 43,000 students and a wealth of renowned research initiatives. One of its most significant programs, known as Climate, Climatic Change, and Society (CLiCCS), involves 110 researchers and has received 38 million euros ($42.8 million US) of initial investment from the German Research Foundation (DFG), an organization funded by the government of Germany.
Over spring break, through the Office of the Vice President for International Relations and the Institute for Sustainability and Energy at Northwestern (ISEN), Northwestern sent an interdisciplinary delegation of researchers and administrators to Universität Hamburg to explore joint initiatives related to CLiCCS. 
"ISEN and its counterparts at Universität Hamburg [the Center for a Sustainable University and Center for Earth System Research and Sustainability] conduct outstanding interdisciplinary research by including faculty from different schools and research facilities in both Hamburg and the Chicago area. Working together in this framework allows for multilateral faculty participation in areas that are not just relevant for a single institute or center, but that are relevant as university-level themes for society overall. Building on a collaboration between these institutes… provides both Northwestern and Hamburg with an excellent opportunity to set up sustainable ties between the universities and connect with top-notch research facilities in each region." — Courtney Peltzer-Hönicke, head of the Department of International Affairs at Universität Hamburg
The following representatives from Northwestern visited Universität Hamburg as part of the recent delegation:
Abigail M. Foerstner, assistant professor of journalism, media, integrated marketing communications and co-director of Northwestern's science reporting program
Daniel E. Horton, assistant professor of earth and planetary sciences
Franz M. Geiger, professor of chemistry
Eric Masanet, associate professor of mechanical engineering as well as chemical and biological engineering
Jordan L. Schnell, earth and planetary sciences postdoctoral research fellow
Emily Wilson, director of international relations 
"These researchers [at Universität Hamburg] are some of the world's preeminent environmental modelers, and their work is truly important to the international climate community... A partnership between Universität Hamburg and Northwestern makes sense due to their complementary strengths. Universität Hamburg is gifted with a full slate of researchers in all fields of the natural sciences, while Northwestern brings engineering and solution-based science expertise in spades—highlighted by ISEN, which actively fosters collaborations between the natural sciences and engineering disciplines." — Daniel E. Horton, assistant professor of earth and planetary sciences at Northwestern
The CLiCCS program is coordinated through Universität Hamburg's Center for Earth System Research and Sustainability (CEN) in close collaboration with a variety of highly regarded regional research institutions including the Max Planck Institute for Meteorology, Helmholtz-Center for Material and Coastal Research, and German Climate Computing Center. 
"I have seen so much potential for collaboration between our institutions over the past few years. My initial reaction after this trip is also profoundly positive. Not only was there interest on our faculty's end to partner with colleagues at Universität Hamburg, but we also explored ways to incorporate each other in interdisciplinary projects across Northwestern." — Emily Wilson, director of international relations at Northwestern
The partnership between the two universities began in the spring of 2018 after the signing of a memorandum of understanding. Since then, faculty members and administrators have been exploring and solidifying shared initiatives, spanning a diverse range of fields such as medicine, manuscripts culture, biomedical research, and physics in addition to climate.
"I was very impressed by the range of educational and outreach initiatives underway in Universität Hamburg's Center for a Sustainable University. I think we and other universities can learn a lot from what they are doing… On the research side, there seemed to be a great opportunity to merge Universität Hamburg's strengths in climate, economic, and social systems modeling with Northwestern's strengths in energy and technology systems modeling for world-class climate mitigation research partnerships in the near future." — Eric Masanet, associate professor of mechanical engineering and chemical and biological engineering at Northwestern
The recent visit of the Northwestern delegation to Universität Hamburg is part of an ongoing exchange between the two institutions. The collaboration is building upon work done at the Ubben Program for Climate and Carbon Science at ISEN as well as the Global Engineering Trek to Germany, an international cleantech immersion program for undergraduates co-developed by ISEN and Northwestern Engineering Global Initiatives Office. 
"Our faculty exchange at the Universität Hamburg gave added dimension to citywide, countrywide, and university sustainability initiatives… [We met with] Universität Hamburg's charismatic University Vice President Susanne Rupp, who shared our passion for bringing the arts and humanities into areas of collaboration. She shares as well our passion for Northwestern, assuring us of the high priority her faculty gives to teaming up with us." — Abigail M. Foerstner, assistant professor of journalism, media, integrated marketing communications at Northwestern and co-director of Northwestern's science reporting program