Professional Development — From the Other Side of the World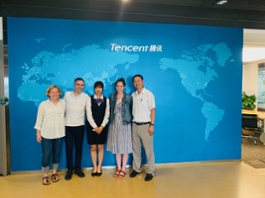 From left: Janka Pieper, Emmet Fitzgerald-Sullivan, Shannon Pesek, and Licheng Gu pose with an employee of Tencent, which runs WeChat, the popular Chinese social media. 
---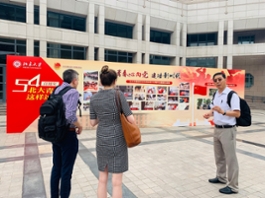 Licheng Gu guides Emmet Fitzgerald-Sullivan (left), and Shannon Pesek around Peking University.
Emmet Fitzgerald-Sullivan and Shannon Pesek were both hunting for a better way. The senior associate director of digital communications in Northwestern University's Office of Alumni Relations and Development, Fitzgerald-Sullivan was faced with the challenge of communicating with the University's alumni living in China, a group some 2,500 strong, given the different social media platforms available there.
"Our efforts were very ad hoc, and we wanted to be more coordinated and efficient," Fitzgerald-Sullivan said.
Pesek and colleagues in the Office of Global Marketing and Communications, meanwhile, had spent a year laboring over the launch of a Northwestern WeChat account, an effort that promised to provide Northwestern the social media presence in China it had long lacked.
"This was something we had to figure out," said Pesek, a social media specialist.
Today, Fitzgerald-Sullivan and Pesek are well on their way.
Spurred by the Visiting Administrator Travel Grant from the Office of the Vice President for International Relations, Fitzgerald-Sullivan, Pesek, and Janka Pieper, Communications Director in the Office of the Vice President for International Relations, ventured to China for five days this past June to better understand how Northwestern might engage with key constituencies and bolster the university's presence in the world's most populous country. Their five-day trek produced a range of benefits and underscores a compelling professional development opportunity available to Northwestern staff. 
Heightened staff alignment
While in China, Fitzgerald-Sullivan, Pesek, and Pieper – three communications staff members inhabiting similar roles yet serving in distinct units – sat side by side discussing their respective offices, responsibilities, and goals.
"This trip helped us work more closely together and build a better understanding of each other's priorities and objectives," Pieper said.
Deeper relationships with partner institutions
During the five-day trip, the Northwestern staff members met with their international communications and alumni relations peers at Peking University. While discussing community outreach, PR, and media relations, individuals discovered different approaches to marketing and storytelling while also investigating collaborative opportunities that might help both universities expand their reach.
 "These travel grants provide additional opportunities to build closer relationships with our partner institutions abroad, showing them that we value their expertise and want to learn from them," said Kim Rapp, who administers the grant.
Field learning                                                                                 
While Pesek and her team had sketched a social media plan, the group had largely struggled to grasp what Chinese audiences really needed from an official Northwestern WeChat account. The trip to China provided Pesek "consumer insights research" into how target audiences use WeChat and helped her formulate potential strategies her team might employ to ensure a relevant digital presence in China.
"You can do all the research you want online, but nothing is better than talking to people on the ground to understand their experiences and habits," Pesek said.
Access to winning strategies
Through meetings with their Peking University counterparts as well as conversations with a consulting firm that helps U.S. institutions cultivate their digital presence in China, the Northwestern group discovered how universities successfully utilize WeChat. Peking University staff, for instance, detailed how they communicate with key stakeholders and organize activities, while the consultants explained how Northwestern might safely and securely navigate China's media climate.
"We learned from professionals who have a deep hold on the issues and understand what it takes to excel in this area," Pesek said.
Gaining empathy
Experiencing Chinese life and culture firsthand afforded the Northwestern staff members a richer understanding of where students are coming from – and where they might go.
Pieper, Pesek, and Fitzgerald-Sullivan all participated in the NU-In orientation organized by Northwestern's Office of International Student and Scholar Services. Helping to execute the event for approximately 100 incoming Chinese students and their families, the trio joined the NU-In WeChat group so they could answer real-time questions about issues not (yet) addressed during the orientation.
"This gave us a window into the concerns of incoming students and allowed us to allay fears," Fitzgerald-Sullivan said. 
Identifying areas of opportunity
The Northwestern communications pros met with representatives of Northwestern's Beijing Alumni Club, one of NU's three official alumni groups in China. The alumni relayed their experiences as Northwestern students and shared steps Northwestern might take to improve its communications with alumni as well as prospective students across the country.
"That dialogue opened up some great opportunities to ensure Northwestern is competing in this space and having as great a reputation as possible," Fitzgerald-Sullivan said.
Strengthening the Northwestern brand
Licheng Gu, Northwestern's China Liaison in the Office of the Vice President for International Relations, accompanied the three communications staff members throughout their journey. Gu, also a professor of instruction in the Department of Asian Languages and Cultures, said the meetings with partner institutions, alumni, and incoming students advanced Northwestern's presence in China and demonstrates the vitality of the university to important audiences.
"We all want to see Northwestern play a bigger role on the international stage, and these face-to-face interactions help drive that effort," said Gu, a Beijing native in his 28th year at Northwestern. 
A dynamic professional development opportunity
The travel grant enables full-time staff members who do not normally travel as part of their responsibilities to connect with their counterparts at select partner institutions abroad. In addition to the group that visited China, Stephen Hill, Senior Associate Director in the Office of Fellowships, went to Stellenbosch University in South Africa this past summer. There, Hill met with colleagues to learn about curricular and extracurricular activities Northwestern students might pursue while at Stellenbosch to enhance their learning-abroad experience and strengthen their chances of winning major post-graduate opportunities, including Fulbright awards, Peace Corps placements, and placement in top graduate programs.
 "Our staff members are one of the greatest resources we have at Northwestern. The travel grant allows them a unique opportunity to grow professionally, meet and exchange ideas with our international partners, and better support the international activities of our students and faculty," Rapp said.
The application deadline for spring/summer 2020 travel is December 1.