Connecting with the World through Fulbright Awards
Connecting with the World through Fulbright Awards
Northwestern faculty and staff interested in applying for a Fulbright award can contact Kim Rapp, Assistant Vice President for International Relations, for assistance in the process.
---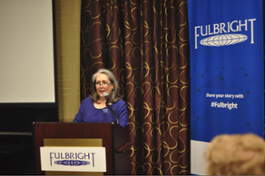 Kim Rapp addresses attendees at the Fulbright Sub-Saharan Africa pre-departure orientation in summer 2018. 
---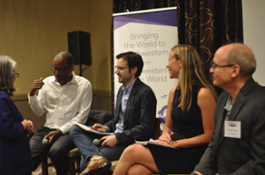 Representatives from Northwestern and the U.S. State Department discuss the role of Fulbright in U.S foreign policy at the pre-departure orientation.
---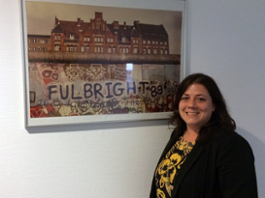 Catrina DeBord, Assistant Director of Operations and Development for the Office of Undergraduate Learning Abroad, at the Fulbright Center Berlin in fall 2016.
Over the years, Northwestern has consistently sent and hosted dozens of students, scholars, and staff through the distinguished Fulbright Program, which offers research and teaching grants abroad and in the United States.
But this past year — the first year that the Fulbright U.S. Student Program solicited applications from universities to be pre-departure orientation hosts — Northwestern was selected to host more than 180 Fulbright grantees and alumni for the program's Sub-Saharan Africa orientation in July.
That means everyone — students, English teaching assistants, or scholars — who received a Fulbright award to travel to Africa came to Northwestern for orientation.
It's a natural fit: Both Northwestern and the Fulbright Program are committed to fostering international partnerships and mutual understanding across borders. Northwestern's Program of African Studies is the oldest in the nation, and its library holds the largest Africana collection in existence.
A Northwestern first: Hosting pre-departure orientation
The orientation covered travel fundamentals such as health insurance and safety, dove into country- and discipline-specific information, offered panels on "Your Identity Abroad" and "The Role of Fulbright in U.S. Foreign Policy," and highlighted Northwestern's renowned Program of African Studies and the Melville J. Herskovits Library of African Studies.
"We wanted people who were going to be spending their Fulbright year in Africa to know what a great program we have at Northwestern," said Kim Rapp, assistant vice president for international relations, who helped coordinate the orientation with the Program of African Studies. "If they come back and want to continue their projects or pursue new research in African studies, they should know that Northwestern has great resources for them."
Throughout this collaboration, Northwestern and the Fulbright program combined their knowledge and resources to ensure student and faculty success around the world.
Northwestern 'top producer' of student awardees
Northwestern has a long, successful history in winning Fulbright awards.
For the past decade, Northwestern students have been particularly successful in receiving Fulbright grants. The Fulbright U.S. Student Program awards approximately 1,900 grants annually, and Northwestern is continually named a "top producer" of awardees. In the year 2017-2018, 25 Northwestern students received grants — placing the university third in the nation among research institutions.
"That's no coincidence," said Stephen Hill, senior associate director in Northwestern's Office of Fellowships. "Northwestern values an international purview. We have a very global, international tone, and our students, in their coursework and clubs, are very likely to think about international issues." 
Hill, a former Fulbright scholar who acts as a Fulbright program adviser for Northwestern and who led a session with grantees at the Africa pre-departure orientation, recruits student and guides them in preparing their applications.
"The best applicants have the curiosity to focus on one particular place and its issues and questions," he said. "This focus is common among Northwestern students."
Faculty and staff awardees connect around the world
Though students have been extremely successful in receiving awards, so have Northwestern faculty through the Fulbright Scholar Program, which offers teaching and research opportunities in more than 125 countries.
Rachel Beatty Riedl, associate professor of political science and director of the Program for African Studies, spent 2015-16 on a Fulbright Scholar award at Sciences Po, one of Northwestern's partner institutions in France, where she conducted research on religious political engagement in Africa.
"The program provides faculty with an incomparable opportunity to expand one's global intellectual network," Riedl said. "This means that you are exposed to new data and facts, and even more importantly, new perspectives and approaches to critical questions."
The experience continues to shape her research, as she remains a faculty affiliate in the Sciences Po lab where she was based, both mentoring students and organizing transnational research programs.
Staff, too, have the opportunity to add depth and value to their international work through the Fulbright program's International Education Administrators (IEA) seminars. These seminars send a cohort of higher education administrators on two-week trips to a particular country to learn about its education system and to foster networks of international colleagues.
Catrina DeBord, assistant director of operations and development for the Office of Undergraduate Learning Abroad, received an IEA award and traveled to Germany in 2016. There, she participated in daily workshops with local educational and governmental experts and met with university and senior higher education leaders, admissions counselors working with refugee populations, writers from Der Spiegel, and students studying in Germany.
"I advise for over half a dozen Northwestern programs in Germany," she said. "The IEA seminar has allowed me to expand my network of contacts and my overall understanding of the country and its educational system so that I can better advise students."
In March 2018, Greg Buchanan, assistant director of the Program in Global Health Studies, traveled to India through the Fulbright IEA seminar. Buchanan's primary goal was to identify possible partners with which he could set-up academic programs in global health for Northwestern students and faculty.
"I'm interested in sustainable development, looking at the effects of climate change and pollution, and how this happens in a growing economy like India," he said. "You can see they are grappling with these issues, and every institution has scholars working on it."
Since Buchanan returned, he has been looking at grant opportunities for research partnerships in global health, sustainability, environmental policy, and planetary health and hopes that the connections he made in India will result in new opportunities for Northwestern's global health community, such as field research for students or scholarly faculty exchanges.
International Scholars Visit Northwestern
While Northwestern has been fortunate to send many of its own academics abroad, the university is also often a destination for visiting Fulbright scholars.
Margherita D'Ayala Valva was one of 800 faculty and professionals from around the world to receive a Fulbright Scholar grant for advanced research and university lecturing in the United States.
Eran Cohen Barak, an Israeli dermatologist who also was part of the Core Fulbright Visiting Scholar program this past academic year, said the fellowship at Northwestern gave him a chance to further his career in a way he could not do in his home country.
"In order to be capable of establishing an independent research program in my medical center in Israel, I needed to be trained in an advanced cell biology laboratory that has a special interest in skin diseases. Kathleen Green's lab at Northwestern University was the best option for that," he said. "The Feinberg School of Medicine seems to be a perfect example of an institution that combines high-quality healthcare service and advanced research."
Fulbright's expansive network helps support Northwestern's continuous building and sharing of knowledge throughout the world. 
"Fulbright programs are a key factor in internationalizing our scholarly research and our campus more broadly," Rapp said. "The success of our students, staff, and faculty in obtaining Fulbright awards, as well as Northwestern being a preferred destination for many Fulbright scholars from abroad, highlight the shared values of intercultural competency and the importance of global educational exchange we hold with the program."
---
Photo top: Northwestern's Greg Buchanan (left), Assistant Director of the Program for Global Health Studies, with fellow participants of the Fulbright International Education Administrator (IEA) seminar in India in spring 2018.