Political science professor brings Syrian voices to Northwestern alumni in Canada
Political science professor brings Syrian voices to Northwestern alumni in Canada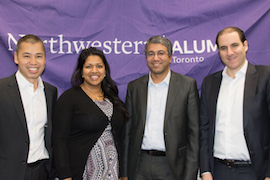 Leaders of the NU-Kellogg Alumni Club of Toronto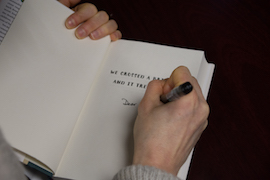 Pearlman signs one of her books for an attendee of the talk.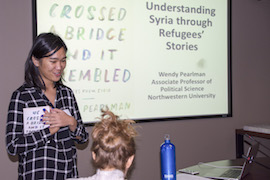 A Northwestern alumna speaks with Pearlman after the talk. 
On November 15th, close to 40 Northwestern alumni gathered at Toronto's City Hall to hear bestselling author and Associate Professor of Political Science Wendy Pearlman speak on "Understanding Syria through Refugee Stories."
Hosted by the NU-Kellogg Alumni Club of Toronto, which serves over 500 Northwestern alumni living in the greater Toronto area, Pearlman spoke on her research interviewing hundreds of Syrians across the Middle East and Europe, detailing their experiences with authoritarianism, revolution, war and refugee flight. 
Pearlman's talk followed the same path as her acclaimed book, We Crossed a Bridge and it Trembled: Voices from Syria, a collection of stories that was long-listed for the Carnegie Medal, taking the audience through the different political stages of the country. It begins with their memories of life in Syria before a popular uprising began and continues through the present. Pearlman began collecting interviews in 2012 and had continued to do so through this past summer. 
Regardless of the interviewees' age, gender or economic status, a common thread of loss and devastation wound itself through almost every narrative, from beginning to end.
The desperate fear for family members was particularly salient. Many of them, the interviewees told her, are imprisoned, unaccounted for or displaced around the world.
"I encountered many people who have gone years without any information about a spouse, a child or a parent," said Pearlman. "They don't even have the closure of being able to mourn. Only hope remains."
During the event's Q&A, alumni asked Pearlman how they might make an impact and support Syrians seeking to express their life stories.
"Others can get involved, for one, by just listening," said Pearlman. "Listening actively gives others the assurance that you care and want to learn about their experiences, ideas and aspirations, from their own point of view."
Whether this is over coffee or dinner with refugee newcomers in one's community or by reading what displaced writers and artists are expressing in the works they create, "it is the spirit that is brought to the project of listening that matters more than the form it is in," she said. "And I think the best spirit is one of awareness, humility and respect."
Indeed, that spirit was evident at the event, with many attending alumni noticeably moved by the talk.
For NU-Kellogg Club of Toronto President David Lubek '08 MBA, the most eye-opening parts of the talk were "hearing about the sheer number of Syrian refugees that have been displaced as a result of the conflict, and hearing in their own words what it was like to leave their homeland and start a new life in a new country."
The title of Pearlman's book, We Crossed a Bridge and it Trembled, comes from one of the stories in the collection, but also serves as a metaphor. "There are many millions who have crossed from the homeland to the unknown of exile, and they are trembling under these tumultuous transformations," Pearlman said.
"The world is trembling too in many ways from the ramifications of the Syrian war," she said. "And if we are not trembling, then we should be, given the just unspeakable violence and human catastrophe that's happened on our watch."
---
The event was sponsored by the Northwestern Alumni Association and free to attend. In lieu of admissions, attendees were asked to consider a donation to Molham Volunteering Team, a grassroots, non-partisan charity organization, that works with displaced Syrian children and refugees in camps and war zones.
Newcomer Kitchen, a non-profit organization devoted to creating socio-economic opportunities for Syrian refugee women in Toronto, catered the event. The food was prepared by Syrian refugees, who also cook meals together at local restaurants to sell them onsite and online.