Student Panel Discusses what They Learned from their Time Abroad
Student Panel Discusses what They Learned from their Time Abroad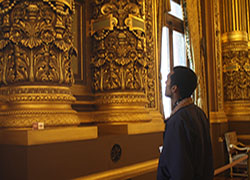 A student abroad in France admires the decoration in the Château de Versailles.
---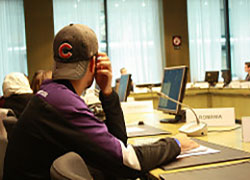 Northwestern students participate in a Model European Union summit while abroad.
---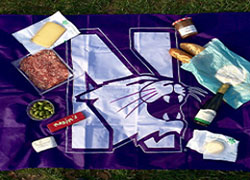 Northwestern students abroad in France lay out a picnic while paying homage to their university.
---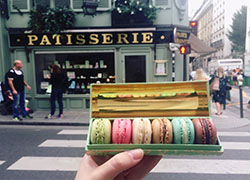 A student studying in Paris shows off her macarons.
On January 25, the Council on Language Instruction, with support from the Office of Undergraduate Learning Abroad, organized a student panel of study abroad returnees. While the panel members studied in different places, they all completed full immersion programs in their target languages and discussed using their foreign language abroad.
Although the students did say they faced challenges abroad, as is expected, their primary message was very positive. They said studying abroad helped them achieve not only academic and professional goals, but personal ones as well.
"I was always able to get to the end of the conversation," said Alex Karmin, a junior majoring in political science who studied Arabic in Jordan fall quarter 2017. While learning their target language was the students' primary goal, others said that living abroad helped them figure out their postgraduate goals as well.
Alex Cohen, a junior who studied classics in Rome, found that he didn't want to continue his studies of the ancient cultures academically, but took an internship with a classics textbook company instead.
The returnees provided encouragement for students who attended the panel to study abroad and do a full immersion program.
While gaps in their language and cultural knowledge were a barrier to the students abroad, they were able to combat the problem by immersing themselves in the culture. Reading the local newspaper, watching movies in their target language and exploring their cities helped students to learn more about where they lived.
"Say yes to everything," said Samantha Casesa, a theatre major who studied in Bologna, Italy. According to Casesa, being immersed in the culture of the place she lived in helped her to learn Italian more quickly and made her experience abroad truly enriching and transformative.
For faculty, having students talk about their experiences abroad is critical.
"For students, it's better to hear how good study abroad is from their peers, not just people standing from the outside, telling them how important study abroad is for them," said Asma Ben Romdhane, a professor of Arabic who moderated the panel.
"It's always good to hear the perspectives of students, not to read an article online or watch some video, just to get a person-to-person experience," said Lucas Ondimu, a junior studying anthropology who was in attendance. Ondimu, who was born in Kenya, said he would like to travel there this summer to practice Swahili and learn how to live on his own.
Everyone in the room was excited about study abroad. In part, the Council on Language Instruction held the panel to encourage studying abroad, which they say Northwestern students do not do enough. For Romdhane, students who want to go abroad should just go for it, rather than be hesitant or afraid.
"You're going to see beyond the fence. You're going to see something else. You're going to explore new things and new cultures. You may have stereotypes, they will change," she said. "You will grow professionally, personally and academically. Don't give up."