International Partnership Brings First Annual Summer Institute to Paris
International Partnership Brings First Annual Summer Institute to Paris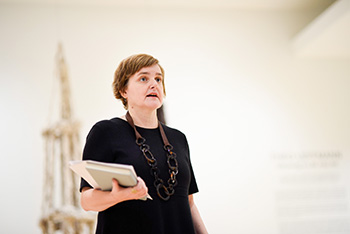 Alessia Ricciardi giving a talk at the Block Museum in October 2016.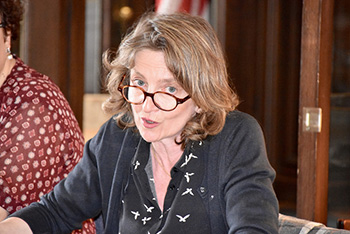 Isabelle Alfandary during a meeting with colleagues from Paris 3 and Northwestern in May 2017.
Next week, a long-held vision of Isabelle Alfandary and Alessia Ricciardi will come to life.
Thirty-one doctoral students from around the world, including twelve from Northwestern, will meet in Paris for the first annual Summer Institute: Psychoanalysis and the Media, from June 25 to 28.
Alfandary, a professor of American Literature at the Université Sorbonne Nouvelle - Paris 3, and Ricciardi, a professor of Italian and Comparative Literature at Northwestern, planned this original Summer Institute after eight years of academic and pedagogical collaboration.
Co-hosted by Paris 3 and Northwestern, the Summer Institute will expand on the two universities' interdisciplinary strengths in media studies and psychoanalytic theory, as students in art, history, English and other fields discuss the new ecology of media and the self.
Four of the most accomplished scholars in the field will speak at the Summer Institute: Samuel Weber, a professor of German at Northwestern who specializes in media theory and comparative literature; Bernard Stiegler, a French philosopher and head of the Institut de recherche et d'innovation; Astrid Deuber-Mankowsky, a professor of media studies and gender studies at the Ruhr-Universität Bochum in Germany; and Monique David-Ménard, a French philosopher, essayist and professor emeritus at Université Paris-Diderot.
Senior seminars hosted by Alfandary and Ricciardi, along with "junior" seminars run by the doctoral students, will follow plenary lectures by the four speakers, and will explore such questions as how information is transferred between individuals, how that transfer has been affected by the new media, and how technology and the media influence individuals' drives and desires.
A strength of the Institute is the variety of pedagogical settings, which, according to Alfandary, is relatively uncommon in summer school settings.
"To ask students to take control and prepare readings and discussions about issues that emerge during the plenary session is quite exciting," said Ricciardi. "I think that's part of why psychoanalysis is productive—it is compatible with several pedagogical settings."
Planning the Summer Institute
Alfandary first visited Northwestern on an exchange in 2010 to co-teach a class with Ricciardi on Jacques Lacan, an influential and controversial French psychoanalyst and psychiatrist.
"Co-teaching the class on Jacques Lacan, a notoriously difficult author, was wonderful," Ricciardi said. "When Isabelle took over mid-semester, the students' response was amazing and created such enthusiasm around the topic of psychoanalysis."
Alfandary continued to visit Northwestern regularly and conducted research on Lacan. In 2016, she published a major book on his work, called "Derrida Lacan: L'écriture entre psychanalyse et déconstruction," examining Lacan and Jacques Derrida, a French Algerian-born philosopher, and their writings on psychoanalysis and deconstruction. The book was met with high praise from Northwestern students, building a base of interest around psychoanalytic topics.
As Ricciardi and Alfandary furthered their pedagogical and academic collaborations, they began to discuss new initiatives. In particular, they noticed a lack of interest in psychoanalysis.
"Psychoanalysis is usually seen as something of the past, even in Europe and certainly in the United States," said Alfandary. But the Institute, she hopes, will "readdress psychoanalysis through the prism of media and technology."
After the announcement of the first annual Summer Institute last year, applications began pouring in from around the world.
"We were very happy to see the high demand because we surmised as much, but you can never tell," said Ricciardi. "Although the deadline passed, requests continue to come in with students pleading to get into the program."
Ricciardi and Alfandary attribute the strong demand to the originality of the Institute's topic and the way it will address psychoanalysis.
"It is not run by psychoanalysts. Instead, it questions psychoanalysis from a humanities standpoint," said Alfandary. "This is quite original in Europe, and I think it's also quite original in the United States."
Additionally, the Summer Institute is free of charge for the students. "We wanted to attract students not on the basis of how much they could spend, but on the basis of their genuine interest in the subject," said Alfandary.
Participating institutions will cover students' accommodation and travel expenses. At Northwestern, the Institute is funded by the French Interdisciplinary Group (FIG) and the Office of the Vice President for International Relations.
"We are happy to support the Summer Institute," said Dévora Grynspan, Vice President for International Relations at Northwestern. "Our strategy has been to establish a few select partnerships that we can strengthen and deepen over time. Paris 3 is such a partner, and this Summer Institute is a clear example of our successful efforts to expand our international collaborations and increase Northwestern's visibility."
For students who missed the deadline this year, Ricciardi and Alfandary say not to worry. The Summer Institute will return next year and will be hosted at Northwestern University.
Paris 3 and Northwestern University - A Multi-Layered Partnership
Paris 3 and Northwestern have enjoyed a deep and expanded partnership through a variety of programs and exchanges for undergraduate students, graduate students and faculty members. Last year, faculty and staff from Paris 3 traveled to Northwestern to discuss opportunities to collaborate in linguistics, comparative literature, film and theatre, and Latin American studies.
The two universities have had an undergraduate exchange program since 2016. Northwestern's specially designed Art, Literature, and Contemporary European Thought undergraduate study abroad program is co-hosted by Paris 3 and Sciences Po. Alfandary currently teaches the Philosophy and Literature class in the program, focusing on American, German and French literary and critical texts related to modernity, turn of the 20th century thought and aesthetic creation.
Alfandary herself has participated in multiple scholarly exchanges, study abroad programs, and academic collaborations at Northwestern, specially designed for faculty members to travel between the two universities.
Northwestern's French Interdisciplinary Group (FIG), has brought Alfandary to Northwestern four times for long-term intellectual exchanges and collaborations with Northwestern faculty, graduate students and undergraduates—lecturing at conferences, co-teaching courses and pursuing joint research interests with Northwestern professors. As a partner of Northwestern University's Program on Critical Theory, Alfandary teaches and administers critical theory tutorials and joint seminars in Paris for undergraduate and graduate students.
"Visiting scholars like Isabelle Alfandary are critical in our global strategy, serving as key intellectual collaborators and dedicated partners in shared research agendas," said Rachel Beatty Riedl, the FIG director and an associate professor in Weinberg's Department of Political Science. "The relations and exchange programs reap rich dividends by promoting new research frontiers, furthered by the pluralism of methodology and intellectual perspectives that our partnerships promote."
During Alfandary's most recent FIG exchange in April, she pursued research on Sigmund Freud, worked on her next book, and planned the Summer Institute with Ricciardi.
"For Alessia and I, it's a very important intellectual and pedagogical collaboration," said Alfandary. "The Summer Institute is really representative of what the Paris 3-Northwestern partnership is on a broader scale, with intellectual exchanges and pedagogical collaborations at the graduate and undergraduate level."