Global Academic Partner Celebrates Milestone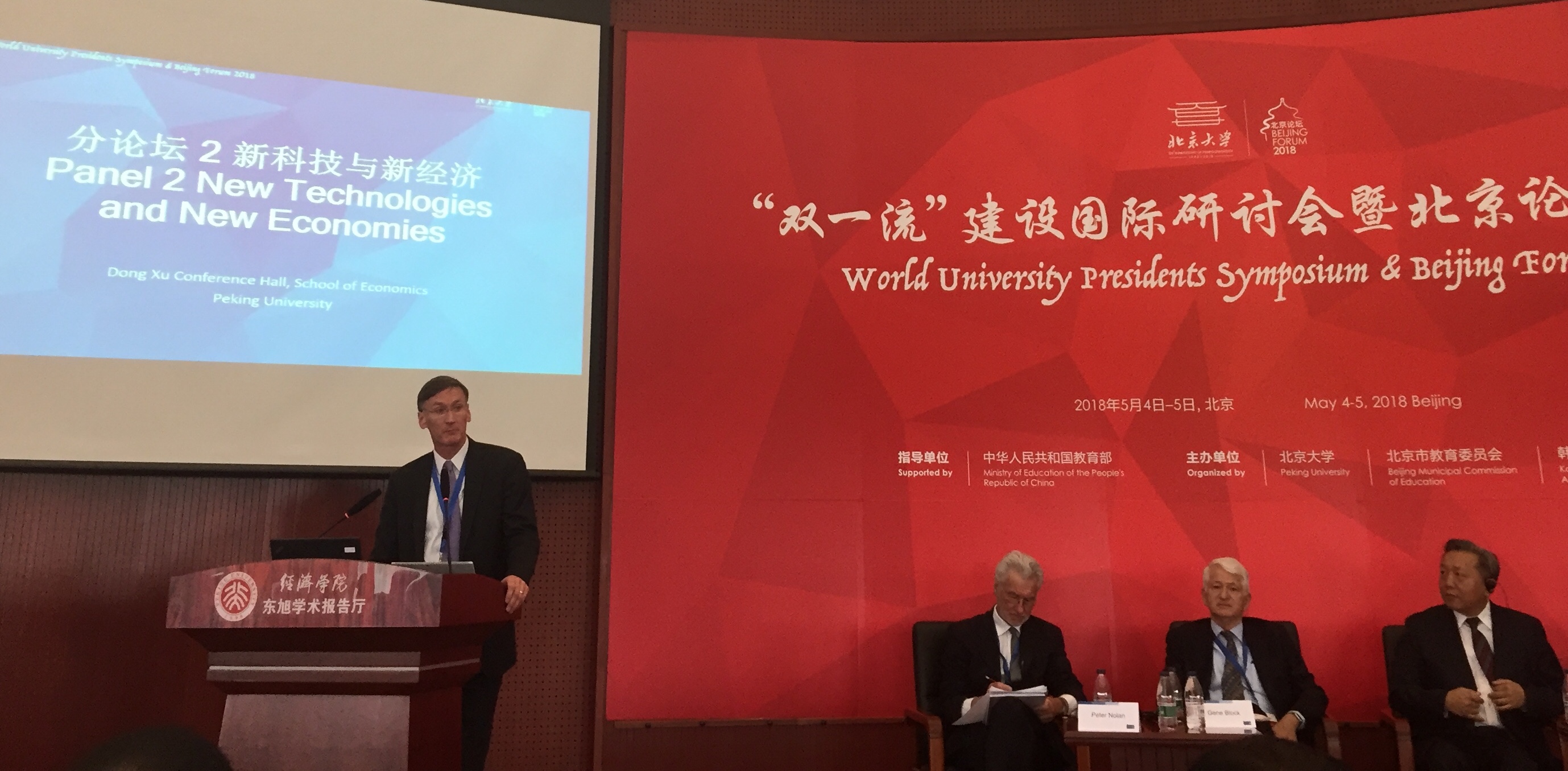 Jay Walsh, Northwestern's vice president for research, presented with fellow "New Technologies and New Economics" panelists Peter Nolan from Cambridge, Gene Block from UCLA, and Xiaoqiu Wu from Renmin University on May 4 at Peking University.
Vice President for Research Jay Walsh attends Peking University's 120th Anniversary, speaks about value of research collaboration
This month, Jay Walsh, Northwestern's vice president for research, and Licheng Gu, professor of instruction in Weinberg College's Department of Asian Languages and Cultures, participated in a celebration in Beijing. Peking University, the first comprehensive national university in China and one of Northwestern's key global research and academic partners, celebrated its 120th anniversary on May 4 and hosted an academic summit with university presidents and leaders to discuss global higher education's history and future trends.
The conference, called "Changes and Constants: Universities and Civilizations during the Past 120 Years," combined the World University Presidents Forum and annual Beijing Forum. University presidents and senior administrators from institutions around the world spoke at panel discussions and gave keynote addresses, examining how universities have been affected by changes in economics, demographics, and technology.
r. Walsh, who joined Northwestern in 1988 as a professor of biomedical engineering, participated in the "New Technologies and New Economics" panel, discussing the social impact of university-led science and invention.
"The university is a foundation of all modern societies," said Walsh. "Research universities in particular create a variety of knowledge and help drive technological innovation that improves humanity's standard of living. They do that by attracting a range of talent, across all disciplines, including the arts and humanities. In fact, you need interaction among the humanists and scientists to develop technology that really best serves social needs. At Northwestern, we work to cultivate a vigorous interdisciplinary research ecosystem that encourages different fields to collaborate in the pursuit of transformative discovery."
As Walsh and Gu attended the President's conference, they met and reflected with key faculty and staff at Peking University, who facilitated the mutually beneficial relationship between the two universities.
For Gu, who has directed Northwestern's specially designed study abroad programs in Beijing since their inception in 2000, attending this special celebration was "meaningful and special".
"We went there to celebrate the success of our collaboration in developing Northwestern's study abroad programs at Peking University," said Gu. "While celebrating what we have achieved in the past, we also discussed the future of our collaboration."
Gu met with Zhao Yang, a Professor and the Dean of the School of Teaching Chinese as a Foreign Language at Peking University, and talked through future plans and logistics of the specially designed summer study abroad programs in Beijing.
"We all have confidence that the Northwestern Summer in Beijing program will become stronger and stronger," said Gu.
Since 2011, Northwestern's specially designed study abroad programs in Beijing, China: Political & Economic Development, Public Health in China, and parts of the Energy Technology & Policy: Wanxiang Fellows Program have been hosted by Peking University, and led by Gu. From 2015 to 2017, another Northwestern program, Media and Integrated Marketing Communications in China became part of the study abroad offerings. In total, 688 students across all six undergraduate schools at Northwestern have benefited from these programs, taking intensive Chinese Mandarin courses alongside classes in energy technology and policy, political science, integrated marketing communications, and/or public health.
"Our partnership with Peking University has allowed Northwestern to engage deeply with an elite global research and academic institution," said Northwestern's Vice President for International Relations Dévora Grynspan, who is in charge of international partnerships at Northwestern. "We hope to continue to deepen and broaden our partnership to give students, faculty, and staff from Evanston and Beijing the opportunity to grow personally, academically, and professionally in new and exciting ways."
Alongside Northwestern's specially designed summer programs at PKU, a number of student, faculty, and executive exchanges, and joint and dual-degree programs have flourished between the two universities. Students from Northwestern's Kellogg School of Management, Feinberg School of Medicine and Pritzker School of Law have benefited from the exchange program with Peking University's Guanghua School of Management, Health Science Center, and Law School, respectively, to advance their understanding of their fields in a global cultural, economic and sociopolitical context. A dual-degree program with the Medill School of Journalism, Media, and Integrated Marketing Communications also enables Peking University students to enroll in the Medill IMC program upon successful completion of a master's degree program at home.
As Northwestern and Peking University continue to deepen their research and academic partnership, opportunities to meet and discuss successes and possibilities in person are invaluable. Walsh underscored the importance of such global engagement for institutions and their stakeholders.
"The creation of knowledge today has a distinct global component to it, with widespread collaboration among individuals—whether faculty members, students, or administrators," said Walsh. "When research institutions like Northwestern and Peking University come together to share insights and experiences, they contribute to a rich conversation with the potential to produce new ideas and breakthrough innovation that can shape humanity's future worldwide."