Global Health Studies: A model for campus internationalization
Global Health Studies: A model for campus internationalization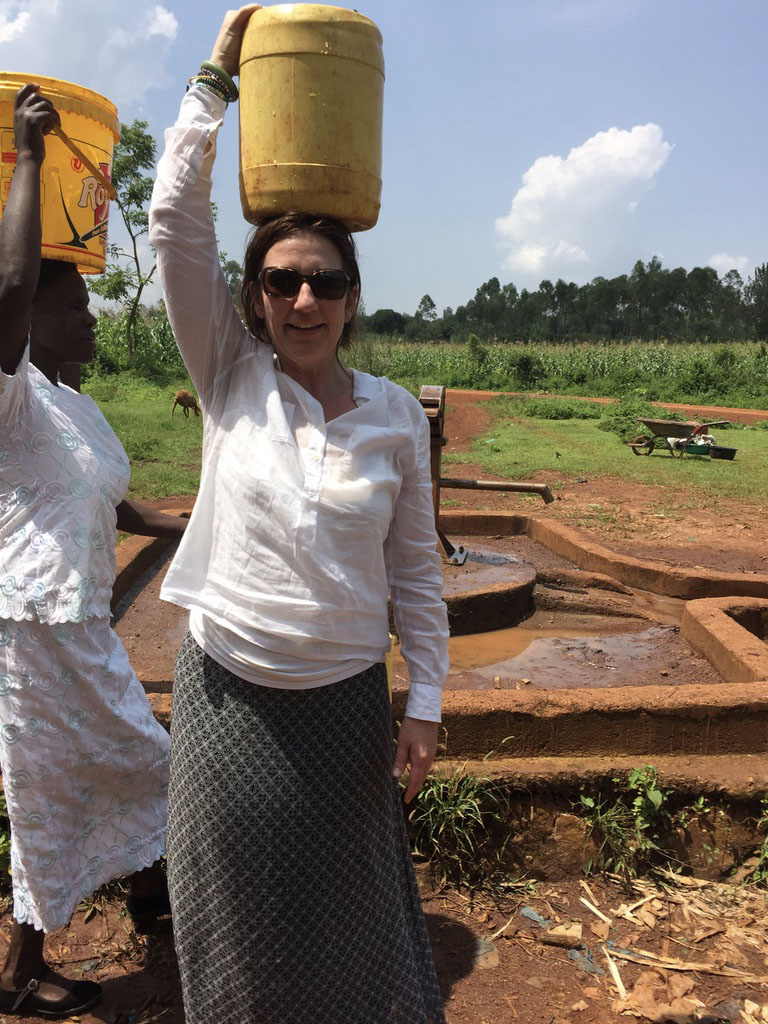 Global health faculty member Sera Young in western Kenya in 2017 on a go-along interview to explore and understand consequences of water insecurity.
---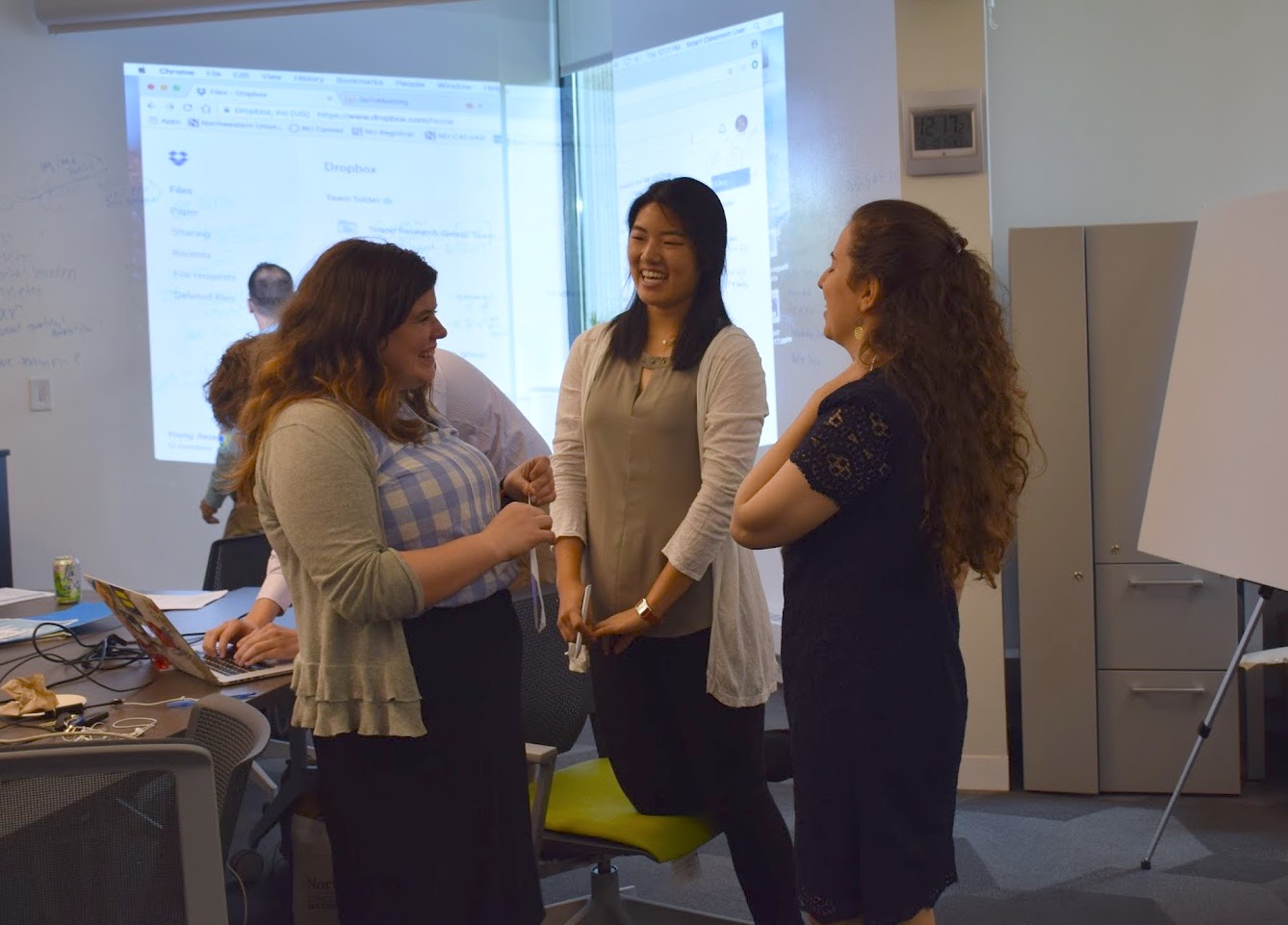 Global health student Julia Yeam with peers of the Young Research Group at the Household Water Insecurity Experiences (HWISE) Scale conference at Northwestern in 2017.
---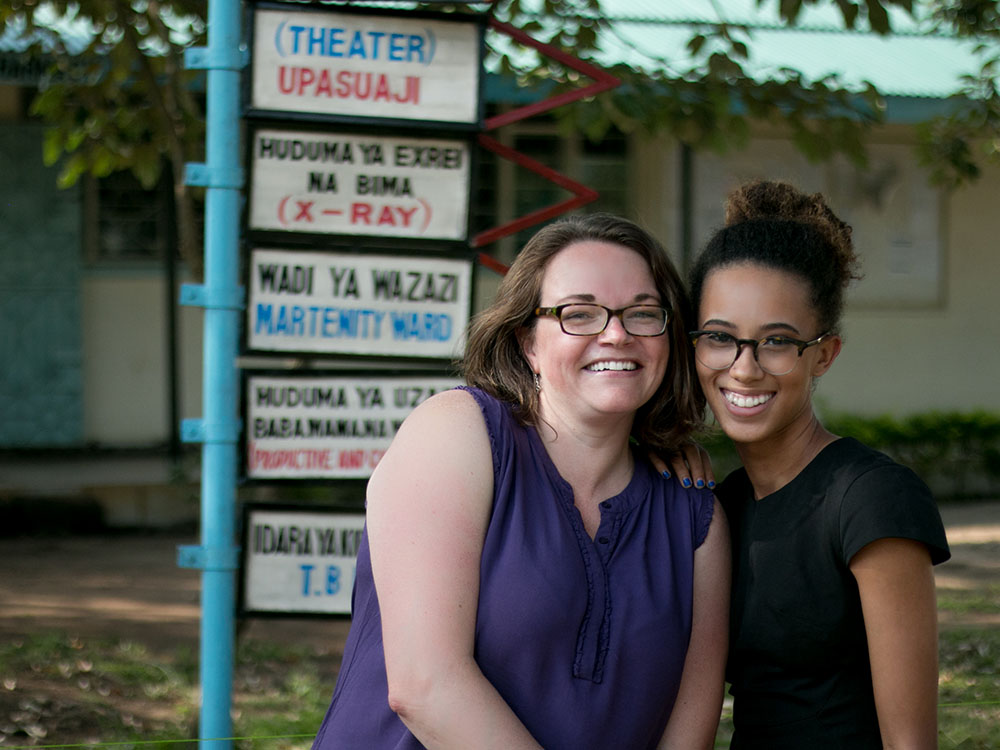 Global health faculty member Noelle Sullivan with Northwestern student Willow Pastard in 2017 on the Field Research in Public Health: Tanzania program.
---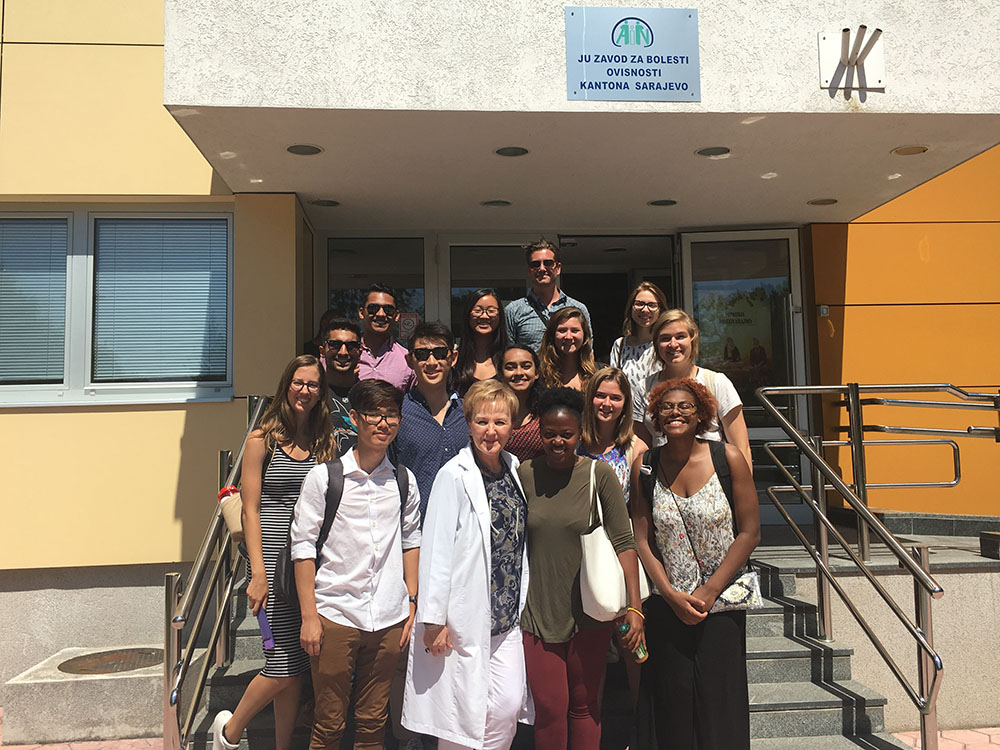 Global health faculty Peter Locke and Northwestern students on the Comparative Public Health: Serbia and Bosnia-Herzegovina program in 2017 visiting Sarajevo's Addiction Institute to learn about PTSD.
Popular undergraduate program honored for advancing curriculum development, fostering international opportunities
Northwestern University's Program in Global Health Studies is among a select group of university programs awarded with the 2018 IIE Andrew Heiskell Awards for Innovation in International Education, the Institute of International Education (IIE) announced today.
The awards honor the most outstanding initiatives in international higher education, highlighting programs that remove institutional barriers and broaden the base of participation in international teaching and learning.
This is the second time Northwestern has received this prestigious award. In 2016, the university was highlighted for its multidimensional partnership with the elite French institution Sciences Po.
This year, Global Health Studies is being recognized by IIE with an honorable mention as a successful model for internationalizing the campus by advancing curriculum development and fostering international opportunities for both students and faculty.
Global Health Studies: a program grounded in interdisciplinary teaching and research
The interdisciplinary program was established as an academic minor in 2004 by now-Vice President for International Relations Dévora Grynspan and Abraham Harris Professor of Anthropology William Leonard, who serves as the program director.
Since then, the program has greatly expanded and now draws students from all six undergraduate schools and colleges. With a consistent average of close to 300 students in the program each year, the demand for classes and research is high.
This past year, the university added an adjunct major and the Accelerated Public Health Program (APHP), a combined five-year bachelor's degree/master's of public health (MPH) curriculum, to its portfolio of offerings.
The Global Health Studies program teaches students the skills needed to engage critically with current global health challenges, and sets itself apart from many others in unique ways: it employs faculty with a diverse set of academic backgrounds—from anthropologists and biomedical engineers to rehabilitation specialists and health officials—and requires a study abroad experience.
Over the years, students have been able to fulfill this requirement through Northwestern-administered public health programs at partner institutions in Chile, China, Cuba, Mexico, Israel, France, South Africa, Tanzania, Uganda, Serbia and Bosnia-Herzegovina. The program also provides financial support for domestic and international student research, and offers many extracurricular activities, such as local health community involvement and an alumni mentorship program.
Broadening the scope and participation of students and faculty in research and study abroad
Global health faculty teach a variety of topics, including global bioethics, social determinants of health and Native American health. They also serve as supervisors for student research. Many of them lead or support public health experiences abroad, sometimes in collaboration with one of Northwestern's international partners.
"Our program couldn't offer all of these wonderful engagement opportunities outside the classroom if it wasn't for an extraordinary group of faculty who challenge students with thoughtful and critical perspectives on a diverse range of topics," Leonard said.
Over the last four years, Noelle Sullivan, assistant professor of instruction in global health and anthropology, has taken student cohorts to Tanzania for hands-on field research in public health. The undergraduate researchers worked with students from the University of Dar es Salaam to investigate health issues relevant to the Arusha region.
According to Sullivan, the benefits of field research for students are immense.
"In high school, students learn from standardized testing that there are right and wrong answers," she explained. "In global health studies, we teach them about the complexities of the world and challenge the attractive simplicity of 'right' and 'wrong.' In the field, they learn the different opportunities and constraints people face and can use these insights to start to conceptualize the world they want to build."
Peter Locke, assistant professor of instruction in global health and anthropology, takes students to Serbia and Bosnia-Herzegovina each summer to study post-conflict mental health and policies in a region that was tormented by war in the 1990s.
"Spending time in both Serbia and neighboring Bosnia-Herzegovina helps students to build a comparative, critical perspective of the region's history and current challenges, and to reflect deeply on the place of health in processes of post-war recovery, policy-making and transitional justice," Locke said.
Another group of students traveled to London in 2017 to conduct archival research on maternal health in the 20th century at the Wellcome Library. Led by medical historian Sarah Rodriguez, who has appointments in both Global Health Studies at Weinberg and Medical Humanities and Bioethics at Feinberg, the group looked at the historical roots of contemporary maternal health problems. Students' travel, accommodations and programming were covered in full by the John & Martha Mabie Fund, which was set up to provide public health research opportunities for Northwestern students.
Other faculty members engage students in global health research on campus and in the community, such as medical and psychological anthropologist Rebecca Seligman, who regularly oversees student research projects. Beatriz Reyes, a postdoctoral fellow in the program, works on the development of evidence-based programs in addressing health disparities and teaches classes on community-based participatory research and Native American health. Michael Diamond, adjunct lecturer in the program, has taken many students into the local community over the years to help them understand the intersection of global and local health, or 'glocal' health, and how closely these two areas are related.
While faculty and students have primarily benefited from Global Health Studies' international opportunities, the program has also contributed to internationalizing Northwestern staff: Greg Buchanan, assistant program director for Global Health Studies, recently received a Fulbright Administrator's Award. In the spring, he will travel to India to meet with representatives from Indian universities, private-sector agencies, research institutions and government agencies.
Training future researchers early on
"Meaningful global health student engagement" is a top priority for Sera Young, assistant professor in anthropology and global health and a fellow at the Institute for Policy Research. Currently, she leads a research group that consists of postdocs, PhD students and nearly 20 undergraduate students.
"The overarching question that we ask is how to best help mothers in the vulnerable period of the year prior to delivery and the two years postpartum, known as 'the first thousand days,'" Young said. Specific research areas of focus include food insecurity, water insecurity, HIV and micronutrients deficiencies.
"Studies have shown that food insecurity and water insecurity are tightly correlated with one another, and we look at nutrition through this slightly indirect, but extremely important aspect of nutrition, which is water," said Weinberg senior Julia Yeam, an undergraduate member of Young's research group and one of the first students who enrolled in both the new global health adjunct major and the APHP.
"What our research group is trying to do, and what a lot of other collaborators around the world right now are trying to do, is validate a scale to measure and quantify water insecurity at the household level," Yeam added. The group has water insecurity research sites in 24 countries and is adding two more sites in the coming weeks.
The scale has already been validated in western Kenya and will now be adapted "to understand how water security works in different settings, to compare, contrast and understand national and regional prevalence," Young said.
Assisting with faculty research helps undergraduate students develop a skill set they will need moving forward in their academic and professional careers, no matter their ultimate field, according to Young. Her students are all involved in primary research and take on many responsibilities, including literature reviews, data entry, data cleaning, data analysis and presentation.
She considers these research collaborations a great method of engaging with students.
"Teaching in a classroom is only part of my teaching job. Working with undergraduate students directly on primary research helps train the next generation of researchers and helps us to answer the scientific questions more quickly," she said.
Providing students with the tools to engage with today's global health challenges
Yeam, who came to Northwestern specifically to study global health, was surprised by all the offerings available to students—in global health, and also at the university as a whole.
"I don't think I really understood how many opportunities we had here until two years ago when I started looking for study abroad opportunities and met Dr. Young. That opened up so many other doors. Now there are opportunities for me to present posters, go to different conferences and ideally get papers published," she said. "But also, I realized just how many resources there are on campus in terms of people to help you navigate your career and your research goals."
As she continued through the global health program, she became determined to pursue an MPH after graduation. As if it were meant to be, in the midst of her planning, Global Health Studies made an announcement to all its students: The five-year APHP was slated to start in fall 2017. Yeam immediately applied and was accepted, along with five other students. The program combines a four-year global health bachelor's degree with a one-year master's degree in public health.
Not having to study for the GRE and being able to earn credit towards the MPH during her senior year allows Yeam to focus on her global health studies, while tying in her public health interests early on.
For Yeam, the Global Health Studies program has already had an impact.
"It really helped me grow a lot to expand my view on health and the role we play in it— both our individual roles and our collective role as part of a global community, because we're all affected by it, whether we blatantly realize it or not," she said.
Yeam is just one of many students who have participated in the various opportunities offered through the Global Health Studies program over the years. These students and their faculty mentors exemplify what the Heiskell award is all about: reducing barriers to broaden the base of participation in international teaching and learning on campus—and abroad.
Program director William Leonard will accept the award on behalf of Northwestern and Global Health Studies, and he will showcase the program with a presentation on Best Practices in Internationalizing the Campus at the IIE Best Practices Conference in New York City on March 16, 2018.