Connecting with Cuba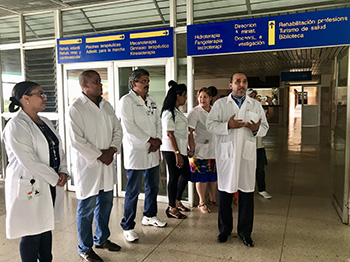 Dr. Leovy Edrey Semino Garcia, director of Cuba's national rehabilitation hospital Julio Díaz, takes Northwestern assistant professors of physical therapy Jeff Hartman and Roberto López-Rosado on a tour of the facilities.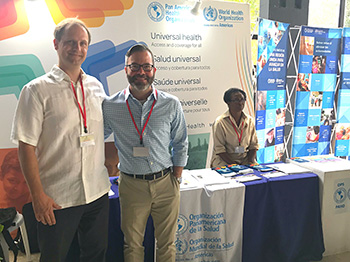 Jeff Hartman and Roberto López-Rosado at Cuba Salud 2018.
For public health researchers, gaining access to Cuba can open an array of potential new research opportunities and collaborations.
When U.S. relations were normalized with Cuba more than three years ago, Northwestern worked with nonprofits and governmental agencies to try to open those doors even further. Since then, despite a shifting political climate, the university has continued to foster academic collaborations with Cuba by sending researchers to the country and by forging a partnership with a Cuban university.
In December, Northwestern signed an official memorandum of understanding (MOU) with the University of Havana Manuel Fajardo School of Medicine, a signal of intent to promote potential collaborations and research exchanges between the two institutions.
"We have a lot of interest from faculty and students who would like to conduct research or study in Cuba," said Kim Rapp, assistant vice president for international relations at Northwestern. "Northwestern has had a presence in Cuba for a few years, and we'd like to stay connected and work with partners there."
Creating an official partnership
In 2017, Northwestern began exploring expanded partnerships in Cuba after receiving a grant from Partners of the Americas to enhance academic opportunities in the country. A particular emphasis was placed on forging collaborations related to medical education.
In June of that year, a cohort of eight Northwestern faculty members and administrators traveled to the University of Havana to meet with potential collaborators at its medical school and related research institutions.
Northwestern researchers weren't as familiar with the Cuban public health landscape, but they knew of its successes. The country's infant mortality rate is 4.5 deaths per 1,000 infants, which is lower than the United States' rate of 5.8, and the average life expectancy is 79 years, compared to the United States' 78.7.
"In my opinion, despite Cuba being an underdeveloped country, our commitment to developing a strong workforce of healthcare professionals has allowed these achievements," said Midiala Monagas Docasal, dean of the Manuel Fajardo School of Medicine.
Since first connecting with the school, Northwestern has hosted Cuban oncology researchers and the vice president of the Cuban Society for Pharmacology. In the fall, Rapp attended a conference in Cienfuegos and then met with partners at the medical school in Havana to solidify the partnership. Then, in December, the two schools signed the MOU stating their intent to work with each other, to send scholars to each other's institutions and to explore potential areas of collaboration.
"We feel we are a good fit, and this agreement will pave the way for student and researcher exchanges. We are excited for the future," Rapp said.
Finding potential collaborators
As a starting point for these new collaborations, Docasal invited two Northwestern faculty members to Havana to attend the most prestigious public health conference this April. 
Jeff Hartman and Roberto López-Rosado, both assistant professors in Northwestern's Department of Physical Therapy and Human Movement Sciences, attended Cuba Salud and found an inspiring cohort of Central and South American public health officials and researchers looking to collaborate to find optimal health outcomes.
"I went to Havana because I wanted to get a better sense of healthcare and rehabilitation in the country and to explore how physical therapists work, see patients and do research," López-Rosado said. "I quickly realized that there are a lot of developing countries in the southern hemisphere helping one another -- exchanging information about public policy and healthcare needs, challenges, demands and collaborations." 
The conference provided an eye-opening look at how other countries deal with universal healthcare and disaster response, Hartman said. "We fit in there from a philosophical standpoint, so it was pretty inspiring from that sense," he said. Both professors are now connecting with colleagues from the conference to explore potential collaborations.
"What I can say for now is that there is a willingness from both sides to come up with some sort of collaborative effort. I feel very excited and hopeful," López-Rosado said.
Forging ahead despite challenges
Northwestern's efforts in Cuba are in line with a broader push to collaborate with the country. Since relations with Cuba normalized in 2014, the NAFSA: Association of International Educators has worked to create sustainable partnerships between U.S. and Cuban academic institutions. Together they work with the 100,000 Strong in the Americas Innovation Fund, the U.S. Department of State, and Partners of the Americas (a program of governmental cooperation across the Western Hemisphere) to provide grants, workshops, and conferences to facilitate collaborative initiatives.
These initiatives faced a setback in 2017, when the U.S. embassy in Cuba cut its staff by two-thirds in the wake of health incidents among its diplomats. That means Cuban academics face challenges in attaining visas to conduct research and teach in the United States.
Although Northwestern was not able to host any Cuban scholars this year, the university continues to engage with the country on various academic levels. This past spring, Medill Associate Professor Peter Slevin took a group of 15 graduate journalism students to Cuba as part of a week-long program called Medill Explores. Through this immersive experience, students were able to get a deeper understanding of the global political and cultural contexts of journalism. In early June, through the Career Development Fund, Northwestern Career Advancement supported three students to attend the 43rd Annual Caribbean Studies Association (CSA) Conference in Havana. Undergraduate students can also study abroad in Cuba, from a quarter to a whole year, through the Office of Undergraduate Learning Abroad.
"We will continue to engage with Cuba in the way that we can," Rapp said. "We want to be ready so that when the climate changes, we can be more reciprocal in our programming."