Giving Back: Balkan region close to Northwestern alumnus's heart hosts undergraduate study abroad program
Giving Back: Balkan region close to Northwestern alumnus's heart hosts undergraduate study abroad program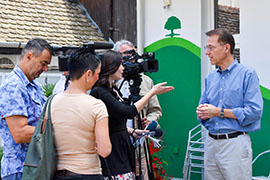 Northwestern Alumnus Brad Radulovacki '83 speaks to local media in Serbia about his philanthropy and outreach.
---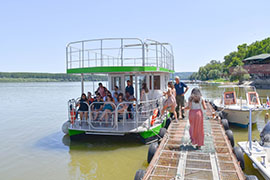 Students on the trip board a boat for a tour of the Danube River, which ended at a nature preserve. 
---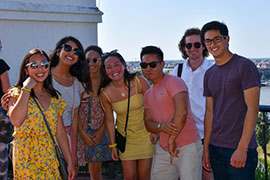 At the Petrovaradin Fortress, students pose while looking out on Novi Sad, Serbia's second-largest city. 
---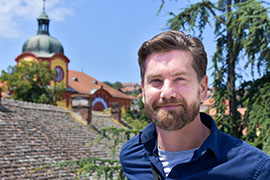 Global Health Studies professor Peter Locke, who led the trip, standing in front of the oldest high school in Serbia.
Connecting cultural heritage with academic studies through philanthropy
This past summer, alumnus Brad Radulovacki '83 brought together his love for Northwestern, commitment to philanthropy and strong personal connection to Serbia to create a unique opportunity for Northwestern's global health students.
In June, Radulovacki's ancestral hometown of Sremski Karlovci in Serbia hosted sixteen Northwestern students on the Comparative Public Health: Serbia and Bosnia-Herzegovina program, which is administered by the Office for Undergraduate Learning Abroad.
The program, comprised of four weeks of study at the University of Belgrade, followed by four weeks at the University of Sarajevo, presented itself to Radulovacki as a unique opportunity to tie in his late father's philanthropic legacy with his own charitable support of Northwestern's global health offerings.
So, he organized and led a full day of activities in the region for the students. Grant Radulovacki '17, his oldest son and a recent Northwestern graduate, also joined his father on the trip. 
Students visited Novi Sad, Serbia's second largest city, and the nearby Petrovaradin Fortress. They also toured the Eco Center Radulovacki, a non-profit organization endowed by Radulovacki's late father that runs environmental protection and youth education programs; explored the historic baroque town of Sremski Karlovci and enjoyed a boat ride on the Danube River to an island nature reserve, where the Eco Center conducts research.
"Having the students experience the ecological center and learn about the history of Sremski Karlovci — and connect global health studies and my Serbian heritage, turned out to be a great way for me to engage with students and give back to Northwestern," Radulovacki said. 
For Zachary Li, a junior on the program studying neuroscience and global health, the excursion helped him understand the broader historical and geographical context of the region.
"It was beautiful to first see the quaint town of Sremski Karlovci and later the larger city of Novi Sad," Li said. "We learned a lot by visiting the Eco Center, and it showed us that there's so much more to Serbia than Belgrade."
A family tradition of philanthropy
When Brad Radulovacki was six years old, he and his family left Serbia, then part of communist Yugoslavia. His parents wanted freedom to pursue their personal and professional goals and ambitions; his mother as a dentist and his father as a scientific researcher.
Yet the Radulovackis maintained strong ties to their roots and heritage. Today, their charitable support can be seen all over the town of Sremski Karlovci, where the Radulovacki family has lived for over 250 years.
"My father was valedictorian of the 1951 graduating class from the Gymnasium of Karlovci, the oldest high school in Serbia. He was very proud of Sremski Karlovci and endowed funds for the state-of-the-art reconstruction of the ecological center that serves the region and is headquartered in the town. He also restored the famous 18th-century 'Four Lions' fountain in the town's central square," Radulovacki said. "My father has given back a lot."
Giving back means paying it forward
For many years now, Brad and his wife Karen have financially contributed to various Northwestern global activities and programs, including a scholarship that provides undergraduates financial support to study abroad in Asia and Russia during the academic year. Yet for him, it is not only about giving; it is about being engaged and involved with the students and witnessing concrete outcomes.
Over the years, he has come back to Northwestern many times to meet the students who received his financial support. Since 2010, a total of 26 undergraduate students have been supported by another grant he and Karen have funded: the Radulovacki Global Health Research Fellowship.
"It is truly gratifying to see the great impact Brad's giving has had on our students," said Dévora Grynspan, Vice President for International Relations. "Our global health students want to solve the most pressing health issues around the world. Giving them the opportunity to do this through hands-on research in the local communities abroad is much more impactful than learning about it in the classroom at home."
Brad Radulovacki's philanthropy continues. In fall 2019, Northwestern will welcome its first Radulovacki Visiting Scholar in Global Health Studies, Dr. Marcos Cueto, from Fundação Oswaldo Cruz in Rio de Janeiro.
"What drew me to global health was the idea that we could create a group of academics, policy makers and physicians with a global perspective who could maybe influence policy—in the United States and globally—for years to come," Radulovacki said. "For Northwestern to be a frontrunner in this, I thought, was very important."
Global health: an area of strategic importance
Northwestern continues its commitment to the field of global health. The Program in Global Health Studies is one of the most popular undergraduate programs, with approximately 300 students enrolled in the minor annually. This past year, the program added an adjunct major to its academic offerings and immediately admitted over 100 students. Together with Feinberg's Program in Public Health, it also established the new Accelerated Public Health Program, a 5-year combined bachelor's and master's of public health (BA/MPH).
Currently, the university is fundraising for a campus-wide Institute for Global Health that will integrate Northwestern's global health activities and become a hub for global health leadership, medical research, education, clinical care and service.
"With the new Institute for Global Health, Northwestern is taking a holistic, interdisciplinary approach to the study of global health that will empower people and communities for many years to come," said Grynspan, who co-founded the Program in Global Health Studies in 2004 and has since been actively involved in expanding global health opportunities across the university.
For Radulovacki, it is all about the student experience and how to facilitate a unique Northwestern connection with a different culture. He has found personal gratification in providing new and insightful opportunities for Northwestern students to engage with global health initiatives.
"If there are any other alumni from countries where Northwestern has programs — such as South Africa, Mexico, China, France or elsewhere — and who want to get involved, I can wholeheartedly say: It is an enriching experience, and it can only help those programs and those countries," Radulovacki said.
-- Alumni interested in engaging with Northwestern's global activities can contact Dévora Grynspan, Vice President for International Relations, or Bill Leonard, Professor of Anthropology and Director of the Program in Global Health Studies.
Interactive storymap