Universidad Panamericana campus Mexico president expresses commitment to expanding institutional partnership
Universidad Panamericana campus Mexico president expresses commitment to expanding institutional partnership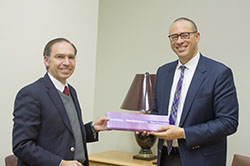 Universidad Panamericana Campus Mexico President Santiago García Álvarez and Northwestern Provost Jonathan Holloway
Building faculty engagement and collaborations with Northwestern a top priority for Universidad Panamericana
In early December, Universidad Panamericana (UP) Campus Mexico President Santiago García Álvarez and Director of International Affairs Liliana Alvarez Tostado visited Northwestern University and expressed strong interest in expanding the partnership between the two institutions.
"For us, the relationship with Northwestern is really important and we'd like to include more faculty in the future " García said in a meeting with Northwestern Provost Jonathan Holloway.
The two universities enjoy a long-standing relationship focused on student opportunities. It began with a specially designed study abroad program on Pubic Health in Mexico for undergraduate students in 2001, established by Alvarez and Dévora Grynspan, vice president for international relations at Northwestern. Over the years, clinical rotations for medical students, as well as a number of programs—an MBA student exchange, a faculty exchange, and an executive education program—between Northwestern's Kellogg School of Management and UP's business school IPADE, were added.
This past year, Northwestern Pritzker Law School joined the partnership by establishing a dual degree program in which students from UP earn a Bachelor in Law (LLB) at their home institution and a Master of Law (LLM) from Northwestern. The first two UP students in the program are currently enrolled at Northwestern.
The next logical step for García is to engage more faculty in the partnership. He envisions Northwestern faculty teaching summer courses in Mexico, in fields such as music, economics or political science. "We would also like faculty from our university to come to Northwestern to conduct research," he said, and is hopeful that research collaborations will evolve over time from these scholarly visits.
"While we have already built a strong partnership, there is a lot of room to expand, as both our institutions have many other areas of excellence in which we can develop collaborations," says Grynspan, who hosted the Mexican visitors.
The Office of International Relations, headed by Grynspan, offers international engagement grants to full-time Northwestern faculty to explore potential collaborations with partner institutions. Interested faculty members may contact Kim Rapp, Assistant Vice President for International Relations, at kim.rapp@northwestern.edu