NU Club of Japan Fosters Chicagoland Connections
NU Club of Japan Fosters Chicagoland Connections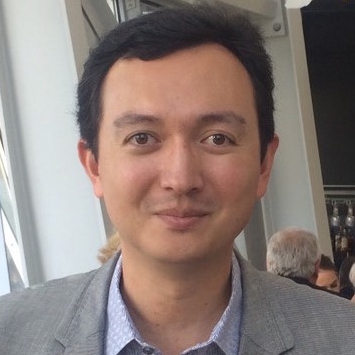 Tatsuji Joseph Echle (WCAS 1998)
NU Club of Japan President
Northwestern University and the University of Chicago's alumni clubs co-host Chicago-style pizza networking event in Tokyo.
Over fifty alumni and students of Northwestern University and the University of Chicago came together in July for a Chicago-style pizza networking event. The event was hosted at DevilCraft, the only restaurant in Tokyo to offer real Chicago-style deep dish pizza, according to NU Club of Japan President Tatsuji Joseph Echle (WCAS 1998).
"Having the opportunity to mix alumni of the two universities together around a common Chicago-themed location works well," says Echle, president at Helix Industries Inc., who plans to continue supporting the formation of a "robust and beneficial global network" for Northwestern.
Looking to expand the club's activities, Echle and Alexander St. John (WCAS 1998), president of the NU Club of Japan from 2012-2015, met with UChicago Alumni Club of Japan's leadership team to explore co-hosting events and networking opportunities. Out of this conversation, the Chicago-style pizza networking event was created, and the first feast took place in 2012. Echle attributes the event's yearly success to its "perfect combination" of Tokyo business culture and a shared affinity for Chicago.
"Some of the Japanese alumni commented that it had been over 20 or 30 years since they had eaten Chicago-style pizza," says Echle. "There were lots of comments of 'natsukashii,' which means 'fond memories' or 'nostalgic' in Japanese."
NAA provides a variety of engagement opportunities for alumni living abroad, with NU of Japan representing just one of 15 official international clubs around the world. Additionally, NAA offers the Global Ambassador program, NU Abroad, and the annual Northwestern|Connects global networking event. Alumni living abroad may also participate in the Northwestern Network Mentorship Program as well as online educational and career webinars throughout the year.
"We heavily rely on our dedicated volunteer base around the world to help us carry out the mission of the NAA," says Sarah Wagoner, senior associate director of global engagement for the NAA. "Without alumni like Tatsuji leading the way to inspire and engage our alumni communities, the University would not be where we are today in increasing Northwestern's global awareness, elevating our global reputation, and strengthening our alumni pride."
When asked to share his fondest Northwestern memory, Echle could not decide: "I would say it's a toss-up between hanging out with friends in the dorm or the Integrated Science Program building late at night eating Giordanos delivery, or hanging out with friends in the University computer lab on a cold winter's night." For students and alumni alike, creating community is an important component of the Northwestern experience.
Looking to get involved with the global Northwestern alumni community? Visit 
NAA's website
 for more information.