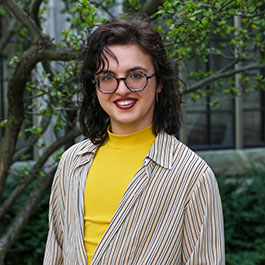 Ray Elliott is a versatile artist and designer who brings a unique perspective to their role as a member of our university staff. With a background rooted in both design and fine art, Ray's work reflects their ability to channel the world around them into compelling creations that foster understanding and connection. By challenging established perspectives on culture, emotion, gender, space, and purpose, Ray aims to stimulate thought-provoking conversations and sparks personal introspection.
Before joining Northwestern, Ray contributed their talents to various endeavors, including their work at a national signage company where they had the opportunity to design signage for renowned clients such as the Chicago Cubs, DraftKings, The UPS Store, and Athletico. Over the past 7 years they have been a freelance and contract designer for various non-profits and businesses in Chicago; with a focus on orgs committed to comprehensive medical education, inclusive events, and community aid.Ray's experience prior to submerging themselves in full time design work was that of a holistic wellness business owner. This was a pivotal point in their life that allowed them to connect to their deep rooted interest in herbal medicine and provide accessible and affordable products to populations that need it most.
Beyond their artistic endeavors, Ray is an active community organizer who curates free meet-and-greet events, galleries, and other artistic functions. You'll often catch them dancing on the beach, hiking around the Midwest and embracing life to its fullest.