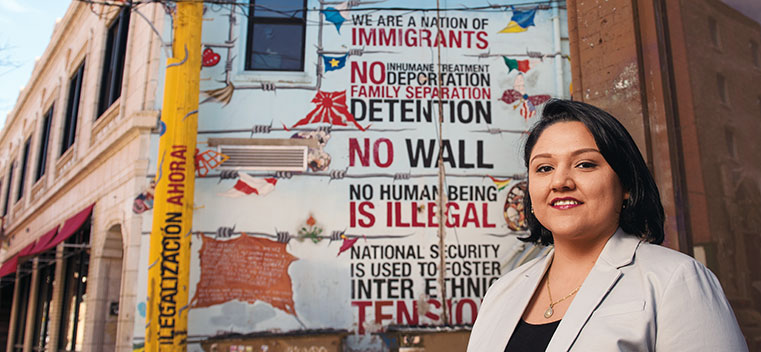 Photo by Alex Garcia '89.
Mixed Messages: Almita Miranda
Story Tools
Share this story
The plight of mixed-status families is more than an academic interest for Almita Miranda. It's her history.
Her grandfather came to the United States from Guerrero, Mexico, as part of the Bracero Program, which allowed millions of Mexicans to cross the border for temporary work. Her parents were undocumented migrant workers in the late 1970s and legalized their status after the Immigration Reform and Control Act of 1986. Miranda '08 was born in Chicago, but her father "continued to travel back and forth to Mexico with the hope of one day bringing the entire family back to Guerrero. But after Mexico's economic crisis in 1994, he decided to keep the family in Chicago permanently."
A doctoral candidate in anthropology, Miranda has documented the influx of mixed-status families and what the United States and Mexico have systematically done to keep those families in legal limbo. Working under the guidance of Northwestern professor Micaela di Leonardo, a feminist anthropologist, Miranda acknowledges that her research is personal and political.
"For years I have witnessed the direct effects that punitive policies have had on immigrant families' lives, and the fear and uncertainty with which they have had to live on a daily basis," she says. "But the strategies and networks they have formed, locally and transnationally, to protect their families against all odds have also been incredible and inspiring. They have taught me what it really means to walk by faith."
Her dual-site ethnographic project looks at the ways in which immigration policy affects members of these families in both countries. She conducted research with immigrant-rights organizations, interviewing mixed-status families in the Chicago area. She also conducted fieldwork in Zacatecas, Mexico, to find out what happens to families that return after decades away, talking with deportees and those who left the United States following the 2008 recession.
The two countries have long maintained an unofficial revolving-door policy. "Scholars, like Massey and Durand, have documented how in the '70s and '80s migrants would come, work for a few years and then return to Mexico in a sort of circular process," Miranda says. But in the '90s, she explains, free-trade policies caused worsening economic conditions in Mexico, spawning a large rise in undocumented migration. At the same time, because of increased border enforcement, much of this undocumented population became settled and formed families in the United States.
She hopes her ethnographic work contributes to this "binational scholarship by focusing on post-NAFTA undocumented Mexican migrants who later married and had children born in the U.S. Many of these families have since been threatened with deportation and family separation due to the increased security and enforcement policies in a post-9/11 U.S.," she says.
Miranda considers herself a scholar-activist and says her research is important because it shows the effects these policies have on real families on both sides of the border.
"This is not a time to be silent," adds Miranda, who will begin a postdoctoral fellowship at Brown University in the fall. "It is times like these, even in the midst of the xenophobia and the chaos that the Trump administration has helped produce, that immigrants, communities of color, activists, scholars and allies have to join forces to build a movement of resistance.
"In spite of it all, I remain hopeful, for as the old Mexican proverb Quisieron enterrarnos, pero se les olvido que somos semillas reminds us: 'They tried to bury us. They didn't know we were seeds.' "