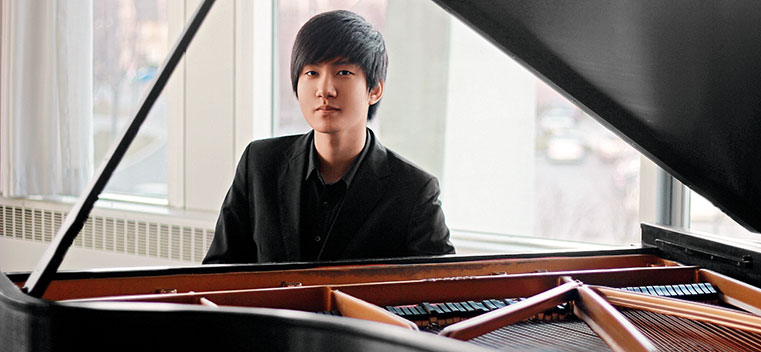 All Keyed Up: Dong-Wan Ha
Story Tools
Share this story
Dong-Wan Ha has logged more than 70,000 airline miles since he started the doctor of musical arts program at Northwestern in fall 2015.
"My passport is full of stamps," says Ha, an award-winning pianist who has competed in 14 prestigious international piano competitions. He's won nearly half of those competitions, including the Kerikeri International Piano Competition in New Zealand and the Neue Sterne International Piano Competition in Germany.
"We've been extraordinarily fortunate in the past few years in the level of the doctoral students who have come to Northwestern," says Ha's adviser, associate professor of piano Alan Chow. "It's become incredibly competitive, so even just to get one of those three spots that we have each year is really remarkable. But Dong-Wan sort of set himself apart. He was very ambitious about establishing his credentials not only in the U.S. but around the world."
Born in Seoul, Ha started playing piano at age 7. He came to the United States in 2011 to study piano performance and literature at the University of Rochester's Eastman School of Music. He then earned an artist diploma at the Cleveland Institute of Music.
Ha says earning a doctorate at a school like Northwestern is one of his life goals — and a highly regarded accomplishment in South Korea. Unlike traditional PhD programs, the DMA focuses on academics and performance. Ha, who represented the Bienen School of Music at the John F. Kennedy Center for the Performing Arts' Conservatory Project in February 2016, works closely with Chow to polish his skills while taking academic classes such as musicology and music theory.
However, Ha knows his studies will be interrupted. At the end of this academic year, his passport will expire, and he must return home to South Korea for two years of mandatory military or civic service. Ha says Northwestern will allow him to take a two-year leave of absence.
"Hopefully he'll have time to practice while he's there," says Chow. "He's an extraordinary talent, and we've been very fortunate to have him here."
Ha plans to return to Northwestern in 2019 to complete his qualifying exams and dissertation.