Native Voices in Verse: Alanna Hickey
Story Tools
Share this story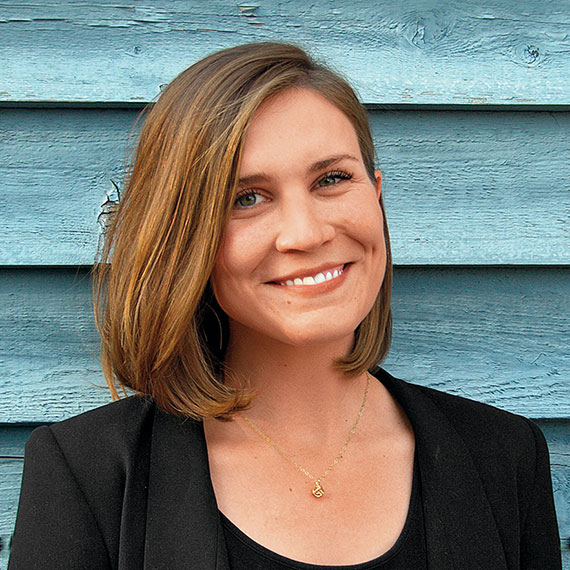 Alanna Hickey grew up going to the YMCA's Camp Tecumseh in northwest Indiana but didn't know anything about its namesake, a Shawnee leader. She went to Chicago Blackhawks games with her dad but never thought much about Chief Black Hawk, the Sauk warrior.
"This kind of iconography was everywhere, and I took it for granted," says Hickey '11 MA, '16 PhD, who grew up in Chicago Ridge, Ill., and studied English and history at the University of Illinois at Urbana-Champaign. She was there during debates about the appropriateness of the university's former mascot, Chief Illiniwek. "That was when I started to understand how representations of native and indigenous people are so visible and omnipresent that they become invisible to most."
Hickey's undergraduate honors thesis focused on popular poetry written by working-class women in the 19th century. "I was interested in the popularity of poetry and its social significance to people outside of mainstream culture, however you define that."
She started noticing that several popular 19th- and 20th-century poets "were all talking about Native Americans," Hickey says. In the 19th century "the United States was looking for a kind of national representation that was separate from Europe," she explains. "We didn't have Shakespeare, we didn't have Milton, and 'the Indian' became the content from which we built a national literature. There's still this kind of self-proclaimed pride or attachment to images of Native Americans as authentically American."
Hickey began to search for Native Americans who were self-identifying as poets. Her dissertation, which she hopes to publish as a book, tries to account for the popularity of poetry in indigenous communities from the 18th to the early 20th century. She explores how "poetic genres were introduced into indigenous communities as a means of assimilation, as a pathway to U.S. citizenship, and how these attempts at erasure fail over and over. Indigenous peoples surprise us by rejiggering poetic forms to suit their own cultural and political needs.
"I'm interested in how these forms that appear to be starkly Eurocentric are actually tools of preservation in a lot of ways and document indigenous culture as it's existing in its moment."
During her time at Northwestern, the Presidential Fellowship recipient participated in the Colloquium on Indigeneity and Native American Studies with founders and fellow doctoral students Bethany Hughes and Chad Infante. She also worked with Evanston Township High School students as part of the Poetry and Poetics Colloquium's The Voice Within Us poetry workshop, an afterschool collaboration with the Evanston nonprofit Youth & Opportunity United Inc.
"Once a week I write poetry with historically underserved students," says Hickey, herself a first-generation college graduate. "Working with those high school students, you can see how important college is to them, and how unclear the path there can seem. That's a situation I remember well."
Once she landed on a college campus, though, Hickey knew that's where she belonged. "As soon as I got into a college classroom, I loved it so much I never wanted to leave." She'll join the Andrew W. Mellon Fellowship of Scholars in the Humanities at Stanford University this fall before heading to Yale University as an assistant professor of English.