Freedom Beat: Justin Zullo
Story Tools
Share this story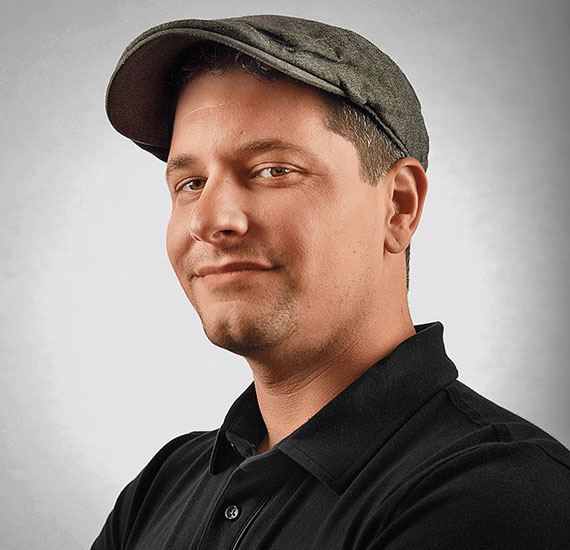 Justin Zullo's path to Northwestern started at Elmina Castle, the former slave dungeon on the southern tip of Ghana.
Zullo, then a senior at Brandeis, had traveled to the West African nation for a four-month independent research study. He bumped into a crew of freestyle rappers outside of Elmina, a popular tourist destination, and started beatboxing (a form of vocal percussion) while the young men were performing. 
Zullo later performed with the young "hustlers" and interviewed them for his ethnographic project on "hip life," a local musical style that combines hip-hop and traditional Ghanaian highlife music.
"I was blessed to have access to the world they were living in," he says. "That's what sparked the idea that I could pursue an academic career. I could do what I do creatively and write about it, and my scholarship could be in conversation with it."
A sound artist and hip-hop producer and composer, Zullo is now a sixth-year doctoral student in performance studies. Part of his research focuses on Kuumba Lynx, a 20-year-old nonprofit hip-hop arts organization in Chicago's Uptown neighborhood that provides afterschool programming for high school students. They use hip-hop to "create a community in which issues that affect the young people can be tackled and staged and aestheticized," Zullo says. 
"I think back about how it feels to have something to say but not have an outlet, but then finding hip-hop as a way to channel the negative energy."
He's also looking at the work of AMPED, a Northwestern-based organization founded by music education professor Maud Hickey that sends students to the Cook County Juvenile Temporary Detention Center to teach music composition to the young men held there. Zullo is an AMPED lead instructor.
"My question is how the body can be a tool through which information is communicated," says Zullo. "At Kuumba Lynx, the students engage in what they call 'getting free' — this idea of instrumentalizing your body in a way where you can achieve a form of liberation through movement.
"At JTDC, inherently the rules and regulations restrict movement. I'm trying to craft a theory in which liberation is achieved momentarily, ephemerally through sound and through music production."
Zullo, who grew up in East Boston, a working-class enclave, says he can relate to the young men at the JTDC. "I think back about what I was doing when I was a 13-, 14-, 15-year-old, and how it feels to have something to say but not have an outlet, but then finding hip-hop as a way to channel the negative energy. I want to use hip-hop to give back, because I feel indebted to the hip-hop communities that nurtured my growth."
He wants to use his research on hip-hop to examine and engage in the problem of youth criminalization, especially among marginalized communities, in Chicago and beyond.
Zullo, who earned an associate's degree at the New England Art Institute and worked on music for movies in Los Angeles, only went back to school for his undergrad degree after meeting a group of Brandeis graduate students while DJing at a club. For his master's degree, Zullo went to the University of California, San Diego, where he helped create an arts collective that used performance as a way to protest.
"My path kind of carved itself," says Zullo, a Presidential Fellowship winner who "ended up at Northwestern because my passion for bridging academic activities, scholarship and performance really spoke to the culture. I think it was the only place for me.