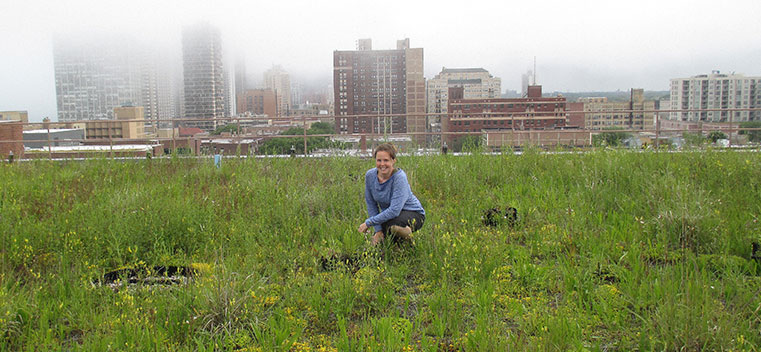 Up on the Roof: Kelly Ksiazek-Mikenas
Story Tools
Share this story
Read more about the Program in Plant Biology and Conservation in our spring 2011 feature "Growing Together."
Tell us what you think. E-mail comments or questions to the editors at letters@northwestern.edu.
Find Us on Social Media
Kelly Ksiazek-Mikenas followed her passion for plant science not to the root but to the roof — the green roof.
A doctoral student in the plant biology and conservation graduate program — a partnership between Northwestern and the Chicago Botanic Garden — Ksiazek-Mikenas is exploring the potential for green roofs to serve as habitat for native plant species.
"I wanted to know about plants and the ecological interactions in the city — the places where I lived, the places that I love," says Ksiazek-Mikenas '04 MS, '11 MS, a Chicagoan who grew up in Palatine, Ill., studied biology at the University of Illinois at Urbana-Champaign and earned a master's degree in secondary education at Northwestern.
"The habitats that plants have are becoming limited," she adds. "I wondered if green roofs could be places that native plants could use and if we could consider this new habitat to replace or at least replicate some of the areas that had been lost."
One of her studies looks at the genetic makeup of native plants from 10 adjacent green roofs to determine if the rooftops are like islands or if they're part of a more connected macro habitat. Initial results indicate that the green roofs are more like islands.
She's also looking at the ability to replicate natural environments on green roofs, which typically have rocky, shallow soil that's exposed to full sun, has few nutrients and holds little water. "I wanted to see if I could find natural habitats in the Chicago region that were similar and if I could take plants from that community and replicate it on the green roof. [She could.] … And then I measured some of the native plants' ability to do things that green roofs are installed for."
It turns out that native plants are good for capturing stormwater but not so good at insulating buildings. However, native plants contribute to the overall biodiversity of a city by providing food and nesting material to other native organisms.
A former high school biology teacher, Ksiazek-Mikenas helped create Growing Up in the City, a children's activity book on green roofs, and served as a mentor for PlantingScience, an online program that connects middle school and high school students with a botanist. She plans to work in science education or communication. 
"I'm looking at ways to contribute to biodiversity, especially in places where there are lots of people," she says. "We need to learn to share our habitat, and my research is a tiny piece that contributes to thinking about biodiversity conservation in cities in a different way."