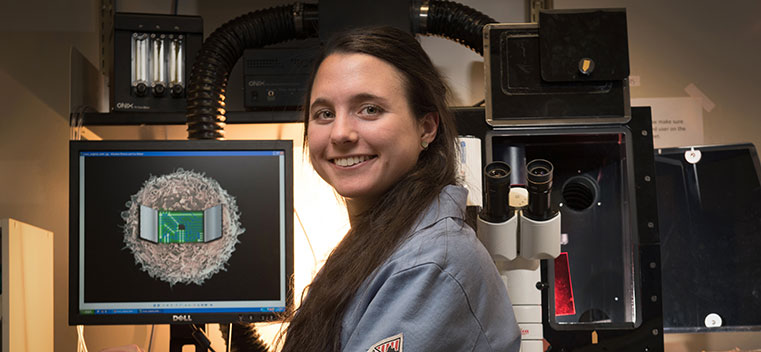 Photo by Alex Garcia '89.
Engineering Cells to Target Cancer: Kelly Anne Schwarz
Story Tools
Share this story
One of the biggest obstacles to targeted cancer therapy is the lack of technologies for safely and effectively activating the immune system specifically at every tumor site.
Kelly Anne Schwarz '17 PhD is part of a team of Northwestern synthetic biologists who developed a general method for "rewiring" immune cells to turn them into smart therapeutics that help to address this need. They genetically engineered a type of white blood cell "to enable these cells to sense molecules found at tumor sites, where the immune system is suppressed, and in response, activate immune cells specifically in the tumor environment to reverse this suppression, and ultimately enable the immune system to attack the cancer." (Read more about the "rewiring" research.)
This technology addresses a key technical gap in the field and allows for engineers and physicians to build cells with customizable functions, enabling the development of translational tools for a wide variety of diseases.
Schwarz, a recent doctoral graduate in chemical and biological engineering in Joshua Leonard's research group and the first author of the resulting study that appeared in Nature Chemical Biology, sees great promise in the use of engineered cells as programmable therapies.
"Long term, we think this can be used in combination with existing cancer therapies to be able to address this dampening of the immune system," she says. "We also think [this method] could be used for other diseases where you have chronic inflammation or autoimmune diseases — where your immune system has sort of gone awry — and for some diagnostic applications."
Schwarz, of Londonderry, N.H., studied chemical and biomolecular engineering at Johns Hopkins University, where she did research on drug delivery for cancer applications. After coming to Northwestern in 2012, she interned at Janssen, the pharmaceutical division of Johnson & Johnson, where she worked on protein therapeutics.
"I've always been fascinated by medicine and health and figuring out ways to think about healing the human body," Schwarz says, "and I've always wanted my research to be something that has a translational impact. There's a lot of great basic research that goes on, but I really need to see how what I'm doing fits into the bigger picture."
In May, Schwarz started a three-year rotational position in Philadelphia with GlaxoSmithKline's biologics division, starting in manufacturing.