Story Tools
Share this story
We'd Like to Hear from You
Northwestern welcomes signed letters of 250 words or less from readers. We reserve the right to edit all letters. Please send correspondence to the
Editor
Northwestern
1800 Sheridan Road
Evanston, IL 60208-1800
Fax: 847-491-3040
E-mail: letters@northwestern.edu
Find Us on Social Media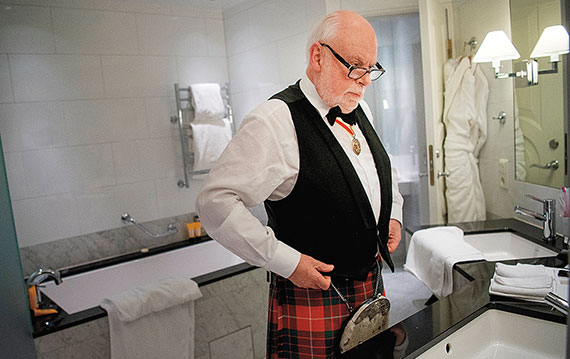 The Scottish-born Nobel laureate dons the Fraser dress kilt before dinner at the Royal Swedish Academy of Sciences. Photo © Nobel Media AB/Alexander Mahmoud.
Nobel Prize Winner J. Fraser Stoddart
I was pleased, as a fellow organic chemist, to note the extensive and well-deserved laudatory description of Nobel Prize winner J. Fraser Stoddart ["The Right Chemistry," spring 2017].
While I received my PhD nearly 20 years before Professor Stoddart, I could not have envisaged his seminal contributions to nanochemistry, which was essentially nonexistent during my career.
The editors of Northwestern magazine should be congratulated for an article that not only described his life but his many achievements, the latter in understandable language.
Nelson Marans
New York City
I formerly published a university newsletter/magazine, so I think I recognize a truly great issue when I see one. Your article on J. Fraser Stoddart was fantastic — well researched and beautifully written to convey his humanity and personality as well as the science he has been doing for decades. Thank you. Applause to all concerned.
Reading about Dr. Stoddart reminded me of my wonderful professors at Northwestern. It's rewarding to be reminded of greatness in its diverse packaging.
Neil Clemons '69 MS
Spokane
The article about Fraser was a very enjoyable read, and I particularly liked the excerpt from his letter to his daughter Fiona about life on the farm.
Thanks to your article and others published since Fraser's Nobel Prize win, I have come to know quite a lot about my PhD supervisor these last six months! 
I also enjoyed reading the rest of Northwestern magazine. You have done a great job with it — a world-class alumni magazine for a world-class university.
David Fulton
Chemistry Department
Newcastle University
Newcastle upon Tyne
England
Thank you for sending me Northwestern magazine. In these frightening times I have regained hope for mankind as I read of the incredible accomplishments of fellow alumni and Northwestern faculty — especially Professor Stoddart!
Terrence Messerman '59 DDS
Beachwood, Ohio
Master Storyteller Rives Collins
Imagine my surprise when I opened the spring 2017 issue and found an article that spoke directly to me. "Five Questions: Rives Collins" [Campus Life, page 12] highlights storytelling and its importance, echoing my own beliefs about the art form and the work that I do. It was wonderful to see those beliefs supported in an eloquent yet very simple way.
I remember reading Collins' book, The Power of Story: Teaching Through Storytelling, when I was a teacher — and a novice storyteller. It made me realize that I had been a storyteller during my entire teaching career. Whenever my students' eyes began to roll or figures slumped — presto! — I slipped into a narrative, a story. Instantly, my students came alive again. That was 30 years ago.
Now, I still go into classrooms — not with lesson plans but with a firm belief that students need that "high-touch stuff" that Rives Collins describes.
Carolyn "Jill" Hoke Johnson '63
Langley, Wash.