Wagon Master
Robert Pasin (KGSM97) went into the family business, Radio Flyer Inc., and has steered the company into new fields.
---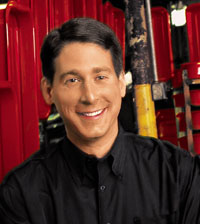 Like baseball and peanut butter and jelly sandwiches, the little red Radio Flyer wagon has been a symbol of American childhood.
Much in life has changed since the first Radio Flyer was made in 1917, but the Chicago-based company now headed by Robert Pasin (KGSM97) – a member of the third generation in his family to manufacture the pint-sized vehicle – has kept on rolling in the age of PlayStation 2 and the Internet.
Pasin's grandfather, Antonio Pasin, was a poor Italian immigrant woodworker who crafted small wooden wagons out of his rented one-room shop on Chicago's Northwest Side at night. During the day he peddled them himself, carrying samples in a bedraggled suitcase.
Over time Antonio made changes to the design until it evolved into the classic red wagon that is so widely known. The grandfather's beliefs in quality, safety, innovation and hard work are values that have entrenched themselves as basic company principles.
"Antonio always had a wagon in front of his house that he would pound with a clenched fist and say in his heavy Italian accent, 'Strong! Strong!'" remembers Pasin, who became president, CEO and CWO (chief wagon officer) of Radio Flyer Inc. in 1996.
"When I first worked here I immediately fell in love with the creative process of turning raw materials like plastic, steel and wood into toys that people love," he says.
While the red wagon may be Radio Flyer's signature product, the manufacturer has flourished from a steady stream of new products and improvements to its standard item. The wagon itself has gone from wood to steel to new plastic All-Terrain Wagons, modeled after the popular sport utility vehicles. Safety, too, has always been a watchword.
"First and foremost will always be our wagons," Pasin says. "We will always be the No. 1 wagon producer. The next step is to go into other categories that suit us."
Recently Radio Flyer unveiled its Retro Red line of tricycles, scooters and other riding toys.
The company also licenses its name to other corporations, including Dutton, an imprint of Penguin Putnam Books for Young Readers, which will publish a book series next spring about the adventures of children in their Radio Flyer wagons.
Pasin attributes some of his success to his experiences at Kellogg, where he earned a master's degree in marketing and management. He remained in school, attending night classes, even after becoming CEO of Radio Flyer. "Being a part of Kellogg really exposed me to a lot of powerful resources for our company," Pasin says. "I had a wonderful experience there, and it benefited me tremendously."
Pasin has used that expertise to shape Radio Flyer into a marketing-driven enterprise. In one of the company's largest publicity moves, Radio Flyer constructed the world's largest wagon in 1997 to celebrate its 80th anniversary. This not-so-little red wagon, made with 6 tons of steel and 100 gallons of red paint, is 9 times the size of the original wagon and can tote around 75 kids.
On display at Chicago's Navy Pier until September, it looked remarkably like the original red wagon crafted more than eight decades earlier. Such commitment to tradition and sheer simplicity is what separates the Radio Flyer wagon from so many other toys in today's crowded market.
"It's a touchstone," Pasin says. "It's one of the few things parents can still give their kids that they had as kids. It's a tradition."
– Rebecca Zeifman (J04)