Special-Interest Clubs
---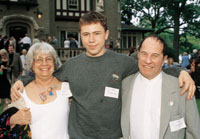 Among those attending the John Evans Club's summer theater event were Gladys Pancoe, her grandson, Alexander, and husband, Arthur (G51).

From robo-reporting to justice for war crimes victims, this year's NU Day, sponsored by the Alumnae of Northwestern University and held in October, presented many timely and intriguing topics for participants. During the seminar, now in its 36th year, the club awarded Barbara Gaines (S68), founder and artistic director of the Chicago Shakespeare Theater (Northwestern, summer 2001), its 2001 Alumnae Award.
A variety of activities is on the 2002 FAN (Friends of Anthropology at Northwestern) calendar, including book club meetings, museum tours and lectures. On Feb. 2 the group will host a symposium, From Maize to Metropolis, a history of the Midwest from an anthropological perspective, at the John Evans Center.
This may be the best time to join the John Evans Club, the University's premier donor recognition society. Beginning Jan. 1, the minimum donation requirement will rise from the current $30,000 over 10 years to $50,000 for the same time period. In other news the club updated a longstanding Northwestern tradition – the annual Anniversary Dinner – by turning it into a weekend celebration. During this year's festivities, held Nov. 9 through 11, members enjoyed Wildcat football against Iowa, a black-tie dinner featuring University President Henry S. Bienen and a matinee performance of Titanic by Northwestern's Music Theatre Program.
Thanks to the NUEA (Northwestern University Entertainment Alliance) West, alumni in the entertainment field gleaned the latest information on the behind-the-scenes decisions of the film and television industry. In August the club held a panel discussion, Sales and Seasons: From Pitch to Production, featuring Julie Ansell (S88), vice president of development for Gracie Films, screenwriter Eric Bernt (S86) and producer/writer Ira Ungerleider (S90).