Preserving the Forrest Legacy
Weinberg College and the Northwestern University Black Alumni Association are teaming up to keep the memory of writer Leon Forrest alive.
---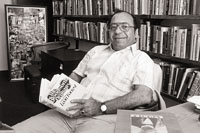 The late Leon Forrest, beloved professor and respected writer

Photo by Jim Ziv
Four years after his death Northwestern professor Leon Forrest is remembered as a man with a gentle soul who made a deep impact on the University. One of the leading African American writers of his generation, he also left an enduring legacy to his community and to the literary world through his essays, short stories and especially his novels, which many consider on a par with the works of James Joyce and William Faulkner.
As accomplished a writer as Forrest was, he always remained a humble figure despite his admirers' reverence. "To say he was a distinguished professor does not do him justice," says Bill Davis (S77). "He was a shining example of an educator through his discipline, openness to ideas and devotion to his students."
To honor Forrest, the professor's colleagues and close friends, along with the Department of African American Studies, which he headed for many years, sought the establishment of a chair in his name. The University responded with a $1 million allocation, and in September Sandra Richards was named the first Leon Forrest Professor of African American Studies.
"The chair demonstrates Northwestern's commitment to diversity in education," says Weinberg dean Eric Sundquist. "We're proud to honor Professor Forrest's name."
Now, to ensure that the memory of Forrest is perpetuated, the Northwestern University Black Alumni Association partnered with the college to permanently endow the chair by endeavoring to raise an additional $1 million.
"It represents a tangible commitment to increasing an awareness of diversity at the University," says Davis, who is NUBAA's president.
Although Forrest's personal magnetism and his genius for capturing the black experience were compelling to many of Northwestern's African American students, Denise Barnett Gardner (J76) emphasizes that NUBAA's challenge is intended to be truly inclusive.
"It's an excellent opportunity for all alumni – not just those of color – to focus their efforts on something attainable," says Gardner, who is co-chair of NUBAA's Forrest committee. "A lot of alumni look at fundraising and fear that they can't make an impact. That won't be the case in this instance."
Sundquist reports that donors already have pledged more than $100,000 toward making the endowment permanent.
An annual lecture named after Forrest has already been held for the last two years. The event, which occurs in the spring, featured actor Danny Glover for its inauguration and writer Tananarive Due (J87), one of the professor's former students, last April.
Forrest, who taught at Northwestern for 24 years, wrote his first novel, There Is a Tree More Ancient than Eden (University of Chicago Press), in 1973. Many consider Divine Days (W.W. Norton & Co., 1994) to be his masterpiece.
Like Faulkner, Forrest in many of his works returned to the same mythical settings, in his case, Forest County, Miss., and Forrest County, Ill. (a stand-in for Chicago's Cook County). His final work, Meteor in the Madhouse, a collection of five interconnected novellas, was published posthumously in 2000 by Northwestern University Press. Prophetically, the book's lead character, also the protagonist of Divine Days, recounts his memories on the day of his death.
Despite adversities Forrest maintained his zestful enthusiasm. "Even when he was quite ill, he was always a warm and joyous person, taking great pleasure in life, in talking about his writing and in his hopes for the success of his students and colleagues," says Sundquist.
"He had a great gift," remembers Charles Whitaker (J80, GJ81), now senior editor for Ebony Magazine and adjunct lecturer at the Medill School of Journalism, about Forrest. "He lavished personal attention on every student and made each of us feel like we were the most important and talented individuals in the world. Everyone always thought they were one of his special people."
That ability to connect one-on-one compelled students to live up to his high standards, Whitaker adds, noting that he has striven to attain that personal rapport in his own teaching.
Yet another example of the Forrest legacy.
– Michele Hogan