Scholars, Teachers, Mentors
The Northwestern Alumni Association honors three exceptional University professors.
---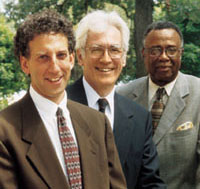 From left, Dan Linzer, Paul Edwards and
Robert Harris

Photo by Jim Ziv
In the ever-rewarding adventure of educating University students – prodding, pushing and nurturing them as they reach for the best in themselves – Paul Edwards, Robert Harris and Dan Linzer, this year's recipients of the Northwestern Alumni Association's Excellence in Teaching Awards, are masters of their craft.
As exciting as the process is, though, it's also a challenge. "Teaching is a little like navigating unchartered waters, with nothing more to assist you than the maps of all the places through which you've already traveled," says Edwards, an associate professor in the School of Speech and director of undergraduate studies in the Department of Performance Studies.
Still, the emotional satisfactions are great, and all three men, accomplished in their very different fields, would agree that maintaining high standards as educators spurs them in their own academic explorations. "Students ask questions that force you to think clearly about topics that may otherwise be overlooked and to answer them in new ways," says Linzer, associate dean in Weinberg College of Arts and Sciences and professor of biochemistry, molecular biology and cell biology.
The NAA was scheduled to honor Edwards, Linzer and Harris, who is a professor of conducting and director of choral organizations in the School of Music, during the board's Annual Leadership Conference in September, but the terrorist attacks of Sept. 11 necessitated a postponement of the awards ceremony. The professors' selection was based on nominations from the their respective deans and on written comments from current and former students. In addition to the recognition, the NAA, now in its 14th year of honoring faculty members, presented each of the three with a monetary award of $4,000.
For Paul Edwards (S72, GS73), the dedication to theater and teaching knows no bounds – certainly not temporal ones.
On one occasion a senior theater major recalls working on a project in the early morning hours in the Theatre and Interpretation Center. He thought the building was empty but then saw Edwards and a couple of students returning to his office. "He had been helping a group for a small seminar that he was teaching – at 1 a.m. on a Sunday morning," the student writes. "And this was far from a rare occurrence."
Edwards' course, Performing the American '50s, skillfully weaves together a variety of literary elements. That integrative approach allows students to discover recurring themes of the postwar period and beyond through a close examination of the creative output of that time. Not surprisingly, the class is one of the most popular in the department.
Beyond the campus, Edwards has deeply immersed himself in the Chicago theater scene, with nearly 40 directorial efforts and script adaptations for the stage. In 1996 he received a Jeff Award, the Chicago theater world's highest accolade, for directing and adapting the play Was, which is based on a novel of the same name by James Finney Boylan.
Robert Harris' domain is the world of music, especially the magical sounds created by the human voice.
"The basic premise of my teaching philosophy is that I exist for my students," Harris says. "I strive to be their advocate and to create an environment that stimulates their interest in our field of study."
A music student who graduated in 1999 recalls her first rehearsal with the University Singers, one of the many on-campus vocal groups Harris leads, when he announced that he deliberately avoided selecting the word "choir" when picking the ensemble's name. "A choir is more than a group of people singing together," she writes in relating his comment. "Only when everyone is working together, when a sound is created that only that group of people can produce, only then are we a choir.
"I remember the first time he said, 'That was beautiful, choir,' and the glow of satisfaction felt in the room. He treated us with respect for the work we did and for the people we are. … That was an empowering feeling."
As impressive as his talent in the performance realm is, however, Harris' knowledge of the intricacies of music theory is equally extensive. "I stand in complete awe of the knowledge base [Harris] has of his craft," writes one student who took a conducting seminar with him. "Perhaps more important is his ability to convey this knowledge to his students."
Harris has been featured in Who's Who Among Black Americans, Who's Who in America and Men of Achievement. He has received 25 commissions for compositions from around the world and has served for three years on the Choral Panel of the National Endowment for the Arts.
When Dan Linzer became associate dean of science at Weinberg in 1998, his department chair and his colleagues were concerned about the void Linzer's departure would create. They were particularly apprehensive about his portion of the Biology 210 series, which is required for majors.
They needn't have worried. "Professor Linzer came to our rescue, generously agreeing to teach the needed course," writes Jonathan Widom, chair of the Department of Biochemistry, Molecular Biology and Cell Biology. "I simply do not understand how, between his research program and his job as associate dean, Professor Linzer has the time or energy to do anything else, let alone to teach in our most demanding course series."
Author or co-author of more than 90 publications, Linzer is currently investigating the development of the placenta and the role of placental hormones in the physiology of pregnancy and the growth of the fetus.
As for his teaching style, Linzer's approach is to challenge and engage everyone instead of simply lecturing to them. "What I liked best was the emphasis that Dan put on learning to think like a molecular biologist," writes one student who took an advanced course. Despite the fact that there were more than 50 students in the class, "Dan would constantly scan the room for confused looks and periodically check to make sure everyone was following the lecture."
Linzer communicates that same enthusiasm and concern to those who assist him in his research. "Dan gives the members of the lab a lot of freedom to learn from their successes and failures," writes one young man.
A former graduate student, echoing Edwards' comparison of education with navigating, sums it up best.
"If I had to identify one thing Dan taught me, it would be that the excitement of being a scientist is not merely in answering the questions, it's in the journey we take in pursing those answers," he writes.
It's a sentiment that could easily apply to all three NAA award winners.
– Robert S. Freed and Jenn Eberwein