Family of Love
Dale Johnson (G71) and his wife have adopted 10 very special children.
---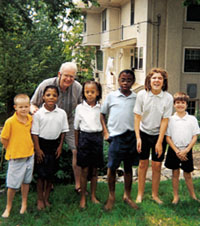 Dale Johnson with six of his adopted children

Those who think they're having trouble making ends meet should consider Dale Johnson (G71) and his family. Their grocery bills run between $300 and $400 a week. A box or two of cereal is consumed every morning. And the family travels in a 15-seat vehicle that Johnson whimsically calls "the church van."
At various times over the last two decades, he and his wife, Winni, have taken in more than 50 special-needs foster children and permanently adopted 10 of them, now aged 6 to 16. "Most of these kids were older and considered 'unadoptable,'" Dale says.
Except for Erica – the Johnsons' oldest and only birth child, who recently completed a year as a VISTA volunteer – the 13 family members, including Dale's mother, currently live in a rambling, 75-year-old house in Cincinnati's North Avondale neighborhood.
Nothing has come easily, but no one hears a word of complaint from the Johnson household. All of the adopted children – five of whom are African American, one Latino and the rest Caucasian – are learning disabled, and many have behavior problems like attention deficit hyperactivity disorder. Several had physical disabilities, such as cleft lip and palette and other facial deformities, and many were victims of appalling parental abuse. Most were born to mothers who used drugs or alcohol during their pregnancies. "We don't adopt healthy, blond, blue-eyed infants," Winni says.
The Johnsons find that the children with fetal alcohol syndrome are often worse off than those with drugs in their systems as infants. "In our family, fetal alcohol syndrome has exacted a terrible toll," Winni says, referring to many of their children's mental, physical and emotional problems.
Although 10-year-old Matthew was accepted last year into a performing arts program, the academic successes are few and far between. "We know that they're going to 'plateau out' at some point," Dale says. "We try not to impose unrealistic expectations on them."
When Dale was getting his doctorate in chemistry at Northwestern, he was "a quiet, conservative type," says his former adviser, Joseph Lambert, Clare Hamilton Hall Professor of Chemistry. "He wasn't out there on the barricades, wearing beads and a beard," Lambert says. "He was in the lab doing his work. I would never have predicted that he would go in this direction."
To a great extent it was Dale's training in physical organic chemistry at Northwestern that allowed him and Winni to have such a large family. A specialist in the product development process, Dale was a key member of teams that introduced such successful personal grooming products as Helene Curtis' Finesse Conditioner. Regarding the Johnsons' expenses, aside from some state support for medical costs for some of the children, "this all comes out of our pocket," he says.
When the troops sally forth on their many outings to the zoo, the aquarium or children's concerts, observers often ask if they're a family or a group on a field trip. On those occasions everyone in the family is dressed identically and firmly instructed to be on their best behavior.
In general Dale and Winni rely on old-fashioned values for discipline and encounter relatively few problems with their children. "We have zero tolerance for lying," she says, while he adds, "We try to be consistent. You sometimes have to keep saying the same thing over and over until they get it."
A fairly typical family, in their opinion. "It's a manageable thing," Dale says. "There's nothing I would change."
– Robert S. Freed