Man of Song, Man of Words
Ned Rorem (Mu44, H77) has been a leading talent for decades in two creative domains.
---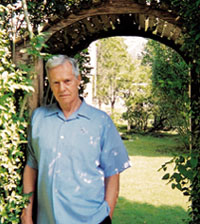 Though the writer uses the written word and a composer the musical note, each strives to convey powerful emotions to his audience. Ned Rorem has proven to be gifted – and prolific – in both media.
Ranked among the most accomplished living composers, Rorem (Mu44, H77) is also respected for capturing the flavor of modern society and literary culture as a diarist.
While living in France in the early 1950s, he candidly recorded the details of his life as "an American in post-Hemingway Paris." His diary, which chronicled not only his work as a young composer but also his sexual exploits with some notable figures, raised many an eyebrow. When Rorem published The Paris Diary in 1966, he became one of the first leading artistic figures to speak openly of his homosexuality.
"Overnight I became far better known as a diarist than a composer," Rorem notes of the diary's success.
In the years to come he would author 14 more books. As seen through his words in the Paris Diary and the New York Diary, Rorem's early years are colored by galloping energy, youthful narcissism and a whirlwind of famous faces. But in Lies: A Diary 1986—1999, these fade to the background. His pace has slowed, though he still writes with intelligence and idiosyncratic humor. "JH [James Holmes] says it's time I … stop saying I can set anything – even the phone book – to music. I'd give anything for a good phone book."
As he details the painful, AIDS-related passing of Holmes, his partner of 30 years, he was barely able to contain his grief within the pages. "In Kosovo, in Ireland, in privileged American schools, still more gratuitous murders en masse. But here it rains and rains all night, and Jim is dead."
Despite his greater fame as a writer than a musician, Rorem remains committed to composing. His Air Music suite won the Pulitzer Prize in music in 1976; the Chicago Symphony, Philadelphia Symphony and the Lincoln Center Foundation, among others, have commissioned pieces. "I am a composer who happens to write, not a writer who happens to compose," he says, bristling at the latter notion.
Growing up on Chicago's South Side in the 1920s, Rorem began music lessons at a young age, already composing by the age of 10. At 17 he entered Northwestern's School of Music, where he began writing songs, the genre for which he is perhaps most famous. His first songs at the University used poetry by ee cummings as lyrics.
Rorem is saddened that public interest in new pieces today is at its lowest point in centuries, despite the high numbers of talented young composers.
"This is the only time in history where music from the past is more important than the music of today," he says. "Now the performer is more important than the piece. A soprano gets paid more for one performance than I do for writing an entire opera."
Working at his homes in New York City and Nantucket Island, Mass., he is currently composing a flute concerto for the Philadelphia orchestra to be performed in 2003. Rorem is also president of the prestigious American Academy of Arts and Letters – a New York-based honorary academy of notable American artists, composers and writers.
As for his place in the world, Rorem says, "I do very much want to be remembered. I think part of what any artist does is to remain on the earth for one, 10, maybe 100 years after he dies. It's about his posterity."
– Geeta Kharkar (J02)