Alumni Clubs Sponsor Scholarships
Club members are generously reaching into their pockets to help Northwestern students defray expenses.
---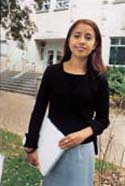 Scholarship recipient María Meza plans to continue her education in social policy.

Photo by Jim Ziv
While Northwestern alumni and current undergraduates often feel a bond forged by shared campus experiences, they also understand the "bondage" associated with the cost of their education.
This year many of the Northwestern Alumni Association's regional clubs are following the lead of the NU Club of Chicago and are lending a hand to financially deserving students in their communities by sponsoring scholarships.
"This is a very simple way of doing something good in the community for Northwestern students," says Ty Levine (S88), president of the NU Club of the San Francisco Bay Area. "The choice to participate is totally optional, and it's local in nature, so you know where the money's going."
When club members pay their annual dues, they can make an extra contribution to their local scholarship fund if they choose. The amount a member donates is optional as well. The San Francisco Bay Area club awarded $300 scholarships to three incoming students this year and presented them at the club's new student luncheon in August.
María Meza (SESP01) found the nearly $2,000 she received from the NU Club of Chicago in both her junior and senior years to be a surprise and a relief. "I felt like a little weight had been taken off my shoulders," says Meza, who financed her education through a combination of work-study jobs, loans and federal and state aid. "Sometimes the financial worries can get in the way of what you want to accomplish academically."
After using the club's assistance to draw down her student loans, Meza went on to become a research analyst with the Culture, Language and Literacy Project at the School of Education and Social Policy. She hopes to earn enough money to continue studying public policy in graduate school.
When members of the NU Club of Chicago first began pitching in for their student aid fund six years ago, they collected about $5,000 per year, says Allison Barnes (WCAS90), the club's past president. Now they're raising five times that amount annually, and this success has prompted the group to aim for a higher goal – pledging $100,000 over five years to endow a scholarship fund so disbursements will not only continue indefinitely but raise the amount of assistance individual students receive.
Barnes is quick to point out that as great as the club's success has been, the group is not looking to pressure or solicit alumni contributions.
"The idea is to keep fundraising optional and low- key," she says. "The nature of our club is social and educational. This is just another way of encouraging a connection between students and alumni and keeping our alumni involved with North-western University."
– Michele Hogan