Double Rainbows in Tuscany
by Kay Millar
---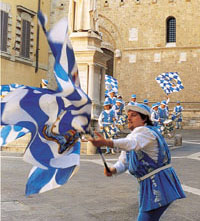 Drummers and flag bearers in Siena

From our terrace at Villa Tavolese on a ridge just west of Marcialla's town square, we gazed over Tuscany's Elsa Valley. We took in miles of grapevines, olive groves and cypress trees lining roadways. Everything was bathed in the golden glow of sunshine that has attracted so many painters and photographers. It was restful, peaceful, inspiring – and worth the lengthy flights from the United States.
Our first evening's pre-dinner gathering on this Alumni Campus Abroad in Chianti reunited me with classmate Mike Hollman (J63, KGSM65) and allowed our spouses, Marilyn and Dan, to get to know each other. Several subsequent connections with lovely new friends also enhanced the trip.
If anything, the camaraderie grew as time passed and enriched the fun of learning about Tuscan culture. Lectures interwoven with our touring deepened our understanding of Etruscan history, Italian art and local contemporary life. Day trips opened centuries-old doors to charming medieval cities, elaborately decorated churches and baptistries, beautiful sculptures, paintings and frescoes.
In the 12th-century town of Certaldo, we ascended the steep Via Boccaccio to the exquisite Alberti family castle. We toured the 10th-century town of San Gimignano, which originally boasted 55 towers, with 14 remaining. Changes in the weather and sunshine alter their colors, and they turned extremely dark as a late-afternoon thunderhead unloaded the only rain we saw that week. But we drove back to Marcialla under a full, inexpressibly beautiful double rainbow.
At dinner we were astonished to see another double set of rainbows over the valley. Our group offered a toast to a charmed week, blessed with two double rainbows.
Every meal featured delicious cuisine. Fiorella, the villa's cook, treated us to baked pears and apples and bear claw pastries for breakfast. Claudio, our maitre d', served bottomless carafes of wine at dinner. My mouth waters still for the herbed and oiled vegetables fresh from the garden and the pastas dressed with tasty herb-and-sauce combinations.
Pisa surprised us. The leaning bell tower is only a part of the large central square that houses all the institutions of Pisano existence: the baptistry for the beginning of Christian life; the church for leading a good life; the bell tower for announcing important events in life; the hospital for ailing in life; and the walled cemetery for the end of life.
In Lucca we enjoyed a multicourse lunch at Buca di San Antonio, a restaurant dating back to 1782. We toured the town center, including its 90-foot-wide wall, which never had to defend against an enemy and is used by the Lucchese today for jogging, biking, dog-walking and strolling hand-in-hand.
In Florence, we explored the central city and the Uffizi Gallery, admiring Botticellis and the work of other masters. We prowled the Accademia di Belle Arti and were in awe of Michelangelo's David.
Siena was a delight, a charming ancient town divided into 17 contrade (neighborhoods) whose territories are marked on the walls with flags, tiles and ceramic lamps bearing animal symbols. The contrade participate in an intense annual horse race, called the Palio. It is held on Il Campo, a round piazza in the town center, in the summer. As we walked through town, a large contingent of drummers and flag bearers marched into our presence. Boys and men, all ages, were attired in aqua-and-white-striped costumes of tights and belted and skirted overblouses.
Led through Siena's baptistry by our guide, Nicoletta, we learned about the sculptured bronze plates on the faces of the marble baptismal font. A Sienese artist was commissioned for the font even though the city board expressly wanted bronzes and he'd never worked in bronze. The artist asked two Florentine masters for help. As a result, the completed font displays only one plate by the Sienese artist. The others were done by the famed Gilberti and Donatello.
On the last day we gathered at the villa to present stories, skits, poems and memories of our wonderful, charming Italian experience. We shared hugs, farewells and plans to travel together on other Northwestern alumni excursions.
Kay Carpenter Millar (J63) is senior vice president of Avatar Communications Group in Plainfield, Ind.
For information about Northwestern's travel programs, log on to www.alumni.northwestern.edu or call 847-491-7987.