Typography is a powerful brand tool that can add visual meaning to what is communicated.
Northwestern's typography is flexible enough to meet a wide range of situations and requirements. Campton and Akkurat Pro are our sans-serif fonts. Campton works well for large, expressive headlines, while Akkurat Pro functions well in situations with small text or large lists. Periodico Display and Text is our serif font, appropriate for use at any size.
Our brand fonts are unique and embody the essence of our communications goals. We have purchased the rights to use them for University purposes on the web and in print. Global Marketing is working with communications leaders in each school/ unit to ensure the graphic design staffs have access to these fonts.
Campton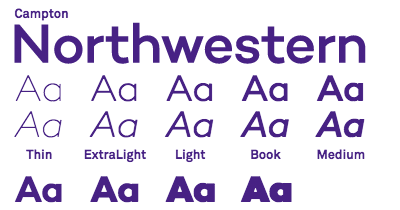 Campton works best for headlines and subheads, at 17 points or larger. It is not recommended for subheads smaller than 17 points, body copy, or captions.
Periódico Display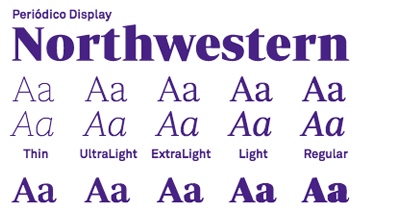 Best suited for use at 17 points or larger. The exaggerated thicks and thins of the characters make it a more dynamic option for headlines.
Periódico Text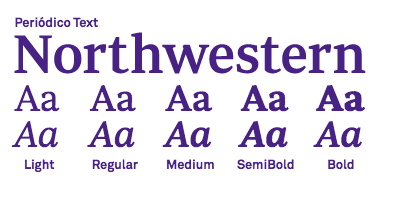 Periódico Text is meant to be used for longer chunks of copy at smaller sizes. Its more balanced construction allows for greater legibility, even at smaller sizes. Use Periódico Text for body copy from 5 points up, and for subhead and captions up to 15 points.
Akkurat Pro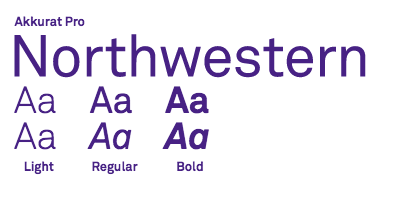 Akkurat Pro is our typographic workhorse. We can use it in a variety of ways: for headlines, body copy, and captions — it even works well for charts, graphs, and displaying all sorts of data. It is a highly legible, cleanly constructed face that is suitable at sizes from 5 points to 19 points.

To obtain a print version of the fonts, please contact Dana Langtiw. To use this as a web font, please contact webmaster@northwestern.edu.
Back to top