Best Practices for Sharing Content
Best Practices for Sharing Digital Content
In order to maximize the impact and reach of stories featuring your school or unit, it's important to keep in mind some key guiding principles on content development and distribution.
Keep Content Unique
Prioritize your own unique content
Google encourages websites to have unique content. This makes discovery, organizing, and presenting content easier for Google (or any other search engine) to crawl and rank pages. 
Avoid copying digital content 
Content duplication can range from copying portions of content to copying and pasting entire pages or stories from another site. This practice causes potential SEO implications, creates ongoing maintenance issues, and can ultimately run counter to school/unit goals around increasing awareness and engagement. 
Understand SEO implications:

 sites like Northwestern Now and Northwestern Magazine originate news, announcements and stories from across the University and are highly trafficked. Copying and pasting content from sites like these onto your site can harm your website authority on Google over time.  

Understand maintenance inefficiencies and challenges: duplicating content also creates challenges when a story needs to be updated. Trying to find different instances of a story to make (or request the site owner make) the same changes over and over again is inefficient.
Recommended Practices for Sharing Digital Content
When referencing stories, we recommend linking to original source for the full story.
The example treatments below highlight a story without duplicating the text in full. See how the example story, "So Far Yet So Close" can be incorporated in different digital settings.
Example Treatment 1: Hero Placement
Hero image placement can show a particular image with your own custom headline and deck, while driving site visitors to a story on another site. You can do something similar on your site, noting the external site destination in the CTA copy, instead of copying whole article or story pages onto your site.
Example Treatment 2: Tiled Image Placement
External stories can also be incorporated into image-based landing pages. As before, you are able to customize the link copy for your own purposes. Image permissions should be discussed with the news content creator. For training or to request the addition of this tool, contact OGMC's Digital team.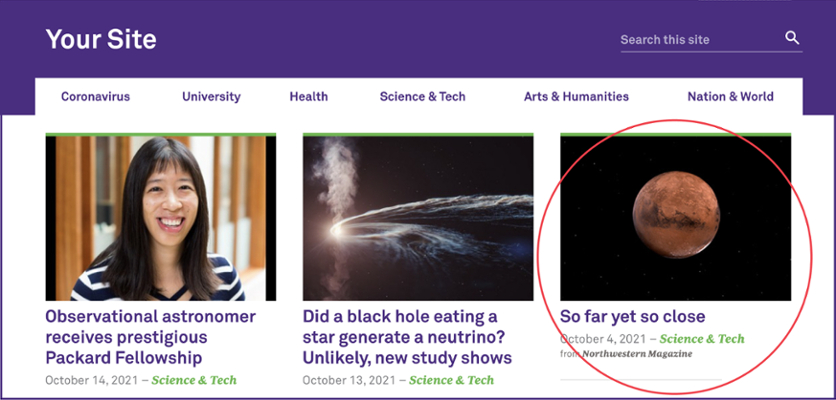 Example Treatment 3: Inclusion on Text-Based News Page
An external news link can be added to a news landing page with a custom headline and deck.
Sites using Northwestern's branded Departmental Templates (version 3) can use the News Story External asset in Cascade to incorporate external news links seamlessly into their news pages. For training or to request the addition of this tool, contact OGMC's Digital team. 
Using OGMC Content
As one of the primary story- and content-creators for the University, OGMC encourages all schools and units to leverage content from Northwestern Now, Northwestern Magazine, and @NorthwesternU social accounts on their own channels and for their own purposes, following the principles and best practices above. 
Using OGMC Social Media Content
Re-sharing and amplifying @NorthwesternU posts on your own social media platforms is always welcome. We encourage you to coordinate with the individual content creator to align on details, including sharing assets and making sure permissions are properly followed. Copying and pasting or simply taking and resharing a screenshot is not best practice—please don't hesitate to reach out to the original poster, whether OGMC or another unit, for collaboration on re-sharing content. 
Questions or collaboration requests? Reach out to socialmedia@northwestern.edu.