Borislava Miltcheva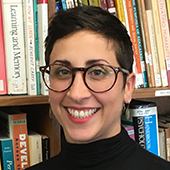 Borislava manages Peer-Guided Study Groups; she also oversees peer-leader recruitment and orientation and ensures consistency across ASLA's course-linked programs.
Before coming to Northwestern in 2017, Borislava worked for 12 years at Northeastern Illinois University, first as Writing Specialist and then Assistant Director of the Learning Support Center. Her work's focus and personal joy is in guiding students on the road to achieving academic success and realizing their full potential. Borislava is proud to have started her own career as a peer leader while working on her degree. Borislava holds a B.A. in English from National-Louis University and an M.A. in applied linguistics from the University of Illinois at Chicago.
What is most meaningful to you about your work?

Building a space and a culture where students feel supported while learning that it's ok to make mistakes. I also LOVE working with our peer leaders who are passionate about supporting their peers and giving back to the NU community.

What's some advice you would give to your college-age self?

Focus on the journey, not just the destination.
What is a prior life experience that you draw on in your work?

As a first-generation immigrant and a first-generation college student, I enjoy connecting with students who have that shared experience.
What's something you enjoy when you're not at work?

I love cooking and enjoy sharing food with others.