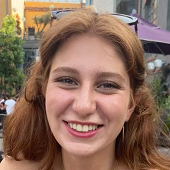 Sinem Atalay
Psychology, Class of 2023
What Sinem brings to coaching: "As a transfer student, I have learned how to adapt to new environments and different challenges within academia. Additionally, throughout my four years at college, I have learned the importance of balance between a social and academic life. "
What I wish I'd known as a first year: I wish I had known how important it is to give yourself time to rest and socialize.
Favorite place to study: Norris or outside
Best advice I've ever received: There is no ideal path to success.