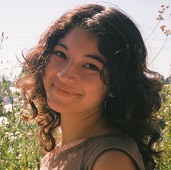 Mayán Alvarado-Goldberg
Neuroscience, Class of 2024(she/her)
What Mayán brings to coaching: "As someone who grew up in a multicultural, multilingual, and multigenerational household, I have often looked for places on campus that remind me of the feeling of comfort and support that I found at home. Typically, this feeling emerges with interactions with other students such as other Posse Scholars, other classmates from big cities, and others who share the same social identities as me whether it be ethnic, gender, or sexuality-centered identities. I value creating collaborative spaces with people that honor and uplift identities, even if they are different than mine as everyone brings something to the table! On an academic level, I have learned so much about the transition from high school to Northwestern and the challenges that come with that, and can empathize with other students facing imposter syndrome and share the strategies for schedule-planning, connecting with professors, and conducting research."
What you wish you'd known as a first year: Planning a class schedule can be overwhelming but there are so many helpful approaches to it and so much time.
Favorite place to study: Pancoe Cafe Coralie
Fun fact: I have a pet gecko named Squash!