Banner year for Gilman Scholarship at Northwestern
As part of Northwestern University's celebration of International Education week, the Office of Fellowships is pleased to share highlights from the university's successes over the past year with the Benjamin A. Gilman International Scholarship.
The Gilman Program is run by the Department of State's Bureau of Educational and Cultural Affairs, with funding provided by the federal government and supported in its implementation by the Institute of International Education. The program provides over 3,000 scholarships a year to outstanding American undergraduate students who, due to financial constraints, might not otherwise study abroad. Since it began in 2001, more than 30,000 Gilman scholars from all US states and territories have studied in nearly 150 countries. The program has yielded extraordinary results in supporting first-generation college students, ethnic and racial minority students, students with disabilities, student veterans, students attending two-year and minority serving institutions, and other populations underrepresented in study abroad, as well as broadening the diversity of destinations where scholars study or intern.
Over the past year, Northwestern has distinguished itself as one of the nation's leading sources of Gilman scholars. For the 2018–2019 academic year, Northwestern was recognized as a "top producer" in the following categories: first-generation college students; medium-sized colleges and universities (5000–10,000 undergraduates); and students with disabilities. The school's success continued during the 2019–2020 academic year, when forty-four more Wildcats were named Gilman scholars. Alongside the university's efforts to make 20 percent of the 2020 incoming class Pell-grant-eligible students, the Office of Fellowships annually supports dozens of Gilman applicants, an effort spearheaded by Associate Director for Global Education Amy Kehoe, who guides Northwestern students throughout the application process.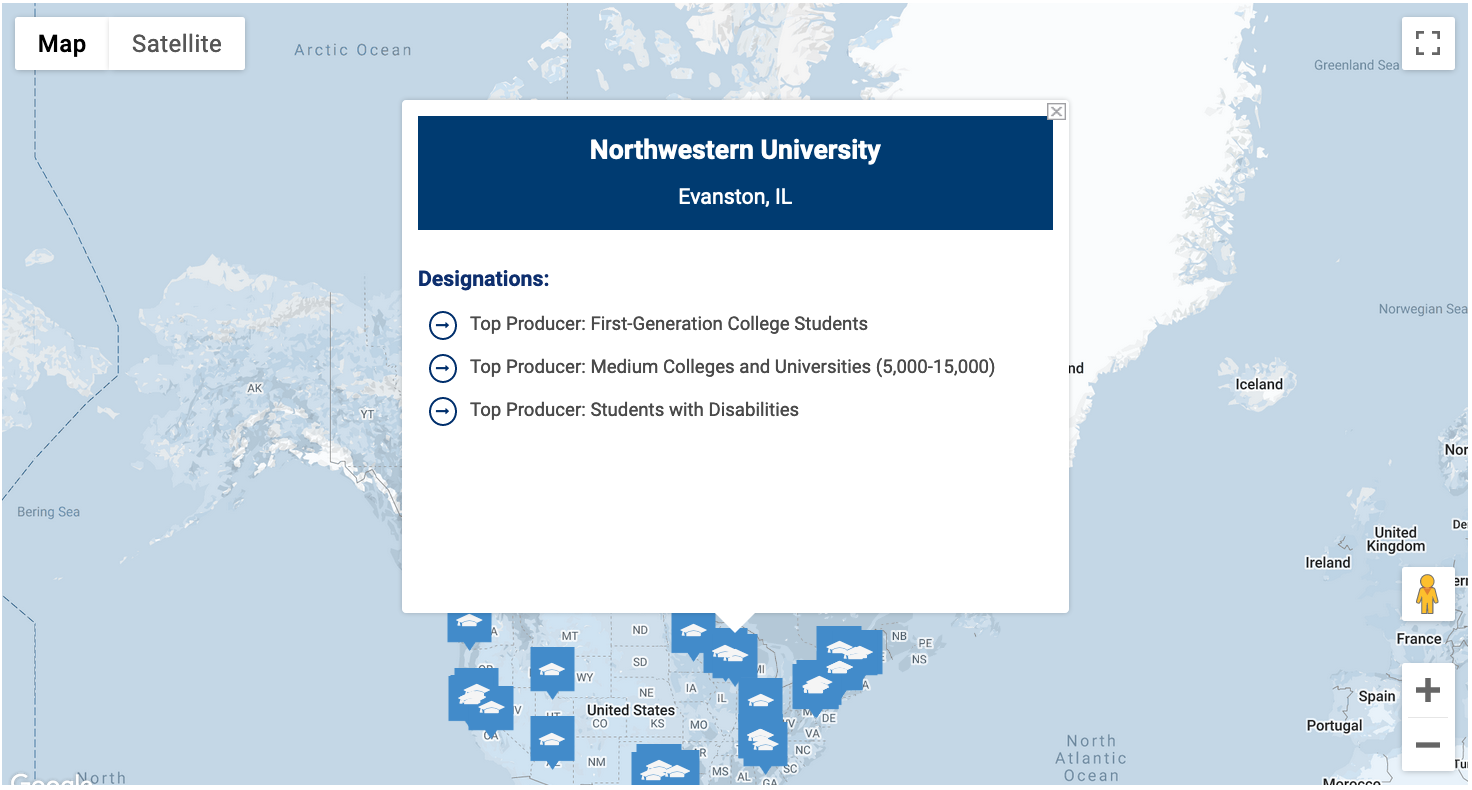 On Friday, July 31, Northwestern's support of the Gilman Scholarship deepened when, in partnership with the US Department of State, the university hosted the US Future Leaders Career Readiness Seminar, offering professional-development training for recipients of the Gilman Scholarship who are pursuing careers in public health. Over sixty Gilman scholars joined a daylong series of Zoom sessions from more than twenty-five states, representing more than fifty undergraduate institutions. Participants included recent undergraduates, students enrolled in postgraduate degree programs, and early-career professionals.
Throughout the day, participants networked with peers and mentors, received feedback on their resumes, and heard from seasoned veterans of the healthcare field. The entire staff of Northwestern's Office of Fellowships collaborated with faculty and staff from across the university, featuring representatives from Northwestern Career Advancement, the Global Learning Office, and Leadership Development & Community Engagement. The Northwestern team worked alongside generous guests from the American Public Health Association, Peace Corps, and the Bureau of Education and Cultural Affairs. Notable speakers included Dr. David Cella, a member of the National Academy of Medicine and chair of the Department of Medical Social Sciences at the Feinberg School of Medicine; Dr. José Ramón Fernández-Peña, president of the American Public Health Association and director of Northwestern's Health Professions Advising office; and Dr. Evonda Thomas-Smith, the former assistant director for the Illinois Department of Public Health.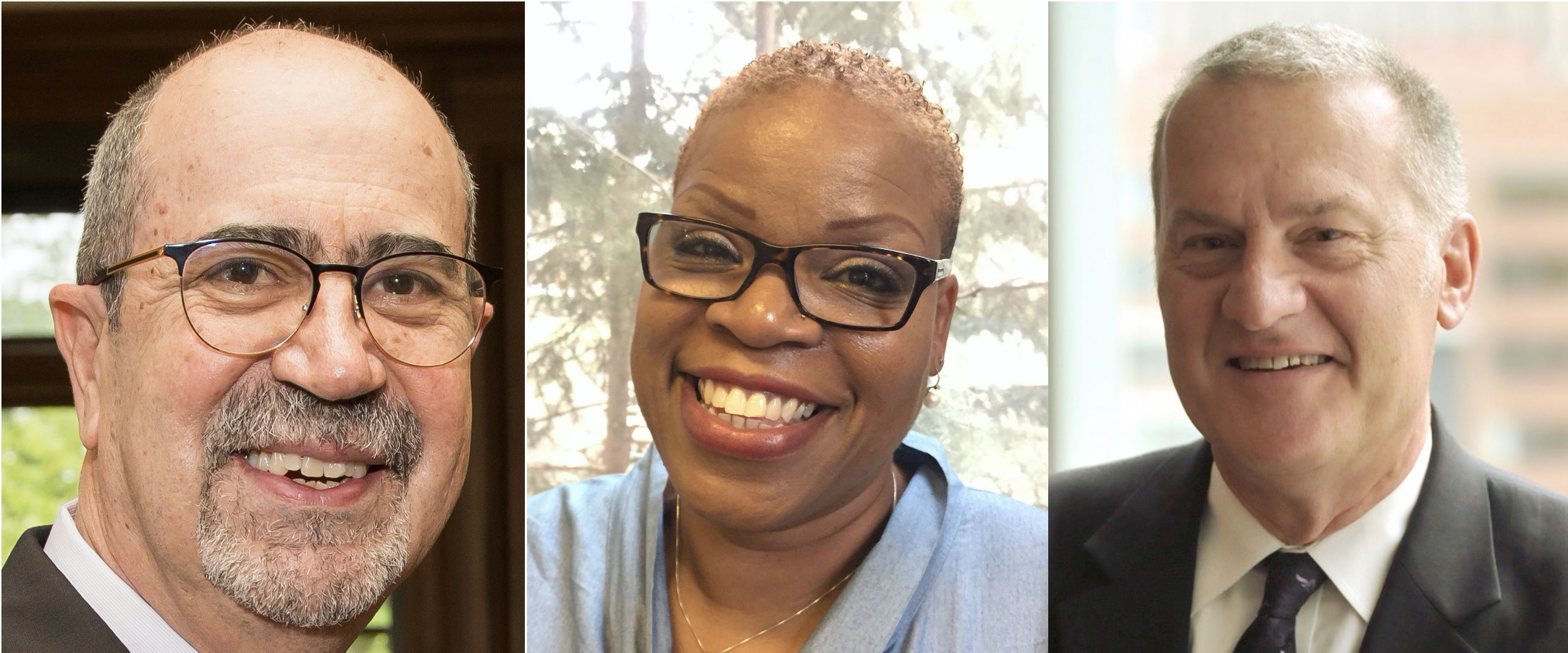 (Invited speaks from left to right: José Ramón Fernández-Peña, Evonda Thomas-Smith, David Cella)
For many Gilman scholars, the highlight was the "elevator pitch" activity, during which participants practiced introducing themselves to a new contact and articulated their short- and long-term goals. "I learned to lead with my values when presenting my elevator pitch," a scholar noted after the event, while another participant enjoyed the chance to better understand how to "effectively leverage" the skills they already possess for future growth.
The entire seminar received high marks from a participant for its ability to address the tangible details of a career plan while delivering uplifting messages:
"The seminar was fantastic! I learned a lot, and there were many inspirational stories and leaders. I was able to build my network and learn from other alumni how to approach my career path and pursue graduate school. I also loved how the facilitators and hosts gave us a lot of resources, such as links to websites and scholarships. It really demonstrated that the team is passionate about helping us enrich our careers, and I really appreciated that."
Contact Amy Kehoe at amy.kehoe@northwestern.edu to learn more about the Benjamin A. Gilman International Scholarship.