Mission: Accessible Challenge
Mission: Accessible Challenge
Fostering an accessible, inclusive, and usable digital environment is every instructor, teaching assistant, and support staff content creator's responsibility. Your mission, should you choose to accept it, is to improve the accessibility of your Canvas course site by completing the Mission: Accessible challenge.
What is the Mission: Accessible Challenge?
Mission: Accessible is a guided program to help you make your Canvas course content accessible for all students. When you sign up for Mission: Accessible, you will work through the seven key accessibility areas listed below in your Canvas courses. This work will help improve existing course content while reinforcing skills that you can apply in future courses.  
Once you've begun the challenge, we will send you an email every two weeks asking you to update us on your progress. If you are ever feeling stuck, there is a link in the check-in email that you can use to book a time to connect with the project team for an individual accessibility consultation.   
We recommend starting with one or two Canvas courses for remediation in Mission: Accessible. We invite you to sign up again in future quarters to work on your other Canvas courses in hopes that all of your Canvas courses will be fully accessible within a year. 
Two final things to note before signing up:  
The current challenge will not include a review of the documents attached to your site (that's coming later).

 

The enrollment form requires NetID authentication to access. When you complete the form to sign up for the challenge, it will ask you to approve your account's connection with SharePoint. This approval step is expected and necessary to track progress so please be sure to click "Approve" when prompted. 

 
Join the Mission: Accessible Challenge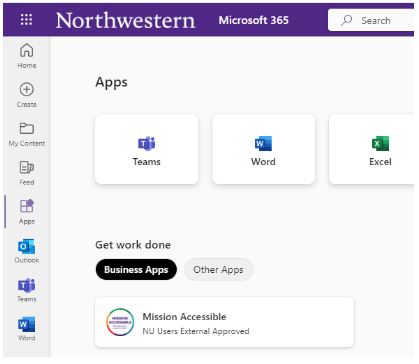 If you make progress, you don't need to wait for the check-in email to update your progress. At any time, you can update us on your progress by logging in to the Office 365 Web Portal, selecting "Apps" in the left-hand global navigation bar, and clicking the tile for Mission: Accessible.
Remember, we are here to help you successfully complete Mission: Accessible so contact us any time you have questions or need assistance.
Is it for me?
Each challenge is developed for people of all levels of digital accessibility knowledge. You do not have to be a Canvas expert or know HTML to be successful. By participating in the challenge, we will help you break down the the big project of digital accessibility into smaller, doable chunks.
Why do this?
Digital accessibility is a responsibility shared broadly across our campus community. Ensuring that your Canvas content is accessible benefits all students, but especially impacts students with disabilities who rely on accessible content they can use for their learning. 
What happens when you finish?
As you complete individual challenges, be sure to log your completion. When you've completed the entire challenge, a consultant will review your courses and provide a certificate of completion. You and your course will also be displayed on the Mission: Accessible Wall of Fame, your Dean and Department Head will be notified that you successfully completed the challenge, and you will be provided with language to use in your course description to let students know that your course content has been designed with accessibility in mind.
Headings Challenge
Links Challenge
Alternative Text Challenge
Tables Challenge
Color Contrast Challenge
Lists Challenge
Video and Audio Challenge