Core Canvas Accessibility Skills
Creating Accessible Canvas Content
Seven Core Skills
Creating accessible digital content that can be used by all students is the responsibility of everyone who creates Canvas course content. Accessible digital content has benefits for all students, and especially for students with disabilities.
Creating and editing in Canvas with a digital accessibility focus may feel unfamiliar at first, but this approach is an extension of inclusive and equitable teaching practices that you likely already have in practice in your class. Focusing on seven core skills, will enable you to create content that helps cultivate a more accessible, inclusive, and equitable digital environment at Northwestern.
Learning these skills is quick and applying them to your Canvas pages addresses several of the most common accessibility issues that people with disabilities encounter. If you haven't previously considered accessibility when designing courses, start small and build from there.
These are the areas where you can apply quick fixes and have a huge impact on the accessibility of your Canvas content:
Accessible Content Checkers
Whether you are building a course from scratch or editing an existing course, Canvas offers automated accessibility checkers that can help identify and guide you to fix several accessibility issues with your content. Automated checkers have limitations, for example they will flag an error if you do not use alt text on an image or if you use a file name as alt text, but they cannot tell if the alt text you use is accurate. However, they are generally helpful at identifying significant issues and you can be reasonably confident that you have addressed a number of high impact accessibility issues when using one. Learn more about the differences between what Canvas Accessibility Checker and UDOIT check.
Canvas offers an easy to use accessibility checker that works page by page, as opposed to issuing a full course accessibility report. When developing a page, the Canvas Accessibility Checker works in real time to identify issues. Make it a practice to monitor the checker and make adjustments during the development phase as this will ultimately be easier than adjusting for accessibility once the course has been completed.
Using the Canvas Accessibility Checker
The Canvas Accessibility Checker appears below the Rich Content Editor as a blue circle with a blue person in it, when in edit mode. When accessibility issues are present the number of issues will appear above the checker button. Clicking the checker will bring up a box that will walk you through the identified issues and how to fix them. Once they have been fixed, the number above the checker will disappear and you can move on to the next page.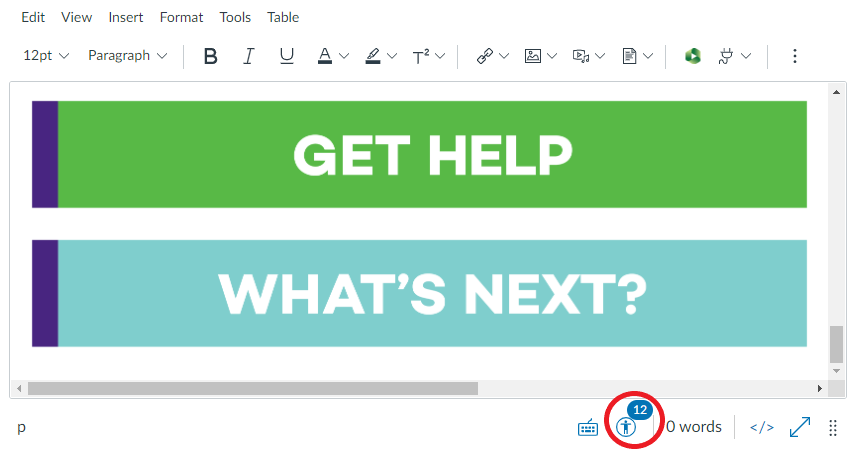 UDOIT
UDOIT is a Canvas content accessibility checker that scans existing Canvas sites and provides an accessibility report of the entire course as opposed to individual pages. The UDOIT report will walk you through accessibility errors in your course and suggest fixes. This is recommended if you have established courses and would like to know the full picture of accessibility errors, or if you have reserved a little more time to fix accessible content issues and want to address the course as a whole. Here's how to add UDOIT to and use it in your course.