Multicultural Student Affairs (MSA) enriches the cultural experience of Northwestern through leadership and education programming; providing opportunities for community engagement and identity expression; and assisting students in navigating the University.
History
Between 2001 and 2004, much research went into instituting and developing a plan for Multicultural Student Affairs (MSA) as a result of suggestions from external consultants and the African American Student Affairs Strategic Planning Committee. Vice President William Banis and Dean of Students Mary Desler invited stakeholders such as students, staff, faculty, and administrators to contribute and collaborate in conducting student focus groups, surveys and discussions to help determine the direction of cultural engagement and the creation of Multicultural Student Affairs.
In 2004, MSA was created to centralize the infrastructure and resources that were independently managed by the University's three ethnic departments: African American Student Affairs (AASA), Asian/Asian American Student Affairs (A/AASA), and Hispanic/Latino Student Affairs (H/LSA). More importantly, the unification of AASA, A/AASA, and H/LSA under the umbrella unit of MSA was symbolic of the inclusive and collaborative culture that was desired.
In 2011, after many conversations with students and University constituents, Vice President Telles-Irvin reorganized the Division of Student Affairs, which included the inclusion of the LGBT Resource Center as the fourth MSA unit. During the summer of 2012, the LGBT Resource Center became an official department within MSA. In 2014 LGBT became the Gender & Sexuality Resource Center (GSRC) and expanded their space in Norris University Center. The four MSA units collectively work to promote the interests of under-served students and celebrate the diversity of the Northwestern University community.
In 2014, Multicultural Student Affairs became part of Campus Inclusion and Community, which also encompasses Student Enrichment Services and Social Justice Education. You can find more information about us on the main CIC website.
Campus Inclusion & Community Umbrella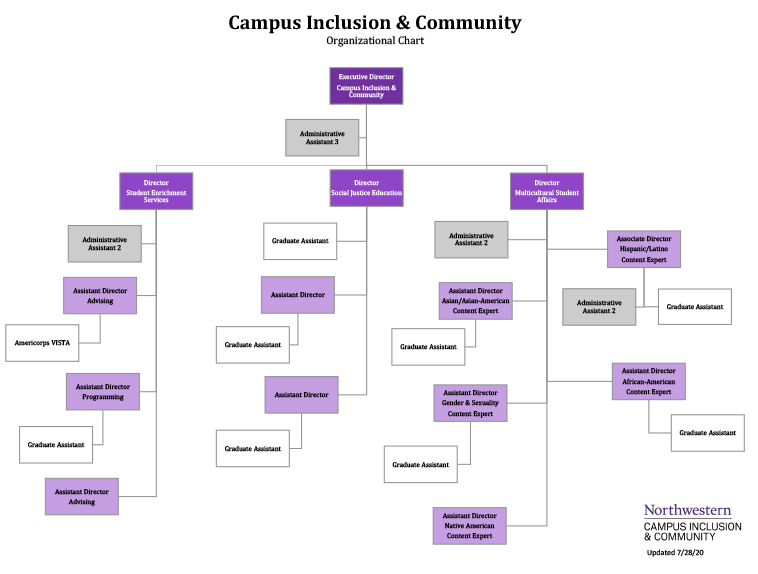 Click to view the full PDF of the CIC Organizational Chart.
On May 1, 2014 Multicultural Student Affairs became one of the departments under the new umbrella of Campus Inclusion and Community. The image on the right demonstrates the relationship of MSA for Campus Inclusion and Community.
Visit the Campus Inclusion and Community site for detailed information regarding our organizational structure.