Locations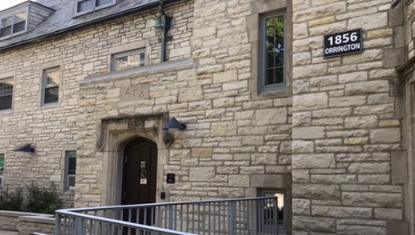 Address
1856 Orrington Ave
Amenities
The temporary Black House offers a variety of spaces for students to study, hangout and host events.
The copy room on the first floor offers local and long distant faxing.
Printing only stations are also accessible on the first floor.
A computer lab with both PC and Mac is available on the 2nd floor with black and white printing available.
Bulletin board for postings and announcements
Gender-neutral washroom are located on the first and second floor.
*Please visit our Room Reservation Page for more information regarding reserving the Black House.
Preparing to move back to the Black House:
Class of 2021 Tours:
In honor of the work and community Black 2021 graduates have put into helping make the Black House renovation happen, MSA will be hosting limited tours for the graduating class of 2021 before you leave campus.  For one day only, members of the Class of 2021 can sign up for an exclusive 20 minute tour of the space.
Black House Mural Engagement Sessions:
While parts of the renovated Black House will pay homage to aspects of the rich history of the Northwestern Black community, the new mural installation will be something that captures the voice of Black students TODAY. The university has hired Dwight White II '16 to curate this new mural and he wants to chat with you!  Please sign up for one of the engagement sessions to have a casual conversation with Dwight and talk about what imagery would make the Black House home for you! Pre-register below:
Address
1936 Sheridan Road
Amenities
Rooms and spaces of various sizes to socialize, study, meet, and host
Fax machine for local and long-distance transmissions
TV lounge with flat-screen TVs, cable and LCD-projection capability
Computer lab with both PC and Mac. Printing available in Black and White.
Storage space in the basement for student organization.
Quiet prayer space
*Please visit our Room Reservation Page for more information regarding reserving the Multicultural Center.

Address
1999 Campus Drive (Norris Center)
Amenities