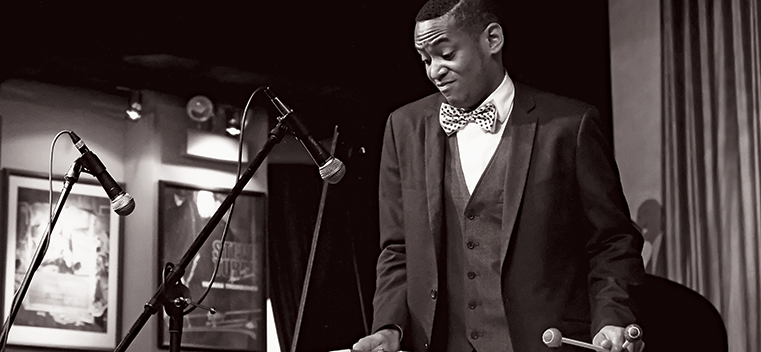 Thaddeus Tukes plays the vibraphone at Jazz Showcase. Photo by Lauren Deutsch.
Thaddeus Tukes: Good Vibes
Story Tools
Share this story
When Thaddeus Tukes arrived at Northwestern, he found the music scene disappointing.
So he went to work, co-founding the popular student jazz-based band the Syndicate. The vibraphonist, who also sings for the 10-member groove group, played Dillo Day three times and later launched Ra Sol Greater Minds, a music-content consulting group that aims to raise awareness of student artists. "We'll record, mix, master, make instrumentals, add live instrumentation — do everything really out of my apartment," he says.
Tukes, who grew up in the North Pullman neighborhood on Chicago's South Side, joined the Associated Student Government as vice president of diversity and inclusion during his sophomore year and later became a spokesperson for We Will. The Campaign for Northwestern. That experience opened up incredible opportunities — like a behind-the-scenes tour of the White House on his 21st birthday — and exposed the inner workings of the University, for better or worse.
"It really put me on the inside of the University," says Tukes, a Good Neighbor, Great University Scholarship recipient. "It opened my eyes not only to how Northwestern works but also to how it interacts with race, religion, gender and sexuality. Everything I did after that was influenced by that knowledge."
After a whirlwind year, Tukes is "working to make sure that Northwestern is becoming a better place for its students," focusing on issues of accountability to students and of diverse representation.
A jazz music performance major and music criticism minor, Tukes led the Northwestern chapter of the National Association of Black Journalists to student-chapter-of-the-year honors in 2015. He will study new media innovations and entrepreneurship in a new Medill graduate program next year. He's also releasing an album — a live recording of his senior recital — in August.