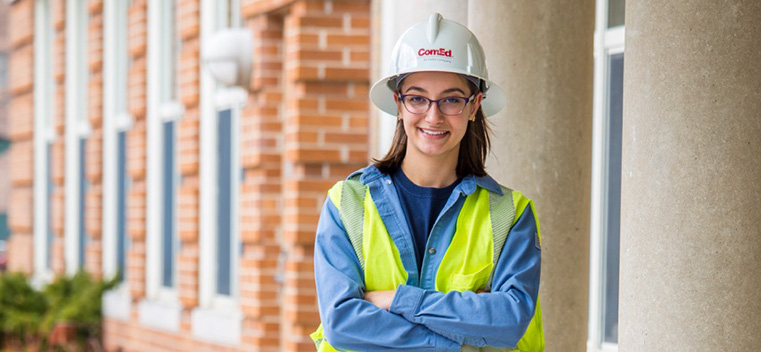 Abigail Turay outside Slivka Residential College of Science and Engineering. Photo by Michael Goss.
Abigail Turay: Powered Up
Story Tools
Share this story
Abigail Turay's Northwestern engineering career has been a balance of nanoscale research and macroscopic experiences.
Turay, who plans to graduate in June with her bachelor's and in August with her master's, both in electrical engineering, worked with neurobiology colleagues in the Bio-Inspired Sensors and Optoelectronics Laboratory on a study of how individual neurons fire in the brain. (Optoelectronics, an emerging technology, has applications for solar cells, LEDs, transistors and semiconductor lasers.)
She also spent three summers interning at ComEd, first developing a database of customer outages due to storms, then working with new or existing industrial and commercial customers to meet their power needs, and finally on making the grid more capable of withstanding extreme weather events. Turay hopes to work in the energy or telecommunications industry after graduation.
On campus, she played the piccolo for four years with the Northwestern University Marching Band — "the highlight of my college experience," she says — and was president of Slivka Residential College of Science and Engineering.
The New Lenox, Ill., native says she had to work a little harder than some of her peers to get to Northwestern, even nudging her parents to join her on college visits. "I was more self-motivated," says Turay, who adds that first-generation students should never think of themselves as disadvantaged. "It's in your head," she says. "If you don't think of yourself as at a disadvantage, you're not."